Illinois' Nunn pleads not guilty to domestic battery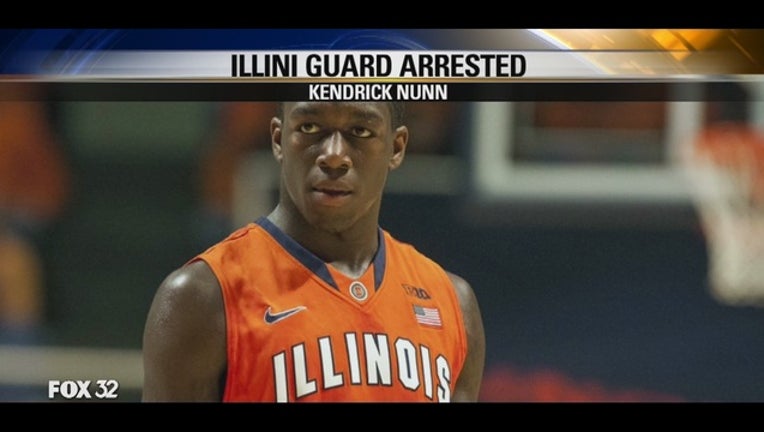 article
URBANA, Ill. (AP) — Illinois basketball player Kendrick Nunn pleaded not guilty to domestic battery on Friday, a day after he was arrested following a dispute with a woman at an apartment near campus, his attorney said.
Nunn made the plea to two counts of the misdemeanor charge during a brief hearing in Champaign County Court, according to his attorney, Evan Bruno. Police allege that Nunn struck the woman, who suffered a minor injury, during a dispute that may have been about money.
Nunn, who has been suspended from the team, is free on bond. His next hearing is April 20.
The 20-year-old is the fourth Illinois player arrested since August. Nunn's roommate, Jaylon Tate, was arrested Saturday on a misdemeanor charge of domestic abuse. He's also pleaded not guilty.
Bruno's firm also represents Tate. The attorney said the cases are unrelated and shouldn't be compared.
Bruno said Nunn was "a good man" from a good family.
"I don't know exactly what happened. I don't think many people know exactly what happened," he said.
Assistant State's Attorney Steve Ziegler said police went to the woman's apartment after neighbors heard an argument and a mention of money. Ziegler said the woman indicated she and Nunn were dating, but Bruno disputed the relationship.
Nunn has been a regular starter for Illinois. Tate, also a 20-year-old junior, plays regularly but often off the bench. He also has been suspended.
Illinois sophomore forward Leron Black pleaded not guilty to aggravated assault last month and was suspended from the team. Darius Paul was kicked off the team last summer for misconduct during a team trip to France.
Illinois athletic director Josh Whitman and Illinois head coach John Groce issued joint statements after the most recent arrests urging fans and others to wait for the legal process to play out.
Tate's arrest came a week after Whitman said he believed in Groce in spite of a losing season and planned to bring the coach back next season.