Jay Cutler has strained hamstring; reportedly out at least 2 weeks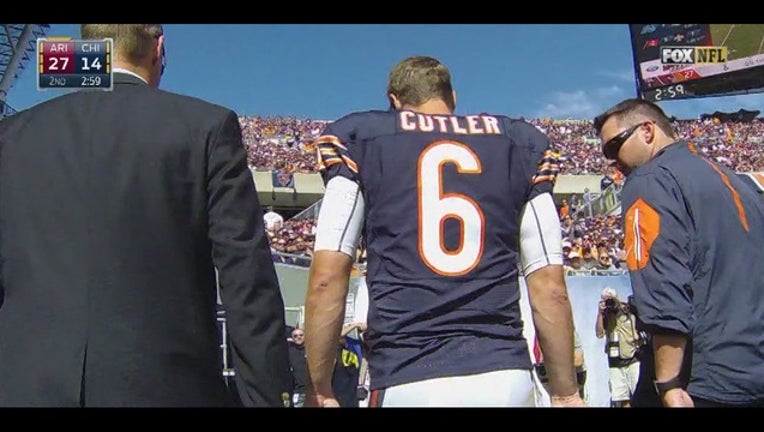 article
LAKE FOREST, Ill. (AP) - The Chicago Bears can apparently breathe a little easier knowing quarterback Jay Cutler suffered no major damage to his hamstring.
Amid reports that Cutler will miss at least two weeks, coach John Fox said Monday his quarterback has a strained hamstring and that tests showed no major damage. Jimmy Clausen figures to start for the Bears (0-2) when they visit defending NFC champion Seattle (0-2) this week, although Fox would not confirm that.
Cutler was injured trying to make a tackle after getting intercepted in Sunday's 48-23 loss to the Arizona Cardinals. Cutler walked to the locker room after getting stiff-armed trying to take down Tony Jefferson as he returned the pick 26 yards for a touchdown late in the first half. The team would not say which of his hamstrings was injured.
Fox said the Bears have not decided if they will add a quarterback this week. They could promote David Fales from the practice squad to back up Clausen if Cutler is not available.
Cutler got off to a strong start against Arizona, going 8 for 8 for 120 yards before Jefferson picked off a pass that was thrown behind Martellus Bennett. His injury was another blow for an offense that was already missing top receiver Alshon Jeffery with his own hamstring problems.
"I think everybody's so worried about themselves and fixing what they got to do better," veteran receiver Eddie Royal said. "I'm thinking about what I need to do better instead of worrying about everybody else. I think that's our mentality right now - take care of yourself and make sure you're doing your job to the best of your ability."
Injuries have at times been an issue for Cutler, who missed 12 games from 2011 to 2013 because of various ailments. He was also benched one game last season for performance reasons by former coach Marc Trestman.
An offense that was moving up and down the field with Cutler slowed considerably once he left Sunday's game. Clausen came in and completed 14 of 23 passes for 121 yards and an interception. With two prime opportunities for touchdowns near the end of the first half, the Bears had to settle for field goals by Robbie Gould.
"The biggest thing is we've got to get everyone on the same page so we don't have those same mistakes and we can keep letting drives go," Clausen said.
Clausen threw three incomplete passes after J.J. Nelson muffed a punt to give the Bears possession on the Arizona 22. Chicago then took over on the Cardinals' 12 after Jared Allen intercepted Carson Palmer but again had to settle for a field goal rather than a TD as it cut the deficit to 28-20.
"Most backups are not getting all those reps (in practice) regardless of the position," Fox said. "I think at the quarterback position it's a little tougher because you have to be in tune to everybody else completely. But I think all in all he did OK."
The quarterback situation was far from the only concern for the Bears. Their performance against the Cardinals seemed to be ripped straight out of last year's script.
After hanging with Green Bay in the opener, they delivered a performance that was as flat as any they gave last year under Trestman.
The 48 points allowed were a franchise record for a home game, and they tied club marks by allowing seven touchdowns and collecting 170 penalty yards. The 108-yard kickoff return by Arizona's David Johnson was the longest by an opponent.
The Bears also failed to register a sack, making them one of just three teams without one this season through Sunday.
"We're not the only team in the league that's 0-2," Fox said. "I don't know if we're the only team in the league that lost (Sunday). We need to improve and we're doing everything we can to do that."