Jerry Krause, Bulls' GM during 90s dynasty, dies at 77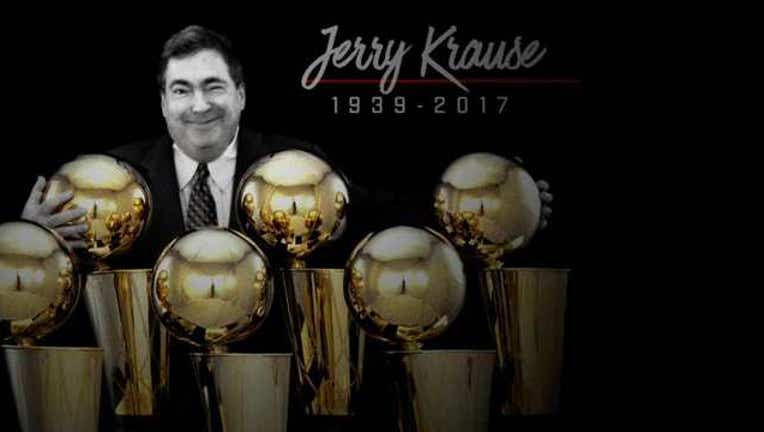 article
CHICAGO (AP) - Respected and reviled in his hometown, this much can't be argued when it comes to Jerry Krause: He helped take the Chicago Bulls to heights few teams have reached.
Krause, the general manager of the Bulls during a 1990s dynasty that included six NBA championships with Michael Jordan and Scottie Pippen leading the way, has died. He was 77.
The Bulls confirmed his death on Tuesday.
A Chicago native, Krause spent 18 seasons leading the Bulls' front office and was a two-time NBA executive of the year. He helped put together a run that ranks among the most successful in NBA history and made the franchise a worldwide brand.
"The entire Bulls organization is deeply saddened by the passing of Jerry Krause," chairman Jerry Reinsdorf said. "Jerry was one of the hardest working guys I have ever been around, and he was one of the best talent evaluators ever. Jerry played an integral role in our run of six championships in eight years. He truly was the architect of all our great teams in the '90s."
With Jordan and Pippen soaring around Chicago and Phil Jackson pulling the strings from the sideline, the Bulls dominated in a way few teams have. Krause, who took over as general manager in 1985, was responsible for surrounding Jordan with the pieces that helped create two championship three-peats in the 1990s.
"Jerry was a key figure in the Chicago Bulls' dynasty of the 1990s and meant so much to the Bulls, the White Sox and the entire city of Chicago," Jordan, the Charlotte Hornets' owner, said through his spokesperson. "My heartfelt condolences go out to his wife, Thelma, his family and friends."
Krause hired Jackson from the Continental Basketball Association as an assistant to Doug Collins and fired Collins in favor of Jackson following a run to the Eastern Conference finals in 1989. At the time, it was not a popular move. But did it ever pay off in a big way.
The same goes for the 1987 draft-day trade that brought Pippen to Chicago. On top of that, he drafted Horace Grant with the 10th overall selection that year, adding two major pieces to the championship foundation.
Draft picks such as Toni Kukoc, Stacey King and B.J. Armstrong also played prominent roles on those teams. He also signed key contributors John Paxson, Steve Kerr, Bill Wennington and Ron Harper. Dennis Rodman, a flamboyant force on the glass, was acquired in a trade.
Krause also hired assistant coaches such as triangle offense architect Tex Winter and Doberman defense mastermind John Bach.
"He had a great eye for talent, and his ability to build a team is unrivaled," said Paxson, now the executive vice president of basketball operations. "He's one of the best the league has ever seen."
A baseball player at Taft High School on Chicago's Northwest Side, Krause spent more than five decades in professional sports as an executive and scout.
He was responsible for drafting Hall of Famers Earl Monroe and Wes Unseld as a scout for the Baltimore Bullets. He helped select Jerry Sloan, Norm Van Lier, Clifford Ray, Michael Cooper and Norm Nixon as a scout for the Phoenix Suns, Los Angeles Lakers and the Bulls in an earlier stint.
Krause also worked for baseball's Cleveland Indians, Oakland Athletics, Seattle Mariners, White Sox, New York Yankees, New York Mets and, most recently, Arizona Diamondbacks.
But he is best remembered for his time as the Bulls' general manager.
"There's no question he was one of the great GMs of all time, a Hall of Famer," Kerr said of Krause, who is not enshrined. "Just to be a part of those teams and to have been given the opportunity to be part of it by Jerry, by Phil Jackson, I feel blessed to have had that opportunity."
For all their success, it wasn't necessarily a smooth ride. Jordan referred to him as "crumbs" for doughnut residue on his clothes. A feud with Krause contributed to Jackson's departure and the disintegration of the dynasty following the second three-peat in 1998.
It didn't help Krause's image when he was quoted as saying, "Players and coaches don't win championships, organizations win championships." He insisted he was simply trying to give scouts and employees behind the scenes their due and that he actually said this: "Players and coaches alone don't win championships, organizations."
The Bulls, meanwhile, ranked among the league's worst teams after the breakup of the dynasty. Krause retired as GM in 2003, unable to lift them back to the top of the NBA.
"It was difficult at times but I always respected Jerry," said Wennington, now a Bulls analyst. "I understood that we're all human and in business you're going to have to do things that are what you think are best for the business. Did I agree with everything Jerry Krause did? No, but I did agree with a lot of things he did."
Wennington remembered Krause as a "caring man" who would always spend a few minutes with his son when he brought him to the team's practice facility.
Coach Fred Hoiberg, who played for the Bulls when Krause was the GM, said: "He was a great person and we just saw him; he came to one of our practices earlier in the year and it was good to be able to spend some time with him."
Krause is survived by his wife, Thelma; his two children, Stacy and David; and his grandchildren Colette, Josh, Mia and Riley. Memorial information was pending.