Kane gets warm reception at Blackhawks camp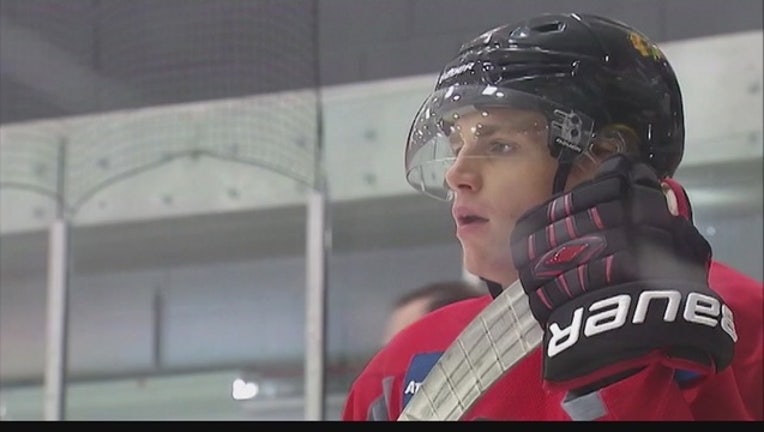 article
SOUTH BEND, Ind. (AP) — Chicago Blackhawks star Patrick Kane was greeted with loud cheers Friday in his first public appearance with the Stanley Cup champions since he became the subject of a sexual assault investigation.
Kane reported for the start of training camp at Notre Dame, and the All-Star forward got a warm reception when he joined "Team B" for the first of two scrimmages. There was another loud roar from the crowd of about 4,000 at Compton Family Ice Arena when he was recognized over the public address system for the secondary assist on the first goal.
"That's a pretty cool reaction, especially given the circumstances," Kane said. "I didn't really know what to expect, but you know, it's one of those things where you're going on the ice, you don't know what's going to happen and to hear that reaction from the crowd, definitely gave me chills. So it was an exciting moment."
Kane is accused of assaulting a woman in her 20s in August at his offseason home outside Buffalo, New York, a person familiar with the investigation has told The Associated Press on condition of anonymity because police have not revealed details of the case. No charges have been filed, and Kane said Thursday he has done nothing wrong.
Kane couldn't remember the last time he skated and said he felt a little rusty. But his fitness level seemed to be right in line with the rest of the Blackhawks after the long break, and he showed off his world-class skills at several different points.
"Same old, he makes it look easy," captain Jonathan Toews said. "I think a lot of guys are struggling, like I said, to shake that rust off and get things going, and he just goes out there and plays the game and things are going smooth for him, so it's good to see that."
It was a much different picture than the awkward news conference on Thursday when Kane was pressed on the decision to come to camp despite the ongoing investigation. He also was asked if he had embarrassed the organization and if he planned to stop drinking, and he mostly stuck to the same answer — declaring his appreciation for the question, and then declining to comment due to his respect for the legal process.
"I think I'm in a situation where I'm obviously confident in myself and confident about what's going on, and, you know, I think you guys understand I can't really talk about certain things and that's just the way it is," Kane said after the first day of camp.
"That's just the way it has to be right now with the legal situation going on and the legal process," he said. "I can't say anything. I know you guys probably aren't too happy about it, but at the same time, I think you understand the situation that's going on. I can't really say too much about it."
Kane, who turns 27 in November, led Chicago with 11 goals and 23 points in the playoffs last year, helping the Blackhawks to their third Stanley Cup title in six seasons. He was a top contender for his first NHL MVP award before breaking his collarbone in February.
The play of the No. 1 overall pick in the 2007 draft has never been an issue, though his off-the-ice problems included an altercation with a cab driver in Buffalo in the summer of 2009.
The $84 million, eight-year contract extension that Kane signed last summer kicks in for this season, contributing to the departure of several key players from last year's team. He may be more important than ever to the Blackhawks' success, and fellow forward Bryan Bickell said he seems the same as he was at the end of last season.
"It doesn't look like any of it has affected him," Bickell said. "He feels comfortable and when he left he was a happy Patrick Kane from when he left is what he is now."
___
Jay Cohen can be reached at http://www.twitter.com/jcohenap