Kane leads Blackhawks past Wild 4-1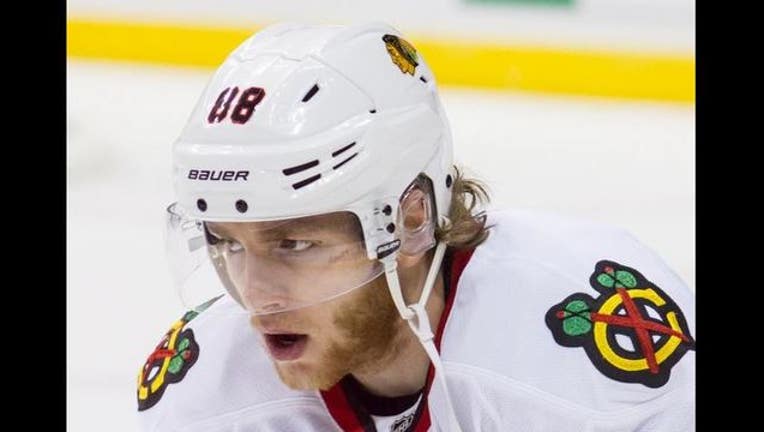 Patrick Kane scored two goals, Corey Crawford made 30 saves and the Chicago Blackhawks beat the Minnesota Wild 4-1 on Sunday night to take a 2-0 lead in the Western Conference semifinals. Patrick Sharp had a goal and an assist as Chicago improved to 5-0 at home in this year's playoffs. Jonathan Toews also scored in the second after a big play by Marian Hossa.
Game 3 is Tuesday night in Minnesota.
Defenseman Matt Dumba scored for the Wild, who are winless in eight postseason games at Chicago. Devan Dubnyk finished with 27 saves.
Minnesota trailed 2-0 after two, but got back in the game when Dumba's power-play shot 1:20 into the third went off Crawford's glove and into the top of the goal. Dumba's second playoff goal came with Michal Rozsival in the box for interference.
Dubnyk then made a couple of stops on Duncan Keith and Teuvo Teravainen before Sharp scored at 7:39 right after Wild captain Mikko Koivu got out of the box following a tripping penalty. Kane added an empty-netter as Chicago improved to 28-0 when leading after two periods, including three such games in the playoffs.
Chicago and Minnesota combined for six goals in the first 29 1/2 minutes of the series opener, and Teravainen sent the Blackhawks to a 4-3 victory with his first career playoff goal in the final minute of the second. Game 2 was a much different story, with shots at a premium and solid work by each goaltender for the first part of the night.
Minnesota got its first power-play opportunity when Andrew Shaw was sent off for cross-checking at 10:45 of the second. But it turned into a disaster for the Wild when Hossa stole the puck from defenseman Ryan Suter alone the boards, skated in and fed Toews for his fourth goal of the playoffs. Toews' shot went off Dubnyk, popped up in the air and then went off the goaltender's stick before barely trickling over the goal line.
The Wild then made a frantic push for the tying goal, but Crawford made a terrific stop on Kyle Brodziak on a breakaway and a couple of stellar saves on prime opportunities for Zach Parise. Crawford also used his left and then his right pad to make a pair of great saves on Thomas Vanek in the first.
Chicago increased its lead to 2-0 when Keith made a long stretch pass right to Kane's stick, and the All-Star winger beat Dubnyk with a perfectly placed shot off the inside of the left post at 19:40. It was Kane's fourth goal of the playoffs.
NOTES: Wild RW Chris Stewart was shaken up after he was taken down by Blackhawks D Johnny Oduya midway through the second. He slammed hard into the boards on his right side and went back to the locker room, but returned later in the period. ... Kane's first goal was his 100th career playoff point in 101 career games. ... Wild LW Erik Haula made his first appearance of this postseason, subbing for F Justin Fontaine (lower body). Haula had three goals and two assists in last year's playoff series against Chicago.
Copyright 2015 The Associated Press. All rights reserved. This material may not be published, broadcast, rewritten or redistributed.