Late addition of Mack adds new wrinkle to Bears-Packers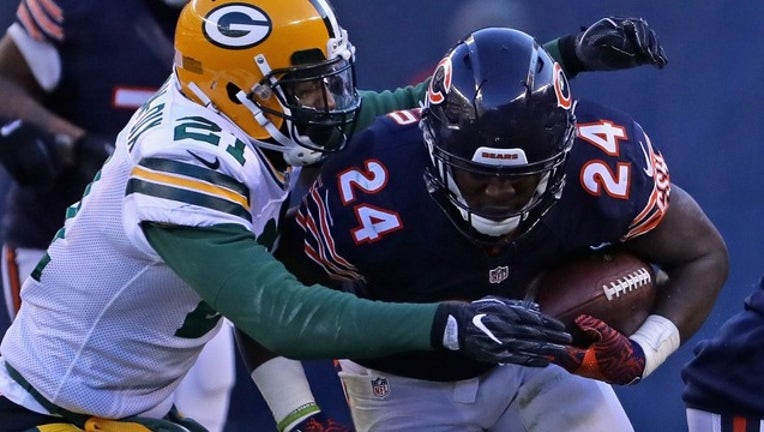 article
GREEN BAY, Wis. (AP) - A blockbuster deal brought a new wrinkle to the NFL's oldest rivalry.
The Chicago Bears visit Lambeau Field on Sunday night, just in time for star pass-rusher Khalil Mack to potentially make his debut in the season opener against the Green Bay Packers.
A premier player joins what figures to be an already tough defense. Defensive lineman Akiem Hicks can't hide his glee.
"When we got him, I was just so excited just to have such a prolific pass-rusher next to me. It's going to be phenomenal," Hicks said.
He led the Bears last year with a career-high 8½ sacks. Mack is second in the NFL since 2015 with 36½ sacks. Promising third-year player Leonard Floyd, a 2016 first-round draft pick, will line up at the outside linebacker spot opposite Mack.
This could spell trouble for offensive lines.
"You usually have to game-plan around him, and then when you game-plan around somebody, regardless of what position it is, then there's an advantage somewhere else," coach Matt Nagy said. "That gives the advantage to other players on defense, so those guys need to step up when given opportunities."
The Packers looked into trading for Mack. Now they have to face him.
"Yeah, I was lying in bed scrolling through Twitter like, 'Dang, man. Gotta see him twice a year now," Packers receiver Randall Cobb said about his reaction to the Bears' deal for Mack.
The primary responsibility for blocking Mack will fall to veteran right tackle Bryan Bulaga , who will be playing his first game since tearing his right ACL in November. At least Bulaga has had some time on the practice field this preseason, unlike Mack, who held out before being traded by the Oakland Raiders.
He might get some help at times from the Packers' deep tight end group, reinforced during the offseason with the additions of free agent Jimmy Graham and Marcedes Lewis to join veteran Lance Kendricks.
They'll be tasked to give enough time to the ultimate equalizer: quarterback Aaron Rodgers.
It just wasn't clear if Mack would be ready to play this week, though Hicks sure seemed pretty confident that his new teammate would be on the field.
"Well, that's a really good player in his prime," Rodgers said about Mack. "They obviously gave up some picks, but it just adds to the rivalry now that we get to see him twice a year."
Other notes and things to watch for the game:
GRAHAM'S DEBUT: Graham, who signed as a free agent from Seattle, has already shown chemistry with Rodgers. The 6-foot-7 tight end could offer an enticing target especially in the red zone . Defenses may have to decide whether to pay more attention to Graham over the middle or receiver Davante Adams on the outside.
"He can do it all over the field," Rodgers said of Graham. "He's got a wide, wide catch radius and there are a lot of things he can do."
TAKE TWO: The Bears made big moves in the offseason to get the most out of prized quarterback Mitchell Trubisky. Whether he can deliver remains to be seen .
"Everything that I saw and went through last year is going to help make me more comfortable this year," Trubisky said.
Trubisky threw for 2,193 yards in 12 games last season after Chicago traded up a spot to draft him with the No. 2 overall pick. But he also had as many interceptions as touchdown passes while compiling a 77.5 rating that was about the same as Mike Glennon's (76.9).
ON THE CORNER: The Packers revamped their cornerback group in the offseason, bringing back veteran Tramon Williams while taking rookies Jaire Alexander and Josh Jackson with their first two picks in the draft. They've shown playmaking promise in training camp. Last year's second-round pick, Kevin King, is also healthy again after missing time during his rookie year with a shoulder injury. The 6-foot-5 King has the length and speed to play press coverage on the edge.
ROBINSON RETURNS: The Bears are counting on Trubisky to make big gains in first-year coach Nagy's offense. They also gave him some new options, including former Jacksonville Pro Bowl receiver Allen Robinson. He returns to the field after tearing his left ACL in his left knee during last year's opener with Jaguars. Signed by the Bears in March, Robinson did not catch pass in the preseason.
MILESTONES: The NFC North rivalry goes back to 1921, with Green Bay holding a 96-94-6 edge. The game will also open up the 100th season in the history of the Packers. The Bears are opening their 99th season.
___
AP Sports Writer Andrew Seligman in Lake Forest, Illinois, contributed to this story.
___
More AP NFL: https://pro32.ap.org and https://twitter.com/AP_NFL