Mack, Allen Robinson just about ready to return to Bears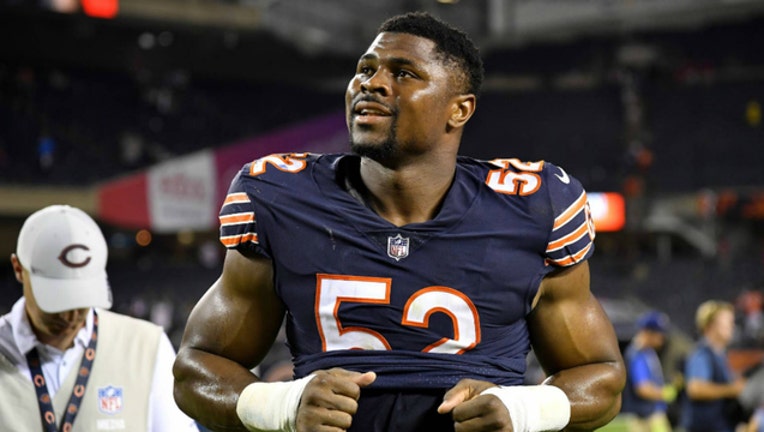 article
LAKE FOREST, Ill. (AP) - Two-time All-Pro pass rusher Khalil Mack and top receiver Allen Robinson look as if they're just about ready to return after missing the Chicago Bears' past two games because of injuries.
Both players practiced without limitations Thursday for the second consecutive day.
The NFC North-leading Bears hope to have them back in the lineup against the Detroit Lions at Soldier Field on Sunday.
"These are strange deals because, literally, as you're going through it (you're) trying to figure out where they're at on a day-to-day basis," coach Matt Nagy said Thursday. "Where are you at? Can you go 100 percent? Can you not? How do you feel? And we need to take that into consideration and discuss that, which leads up to game time and then how much, if so."
Robinson sent strong signals that he intends to play, saying he's "100 percent" after a groin injury kept him from playing in victories over the struggling New York Jets and Buffalo Bills. He has 25 catches for 285 and two touchdowns in six games after signing a three-year contract with Chicago in March.
Robinson missed just about all of last season with Jacksonville after tearing the anterior cruciate ligament in his left knee early in the opener. He was brought along slowly in the preseason as he worked his way back while trying to learn a new system and develop a rapport with quarterback Mitchell Trubisky.
"I'm feeling great, and I'm definitely anxious to get back out there," Robinson said. "It's been a tough couple weeks, just having to watch the game from the sideline, so I'm excited."
Mack, who did not make himself available for comment, got off to a huge start with the Bears following a trade from Oakland just before the opener. He had five sacks and four forced fumbles through the first four games. But he suffered an ankle injury early in an overtime loss at Miami on Oct. 14 and was largely a nonfactor the following week when New England beat Chicago at Soldier Field.
Mack had not missed a game since Oakland drafted him with the fifth overall pick in 2014, before sitting out the past two. And he still was adjusting to defensive coordinator Vic Fangio's system even though he sure looked dominant before he got hurt.
"He didn't practice much the two weeks he's missed ... so he's not where he needs to be or where we want him to be," Fangio said. "But he's certainly prepared enough to go out there and play if his ankle will let him."