Mack looks forward to new start with Bears after big trade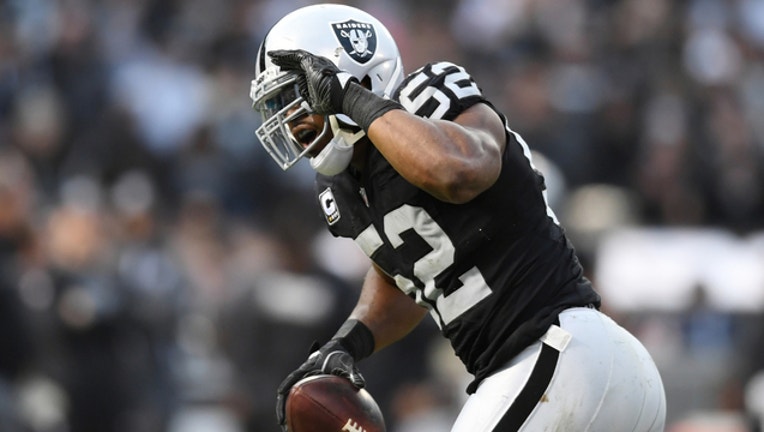 LAKE FOREST, Ill. (AP) - Armed with a record extension after a blockbuster trade, Khalil Mack is looking forward to a fresh start with the Chicago Bears.
The two-time All-Pro said he is "glad I'm here" and "blessed" after a contract holdout with the Oakland Raiders ended with the star pass rusher getting dealt in a massive move on Saturday.
"It's been a whirlwind, but it's been exciting," Mack said Sunday. "It's new and I'm looking forward to it. I really can't wait. I'm itching. It's been a long time since I played football."
He held out for the entire offseason and preseason trying to secure a long-term deal rather than play under the final year of his rookie contract that would have earned him $13.8 million.
The Bears paid a big price, giving him a six-year, $141 million extension that guarantees $90 million. That made him the highest-paid defensive player in NFL history, a day after the Rams' Aaron Donald agreed to a six-year, $135 million deal, with $87 million guaranteed.
Chicago sent Oakland first-round selections in 2019 and 2020, a sixth-rounder next year and a third-rounder in 2020. The Bears got a second-round selection in 2020 — which Pace called "a critical piece for us" — and a conditional fifth-rounder that year.
Mack acknowledged there is "absolutely" pressure that comes with a huge contract.
"But just based on how hard I worked and how hard I play, I want to be able to go out and show why — and that's just me," he said. "I've always thought of myself as the best defensive player in the league and I want to play like the best defensive player in the league. I want to be the best at what I do, and that's just me. That's what comes with Mack. Good response?"
What he brings could be a game changer for a franchise with four straight last-place finishes in the NFC North. That's why general manager Ryan Pace decided to check with Oakland if Mack might be available.
"This is a premier player at a premier position, and this doesn't come around that often," Pace said. "So when it does come around, I'm just proud that I work for an organization that's willing to be aggressive in these times, and that Matt and I have the support to be aggressive, and that starts with ownership."
The 2016 NFL Defensive Player of the Year, Mack has played in every game since the Raiders drafted him fifth overall in 2014. He has 231 primary tackles, 40½ sacks and nine forced fumbles.
Coach Matt Nagy wasn't sure if Mack would play in the opener at Green Bay. But when he does suit up, a defense that ranked 10th overall last season figures to get a boost.
The Bears have speed and athleticism on the edge with Mack and Leonard Floyd. They also believe they added a potential cornerstone player when they drafted inside linebacker Roquan Smith with the No. 8 overall pick.
"Our goal from the start here has been to win the Super Bowl," coach Matt Nagy said. "Now, there's ways to get to that. ... So does this help us? You know, you would think, yeah, obviously it helps you, but how are we going to get to that point? There's so many variables that go into it."
He's glad he no longer has to worry about game planning to face Mack. Nagy got his fill going against him in the AFC West as a member of Andy Reid's staff in Kansas City.
Mack's arrival adds to the buzz that was already brewing around the Bears. They hired the offense-minded Nagy and brought in some playmaking targets for quarterback Mitchell Trubisky, including former Jacksonville Pro Bowl receiver Allen Robinson.
The Bears believe they have the QB and pass rusher they need to lift a franchise with one playoff appearance since the 2006 Super Bowl season.
"You could say a lot of different things, but until I go out there and play, I'm not a big talker," Mack said. "I like to go out and use my actions to speak, and when I get out there and get on the field, you can probably sense what's going to happen. But I want to win, you know what I mean? Everybody wants to win. This team wants to win, and championship's definitely the goal."
NOTES: To make room for Mack, Chicago released C Hroniss Grasu on Sunday. ... The Bears placed TE Adam Shaheen (sprained ankle, foot) on injured reserve, though they expect him to return this season. Pace said Shaheen does not need surgery. ... Chicago signed DL Nick Williams.