Michael Hennessey of Notre Dame College Prep named Bears High School Coach of the Week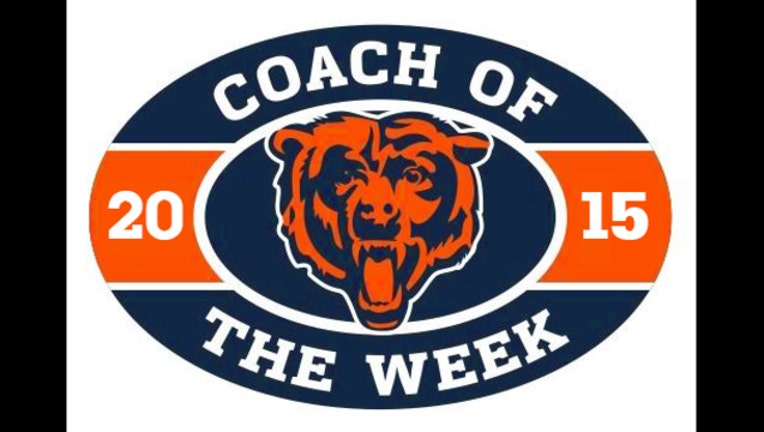 article
LAKE FOREST, IL – Michael Hennessey of Notre Dame College Prep in Niles, IL was named the Chicago Bears High School "Coach of the Week" for Week 9.
Hennessey led the Dons to a share of their first East Suburban Catholic Conference title since 1981 last Friday, October 23 with a 25-13 victory over Carmel.  It was also the first time since 1998 that Notre Dame defeated Carmel on the football field.  Hennessey, who is also Notre Dame's Athletic Director, has served as head coach of the Dons for the past 29 years.  Notre Dame finished the regular season with a record of 8-1 and will face Marist on Friday, October 30 in the first round of the IHSA Class 8A Football Playoffs. 
Coach Hennessey will be invited to the Bears vs. Redskins game on Sunday, December 13 and will join his fellow 2015 "Coach of the Week" honorees for an on-field photo during pregame. He will also receive a framed certificate signed by Bears head coach John Fox and have the opportunity to visit Halas Hall for lunch and practice viewing. 
The Chicago Bears "Coach of the Week" program concluded its 20th season. The program honors outstanding Illinois high school coaches who develop players' football skills and knowledge, character, leadership, discipline and teamwork abilities. Other criteria considered include unique coaching methodology, school and community support, volunteerism and, most importantly, contributions to players' long-term success on and off the field. 
The program ran for nine weeks from August 31 through October 26.  Deserving high school coaches were nominated by a panel of local prep authorities and the winning "Coach of the Week" was selected each week. The Chicago Bears will make a $1,500 contribution to the football program at each winning coach's school.  Since the program's inception, the Bears have donated over $245,000 to Illinois high schools in support of their football programs.  The Chicago Bears "Coach of the Week" program is brought to you by FOX 32 Chicago. 
In addition to "Coach of the Week" winners attending the Bears vs. Redskins game on December 13, all eight IHSA football state champion teams will be recognized at this game.  The Chicago Bears, in partnership with the Illinois High School Association, will invite representatives from each team to the game and a special recognition of their state titles will take place during halftime.