Mitchell Trubisky looks for fresh start against Green Bay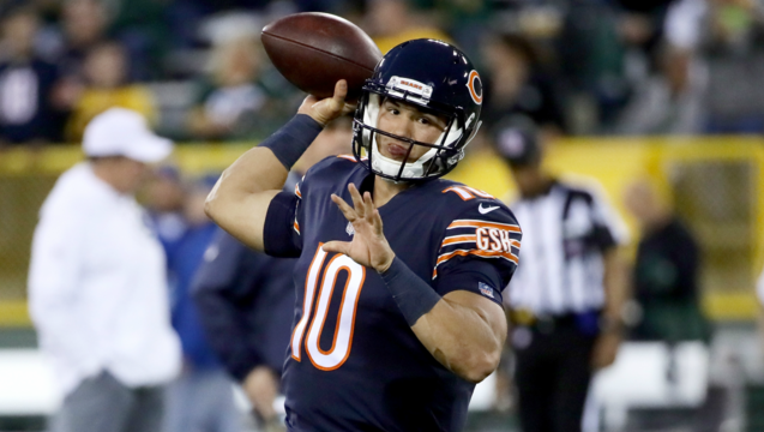 article
LAKE FOREST, Ill. (AP) - Everything is new to Chicago Bears quarterback Mitchell Trubisky as he goes through his first NFL season, and that includes his team's longstanding rivalry with the Green Bay Packers.
Trubisky would just like to see something familiar, including the players trying to catch his passes.
The Bears enter the season's second half with Trubisky throwing to almost a completely different cast of receivers than in his first four starts, as they try to construct a passing attack on the fly and get back into the NFC North race.
"I feel like it's a new season in a way," Trubisky said.
One of those ways is he could be throwing Sunday to wide receivers Markus Wheaton and Dontrelle Inman, and also to a new tight end. Wheaton has missed three straight games, and injuries have limited him to one catch this season for 4 yards. But Wheaton was able to practice Wednesday, and hopes to give the offense a needed boost of speed on the outside.
"It can do nothing but get better from here," Wheaton said. "I'm feeling good. The bye week came in handy for me."
Wheaton has dealt with a broken finger, appendicitis and the groin injury, while Inman just arrived in a trade with San Diego. Tight ends Dion Sims and Adam Shaheen take on more significance in the offense now after the loss of veteran tight end Zach Miller to a serious knee injury.
Wheaton could provide a deep threat the offense has lacked.
"We've got good chemistry," Trubisky said about Wheaton. "We're on the same page. He runs really good routes, he's got good ball skills, he gets open and he's fast. So we could use his speed to open up things in the offense."
Trubisky has completed only 38 of 80 passes and has been cautious about turnovers. Opening day starter Mike Glennon had a better completion rate (66 percent), but was benched after a four-turnover outing Sept. 28 at Green Bay in a 35-14 loss.
"I think it's something to do with throwing the ball away, being smart," offensive coordinator Dowell Loggains said. "I think he (Trubisky) hasn't forced many balls.
"We probably have to do a better job in pass protection and (receivers) separating vs. man coverage to help him out a little bit."
Part of the problem for Trubisky has been facing defenses scheming to take advantage of an inexperienced player.
"We've just seen that every defense has played us different than what they've shown against teams," Trubisky said. "We try to get a lot of tendencies on teams going into the game, but the last couple of times we've gone out there they've shown something that we've never seen before."
It promises to be no different this week against Green Bay and Packers defensive coordinator Dom Capers.
"They mix it up a lot," Trubisky said. "Going back to the tendencies on defense, they look at their tendencies and try to mix it up, so they're going to try to throw a twist at us."
Defenses don't fear the Bears passing game, and focus on the running game. They're sixth in rushing anyway, and Loggains thinks they could be better if Trubisky and the new receivers start to connect.
"I think throwing the ball down the field is going to help a lot of different things," Loggains said. "I think that it's going to help (stop) negative runs.
"When you look and say, 'Hey, where are we at, how we can we grow, how can we get better, the things that hurt us, you can make a list of 10 things, but it really goes back to two or three: too many penalties, too many negative runs, too many sacks."
NOTES: Linebacker Danny Trevathan missed practice with a calf strain suffered Oct. 29 against New Orleans. ... Guard Kyle Long practiced Wednesday on a limited basis after suffering a finger injury against New Orleans. ... Center Cody Whitehair has returned to practice after an elbow injury caused him to leave the game with New Orleans.
___
For more NFL coverage: www.pro32.ap.org and http://twitter.com/AP_NFL