New-look Blackhawks beat Capitals 3-2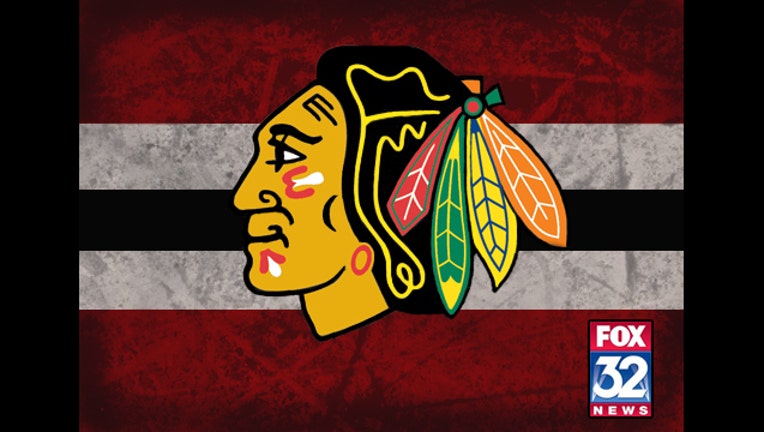 CHICAGO (AP) — For all the star power with the Washington Capitals and Chicago Blackhawks, it was a pretty connection between fourth-line forwards that proved to be the difference.
Richard Panik kicked the puck from behind the net to a streaking Dennis Rasmussen for the rookie's fourth goal at 12:47 of the third, and the new-look Blackhawks topped the NHL-leading Capitals 3-2 on Sunday.
"I thought it was a beautiful pass," Chicago coach Joel Quenneville said with a grin, "one of best passes I've seen all year."
Jonathan Toews and Patrick Kane also scored as the Blackhawks (39-20-5) won for only the third time in their last eight games. Corey Crawford made 28 saves, helping Chicago leapfrog idle Dallas for the top spot in the Western Conference with 83 points.
The Blackhawks were coming off disappointing losses to Minnesota and Nashville, but the defending Stanley Cup champions got a boost from two of their newest players acquired in a flurry of moves last week. Andrew Ladd got an assist in his return to Chicago after he was reacquired in a trade with Winnipeg on Thursday night, and Tomas Fleischmann had a solid debut after he came over in a trade with Montreal on Friday.
"It was nice to be around familiar faces from the guys who were around when I was here before," Ladd said. "There are a lot of things different — they've changed this whole room around — and a lot of new faces, but just fun to be back."
Marcus Johansson and Evgeny Kuznetsov scored for Washington (45-12-4), which had won five of six. Braden Holtby made 20 saves while dropping to 39-7-3 on the year.
"You can definitely see why their top players are their top players," Capitals coach Barry Trotz said. "I thought today had a little bit of a playoff feel. It's just another good experience for us."
The nationally televised second meeting of the season between two of the NHL's top teams — Washington beat Chicago 4-1 way back on Oct. 15 — was a highly entertaining affair played at a breakneck pace for much of the day in front of a season-high crowd of 22,218 at the United Center.
With the Capitals enjoying a 6-on-3 power play, Kuznetsov stuffed home his 19th goal from a tough angle with 3:21 left, trimming Chicago's lead to one. But the Blackhawks killed off the rest of defenseman Niklas Hjalmarsson's unsportsmanlike conduct penalty and held on for the victory.
"That was a heck of a hockey game today, I thought," Washington defenseman Matt Niskanen said. "There was a lot of high pace, good scoring chances, good goaltending, a lot of good stuff out there. Unfortunately we were on the short end of it, but it was a good game, good team."
The score was tied at 1 in the second period before Teuvo Teravainen set up Toews' 22nd goal with a slick pass over the middle to the captain. Ladd helped get the puck to an open Teravainen off a scramble in front.
Ladd previously played for Chicago for two-plus seasons, helping the Blackhawks win the Stanley Cup in 2010. He got a loud ovation when he was introduced with the starting lineup before the game.
Rasmussen's first goal since Dec. 19, stopping a 29-game drought, made it 3-1. Panik used his right foot to slide it to Rasmussen in front.
"It was a really nice pass," Rasmussen said. "I actually saw him have the puck under his skate and kinda realized he's gonna make that play. I've seen it done in practice. I was ready for it."
The Capitals felt there might have been a missed icing call on the sequence that led to Rasmussen's goal.
"Chicago's a good measuring stick but we were down on what we thought were icing calls," Trotz said. "It was a tough night for the linesmen tonight, I'll tell you."
NOTES: Capitals F Brooks Laich was traded Sunday night to the Toronto Maple Leafs along with defenseman Connor Carrick and a 2016 second-round pick for forward Daniel Winnik and a 2016 fifth-round pick. Laich cleared waivers Sunday and played 9:44 against Chicago. ... Capitals F Jay Beagle (hand) was activated from long-term injured reserve and played almost 10 minutes in his first game since Dec. 30. D John Carlson was placed on LTIR with a lower-body injury that is expected to keep him out three to four weeks. ... The Blackhawks scratched F Dale Weise and D Christian Ehrhoff. Weise and Ehrhoff were acquired in separate trades on Friday, and Weise is working through a visa issue. ... D Mike Weber, C Michael Latta and RW Stanislav Galiev were inactive for the Capitals. Weber hasn't played since he was acquired in a trade with Buffalo on Tuesday. ... Crawford matched his career high with his 33rd victory.
___
Jay Cohen can be reached at http://www.twitter.com/jcohenap