Notre Dame downs Loyola of Chicago 81-61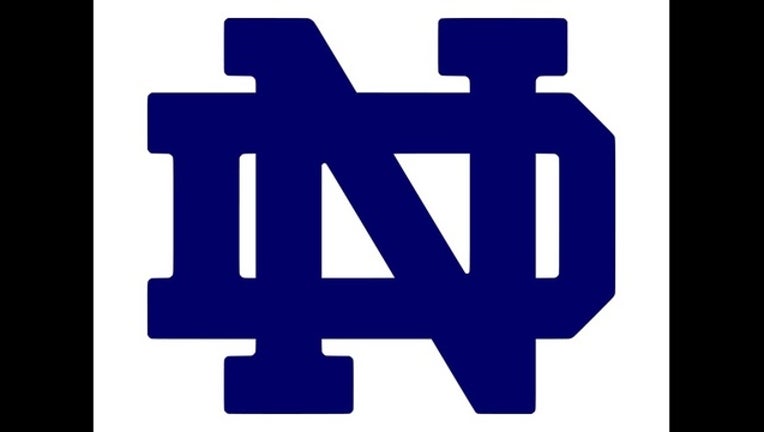 article
SOUTH BEND, Ind. (AP) - After a couple of energized recent practices, Notre Dame freshman sharpshooter Matt Ryan was feeling it Sunday afternoon, and Loyola didn't have an answer.
Ryan scored 14 points and knocked down 4 of 6 from 3-point range to help the Irish pull away from the Ramblers in the second half of an 81-61 win.
"I came into today just ready to fire," Ryan said. "The past couple practices, I've been very aggressive and it definitely helped my confidence coming into today."
Ryan also grabbed five rebounds and played 19 minutes off the bench as he continues to develop into a vital component for the Irish.
"Matt Ryan really energized us tonight," said Notre Dame coach Mike Brey. "He's just a weapon that we will have to play more and more."
Bonzie Colson, Notre Dame's "Junkyard Dog," as Brey calls him, had 14 points and seven rebounds. V.J. Beachem added 10 points, seven rebounds and four assists, and Demetrius Jackson and Steve Vasturia each scored 10.
The Irish (7-2) won their third game in a row and are idle the rest of the week for final exams before traveling to Indianapolis to face Indiana in the Crossroads Classic on Saturday.
Tyson Smith and Donte Ingram each scored 12 points for Loyola (5-4), which has lost three of four, but will play its next four games at home to close out December.
The Ramblers scored the first two field goals after halftime and trailed by two points, but Notre Dame took control with a 19-3 run, capped by back-to-back 3-pointers by Ryan, to go up by 18 with 10:36 to play.
The Irish went to a full-court press then dropped back into a 2-3 zone at the start of their run, and Loyola hit only one of its next nine shots while committing four turnovers. Notre Dame's lead reached 25 points with 7:20 to play on Beachem's offensive rebound and putback.
"It's a complete different rhythm playing against it," Brey said of the defensive switch. "We like to extend (the zone) with that little tempo press."
Moser said it made the difference against his team in the second half.
"It changed our rhythm and we were getting into our offense a little late," Moser said. "It was a good move."
In the first half, Loyola used a 7-0 run to tie the game, 25-25 with 5:38 left. The Irish didn't hit a field goal in over five and a half minutes during that stretch, but consecutive 3s by Beachem and Vasturia started a 12-2 Notre Dame run that got the lead up to 10.
The Ramblers scored the last four points of the half, capped by Ben Richardson's baseline jumper with 1.6 seconds left, to cut the Irish lead to six at halftime.
___
TIP-INS
Notre Dame: The Irish improved to 30-2 all-time against the Ramblers in the first matchup between the teams since 2000. Loyola hasn't beaten Notre Dame since a 70-58 victory in 1994.
Loyola: The Ramblers haven't beaten an ACC team in 30 years, when they took down North Carolina State, 60-58 in 1985. The Irish were an independent for that 1994 Loyola victory.
LOCK DOWN D
In Loyola's five wins, Milton Doyle has averaged 18.4 points and shot over 60 percent from the field, but in the Ramblers' previous three losses, he had averaged just 7.7 points and shot 37.5 percent. Notre Dame held Doyle to eight points on 25 percent shooting (3 of 12), though he managed to dish out nine assists.
"Even though Milt was missing shots, he still was facilitating the offense," said Loyola coach Porter Moser.
UP NEXT
Notre Dame faces Indiana on Saturday in Indianapolis for the Crossroads Classic.
Loyola hosts Cleveland State on Wednesday.