Questions linger about Trubisky as Bears open with new look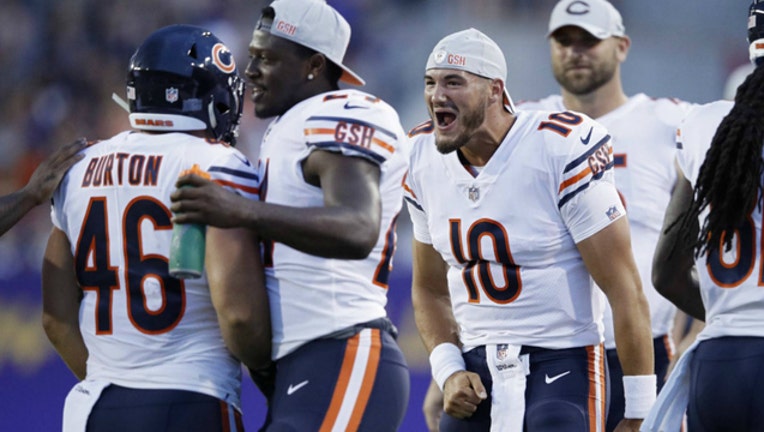 article
LAKE FOREST, Ill. (AP) - As the Chicago Bears prepare for a prime-time season opener against Aaron Rodgers and the archrival Green Bay Packers, quarterback Mitchell Trubisky sees a team with no limits.
He's not talking about the opponent, either.
The Bears come into the matchup at Lambeau Field on Sunday night with a decidedly different outlook after changing coaches, overhauling the receivers group, and pulling off a huge trade last weekend to add two-time All-Pro Khalil Mack to their defense.
But for all the big moves they made, there are still some big questions. Topping the list is whether the quarterback they drafted with the No. 2 overall pick last year can develop the way general manager Ryan Pace envisions.
"I feel a lot more comfortable in my role," Trubisky said. "I feel a lot more comfortable with the offense and what I need to do. And having more responsibility on my shoulders and just being more of a leader this year and more vocal and having guys look at me."
He insisted the "sky's the limit" and that he has "very high goals" for himself and the team.
The Bears hired Matt Nagy to replace John Fox, fired after a three-year run that produced a 14-34 record and the second-lowest winning percentage in franchise history. Besides hiring an offense-minded coach, they gave Trubisky some new targets.
They signed former Jacksonville Pro Bowl receiver Allen Robinson and brought in former Philadelphia tight end Trey Burton and receivers Taylor Gabriel and rookie Anthony Miller.
They believed they were already setting themselves up for bigger things after four straight last-place finishes in the NFC North. The trade for Mack took the buzz to another level.
"We're lucky to have him," Trubisky said. "We're happy to have him, and just from the first couple of days he's been here, just how he carries himself and how he wants to work, how he wants to affect this game and be a part of this team, it's going to be great for this team and this organization to have a guy like that."
Trubisky said he was still sleeping when "someone" came into his room and told him, "You guys just got Khalil Mack." His response: "Get out of here. Like, leave me alone, I'm going back to sleep."
That "someone" was his mom, who was in town last weekend.
Mack's arrival could turn a defense that ranked 10th overall a year ago into one of the NFL's best. That should mean good field position on a consistent basis for the offense. But with higher expectations after the blockbuster trade, there could also be more pressure on Trubisky.
"It's not gonna change how Mitchell plays," Nagy said. "He's worried about himself and how he controls that offense."
Trubisky threw for 2,193 yards in 12 games last season. But he had as many interceptions as touchdowns (seven). And his 77.5 rating was not much better than Mike Glennon's (76.9).
Even so, there were some promising flashes. His command of the huddle impressed the Bears. It stood out to Packers coach Mike McCarthy, too.
"I like the way Mitch carries the game," McCarthy said. "It's just watch the way he reacted when he was given his opportunity. ... You could see his growth throughout the season, and that's what you look for in all young players."
With five straight non-winning seasons and just one trip to the playoffs since the 2006 team's run to the Super Bowl, the Bears are looking for more. And as big as the trade for Mack was, Pace's reputation still largely hinges on the development of the quarterback he drafted last year after trading up a spot.
For now, there are still some big questions about Trubisky, the offense and how it will all come together.
"I have a really good idea of what this offense looks like and where we're at and how we need to go about our business and execute our plays," Trubisky said. "The more of the mystery is what (the Packers are) going to run on defense."
NOTES: LB Leonard Floyd (broken right hand) said this wouldn't be the first time he has played with a casted club. He did it in college, too. Floyd broke his hand at Denver on Aug. 18. ... Rookie LB Roquan Smith (tight left hamstring) said he feels "a lot better," though he has "no clue" how much he will play Sunday.
___
More AP NFL: https://apnews.com/tag/NFL and https://twitter.com/AP_NFL