Quick, Kings beat slumping Blackhawks 5-0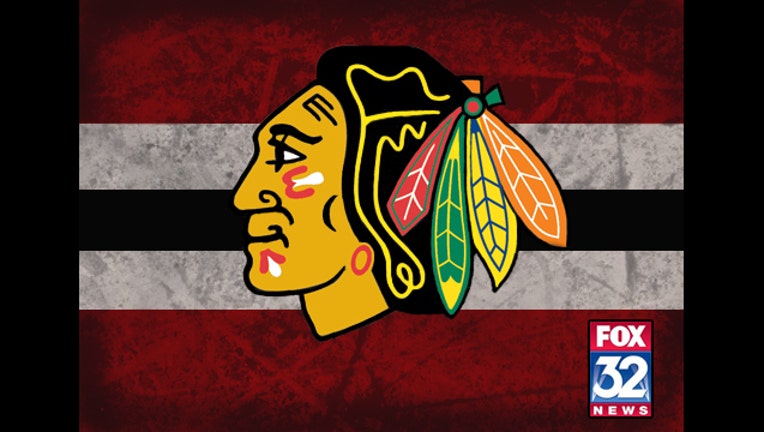 article
CHICAGO (AP) — The Los Angeles Kings were so good they turned Jonathan Quick's record-breaking shutout into an afterthought.
That was just fine with Quick, too.
Quick made 32 saves, Kris Versteeg had a goal and an assist and the Kings routed the slumping Chicago Blackhawks 5-0 on Monday night in a matchup of Western Conference powers looking for another championship run.
Quick's 41st career regular-season shutout snapped a tie with John Vanbiesbrouck and Frank Brimsek for the most by an American-born goaltender.
"It's a team effort, too, to get a shutout, so you're thankful for all your teammates of the years," Quick said.
Milan Lucic, Vincent Lecavalier, Dustin Brown and Tyler Toffoli also scored as Los Angeles improved to 8-2-1 in its last 11 games. Quick's fourth shutout of the season helped the Pacific Division leaders kill off each of Chicago's six power-play opportunities.
The Blackhawks (41-23-6) lost for the fourth time in five games, including three in a row against St. Louis, Dallas and Los Angeles — three potential playoff opponents. The defending Stanley Cup champions are just 9-10-2 since their franchise-record 12-game win streak.
"It seems like for whatever reason, the season's been up and down throughout the whole year," forward Patrick Kane said. "You go on stretches where you win 12 in a row, and we've got this little stretch going right now. Obviously we want to shore that up before playoffs, and make sure we're going in there feeling consistent about our game."
The slide has dropped Chicago into third in the tough Central Division with just 12 games left on its schedule.
The Blackhawks' much maligned penalty killers had a perfect night, but Quick was solid for Los Angeles (41-22-5) and the Kings made the most of their opportunities. The Kings won two of three in the season series between the winners of the last four Stanley Cups.
"We're familiar with them. They're familiar with us," Quick said. "We've played a lot against each other the past few years. It's a game that you don't need to do much video or much like that. You know what you're going to get."
Los Angeles grabbed the lead right after Quick made four saves on a Chicago power play in the first period. Versteeg jumped on a loose puck and shot it over Corey Crawford's right shoulder at 3:17 for his first goal since he was acquired in a trade with Carolina on Feb. 28.
Versteeg, who played on Chicago's championship teams in 2010 and 2015, then assisted on Lucic's third goal in his last five games. Versteeg was traded from the Blackhawks to the Hurricanes in September and had just one goal and one assist in his last 18 games coming into the night.
"When you play your old team you always want to play hard," Versteeg said. "It gives you a little added boost, I guess. But at the end of the day the goal feels good no matter who it's against."
Lucic skated up the left side and shot it over Crawford's right shoulder from the left circle at 3:35. It was Lucic's 17th goal of the season.
Chicago had a couple of prime chances in the first, but was unable to get one into the net. Niklas Hjalmarsson sent a backhander off the right post with about nine minutes left and Andrew Shaw had a tip go off the crossbar two minutes later.
Quick made a nice stop on Kane in the second and Trevor Lewis set up Lecavalier's eighth goal on the other end at 15:30. Crawford was slow to get over to the right side and Lecavalier had a wide-open net to work with after Lewis' pass.
"Unfortunate again, we couldn't help our goaltender," Blackhawks captain Jonathan Toews said. "Crow has been unreal for us all year. These two games we've kind of hung him out to dry."
Brown ended a 15-game scoring drought with a nice backhand move at 11:20 of the third, prompting many of the fans in the sold-out crowd to head for the exits. Toffoli's 25th goal at 16:10 ended a 10-game drought.
NOTES: It was Quick's 35th win. He had 36 wins all of last season. ... The Blackhawks announced before the game that they had agreed to a two-year contract extension with D Viktor Svedberg, who was reassigned to Rockford of the AHL on Feb. 27. The 6-foot-8 Svedberg, who made his NHL debut in October, has two goals and two assists in 19 games with Chicago. The contract runs through the 2017-18 season.
___
Jay Cohen can be reached at http://www.twitter.com/jcohenap