Russell makes food run, Cubs beat Cards to near clinch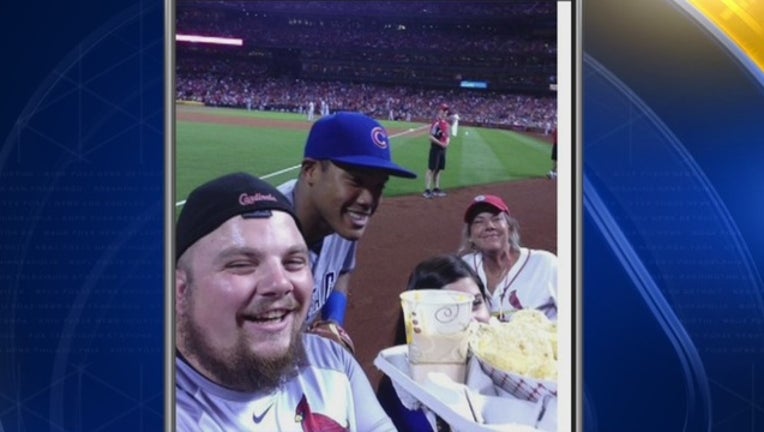 article
ST. LOUIS (AP) -- Say cheese!
Addison Russell and the Chicago Cubs were all smiles after moving within a victory of another division title Monday night.
Russell hit a three-run double in the first inning, then made a food run for a fan in enemy territory while the Cubs beat the St. Louis Cardinals 10-2. Chicago can wrap up the division with a win Tuesday against the Cardinals or a loss by Milwaukee against Cincinnati.
Russell helped the Cubs get to starter Luke Weaver (7-2) early, then made some friends out of rival fans. After diving into the stands chasing a foul ball down the third-base line and spilling a man's tray of chips, Russell emerged from the dugout a few innings later with a plate of nachos and delivered it to the fan. Russell stopped to take a selfie before heading back to play shortstop.
"That was pretty entertaining," Cubs manager Joe Maddon said.
Someone brought a plate of nachos to the dugout a little later, and Russell decided to make the delivery.
"Normally I don't do that," Russell said with a laugh. "But being the case of me being nachoed all over, even on my cleats, I thought `What, why not?' A once-in-a-lifetime experience. He had a great night at the ballgame.
"You don't want to get in front of a man and his nachos," he added.
The loss eliminated St. Louis from NL Central contention and dimmed the Cardinals' wild-card hopes. Colorado entered Monday leading Milwaukee by two games and St. Louis by 2 1/2. The Brewers were idle Monday, and Miami played at Colorado.
Cardinals catcher Yadier Molina was taken out of the game in the seventh inning after he took two foul balls off his catcher's mask. Carson Kelly took over for Molina. St. Louis announced he is in concussion protocol.
"I haven't heard from the medical team yet and I don't know what's going on," St. Louis manager Mike Matheny said. "Obviously, the first one gave us some concern. After checking him, he said everything was OK and he was ready to go and he just needed a second.
"Unfortunately, the second one got him a little bit better and at that point, there was not going to be a conversation. We needed to get him out."
Jon Lester (12-8) pitched six innings, allowing five hits and a run for the Cubs. Chicago is 11-2 in its last 13 games and 19-8 in its last 27.
Lester brought an 8.22 ERA over his last five starts, allowing seven earned runs in two of those outings.
"Much better game tonight," Lester said. "I felt better."
Javier Baez hit a three-run homer in the third inning, but left the game shortly after fouling a pitch off his left leg in the eighth inning. Not until after hitting a single, though. Maddon thought Baez might be able to play Tuesday.
Kris Bryant hit a homer and added two singles for Chicago.
Weaver gave up eight runs over three innings. Chicago stopped his streak of winning seven consecutive starts, the longest by any Cardinals rookie since Ted Wilks in 1944.
With two outs in the first, Russell hit a double to right, scoring Bryant, Anthony Rizzo and Ben Zobrist. Jason Heyward followed Russell with a run-scoring double.
Bryant hit his 29th homer of the season in the second with two outs for a 5-0 Cubs lead.
Jedd Gyorko got a run back for the Cardinals in the second with a one-out home run, the first of his three hits, into left field to cut the lead to 5-1.
Baez hit his first homer since Sept. 13 with two outs, driving in Zobrist and Heyward in the third, giving Chicago an 8-1 advantage.
St. Louis rookie Luke Voit hit a pinch-hit home run in the seventh.
The Cubs added two runs in the eighth to complete the scoring.
STADIUM SECURITY
The Cardinals erected metal barricades along the sidewalks surrounding Busch Stadium and Ballpark Village ahead of the final homestand because of protests following the acquittal of former St. Louis police officer Jason Stockley on Sept. 15.
TRAINER'S ROOM
Cubs: Baez was back in the starting lineup. He was rested Sunday after starting 16 of Chicago's previous 17 games.
Cardinals: Jose Martinez, who is out with sprained left thumb, will attempt to take some swings Tuesday to see if he can return to action this week. Martinez said he received a cortisone shot Sunday. He is wearing a protective brace on his hand. Martinez jammed his thumb during the team's last series against the Cubs and did not appear in either of St. Louis' games over the weekend.
UP NEXT
Cubs: RHP Jake Arrieta (14-9, 3.43) will make his second start since returning from his right hamstring injury. He is 8-3 with a 2.03 ERA in 16 career starts against the Cardinals.
Cardinals: RHP Carlos Martinez (12-11, 3.63) is 1-1 in four starts this season against the Cubs with a 4.26 ERA.