Sale strikes out 15 as White Sox beat Cubs 3-1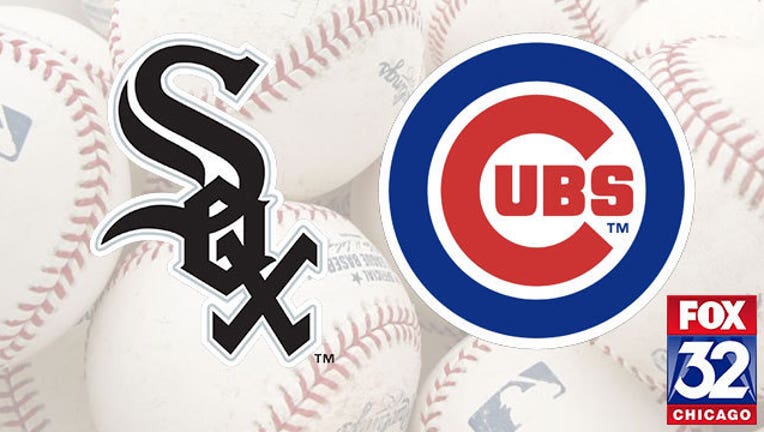 article
CHICAGO (AP) — Chris Sale matched a career high with 15 strikeouts while pitching seven scoreless innings, and the Chicago White Sox snapped the crosstown Cubs' nine-game win streak with a 3-1 win on Sunday.
Jose Abreu, Melky Cabrera and Alexei Ramirez homered for the White Sox, who had lost 10 of 15. Abreu, Cabrera and Carlos Sanchez had two hits apiece.
Sale (11-7) allowed one hit — Dexter Fowler's one-out single in the sixth — and walked two. It was his 11th double-digit strikeout game of the year and ran his total for the season to a major league-best 208.
The Cubs were trying for their first double-digit win streak since they won 12 in a row in 2001. But Dan Haren (8-8) allowed each of the three homers in his 4 2-3 innings, and the Cubs struck out 18 times in all.
The Cubs loaded the bases in the sixth, but Sale struck out Jorge Soler looking to end the inning.
David Robertson allowed Jorge Soler's two-out homer in the ninth before finishing for his 24th save in 30 chances. Addison Russell reached on an infield hit to third after a replay challenge overturned the call on the field, but Starlin Castro grounded out to end the game.
Abreu hit his 22nd homer with one out in the third. Ramirez connected in the fourth, and Cabrera added his eighth homer in the fifth on a hot day in Chicago.
Haren, who was acquired in a July 31 trade with Miami, has allowed 27 home runs this season. He was struck in the right foot by a hard Sanchez grounder in the second. After throwing a few warmup pitches, Haren stayed in the game and got two popouts.
The Cubs had won 15 of 16. They were trying to go 16 for 17 for the first time since 1945, the last time they were in the World Series.
Cubs rookie Kris Bryant went 0 for 4 with three strikeouts, ending his 12-game hitting streak.
TRAINER'S ROOM
White Sox: OF J.B. Shuck was reinstated from the 15-day disabled list and INF Emilio Bonifacio was designated for assignment. Shuck went on the DL on Aug. 1 for a strained left hamstring. He was hitting .278 with 11 RBIs in 54 games. Bonifacio was batting .167 with four RBIs in 47 games.
UP NEXT
Cubs: After an off day on Monday, the Cubs begin a two-game series against Detroit. RHP Jason Hammel (6-5, 3.10 ERA) will pitch for Chicago against RHP Anibal Sanchez (10-10, 4.95 ERA).
White Sox: LHP Carlos Rodon (5-4, 4.61 ERA) starts Monday in the opener of a four-game series against the Angels. LHP Andrew Heaney (5-1, 2.53 ERA) will pitch for Los Angeles.