Streaking Blackhawks pound Coyotes 6-2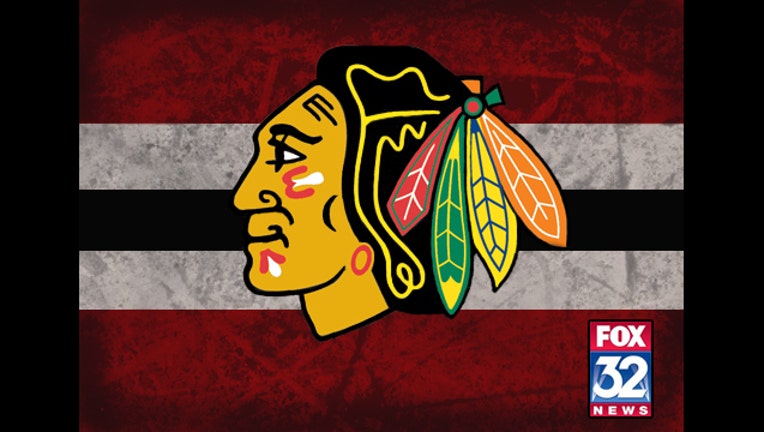 article
CHICAGO (AP) - Andrew Ladd scored two power-play goals after Artem Anisimov was knocked out of the game by a questionable hit from Antoine Vermette, and the surging Chicago Blackhawks beat the Arizona Coyotes 6-2 on Tuesday night.
Anisimov was driven into the boards near Chicago's bench midway through the second, leading to a boarding penalty and game misconduct call on Vermette. Anisimov, a key part of the Blackhawks' high-scoring second line, looked woozy as he left the ice and headed to the locker room.
"We'll say day to day, upper body, he should be OK," Blackhawks coach Joel Quenneville said.
After Vermette and Anisimov left for the night, Ladd redirected Trevor van Riemsdyk's slap shot by Louis Domingue to make it 4-0 at 12:17. Then Ladd got a pass from Patrick Kane and stuffed it home from the front of the net for the Blackhawks' third power-play goal of the period.
Chicago (47-26-7) won for the fifth time in six games and pulled within four points of idle Dallas and St. Louis for the Central Division lead with two games left for each team. The Blackhawks host the Blues on Thursday night in a possible playoff preview.
Connor Murphy and Brad Richardson scored in the third period for Arizona (35-38-7), which was coming off a 5-2 loss at St. Louis on Monday night and has dropped four of five overall. Domingue made 26 saves.
The possible loss of Anisimov, who has 20 goals and 22 assists in his first season with Chicago, comes at an awful time for the defending Stanley Cup champions. After sputtering through much of March, it looks as if the Blackhawks found their groove again while taking on a less challenging part of their schedule.
Captain Jonathan Toews assisted on Richard Panik's opening goal, and then converted a short-handed breakaway to give Chicago a 2-0 lead in the first.
Kane added his 44th goal off one of Artemi Panarin's three assists in the second, and Andrew Desjardins' first goal since Feb. 17 made it 6-1 at 4:55 of the third.
Toews has two goals and five assists during a five-game point streak. Panarin has a whopping 11 points in his past three games, increasing the likelihood of the rookie star earning a bonus for finishing among the top-10 forwards in the league in scoring — a development that could exacerbate Chicago's sticky situation with the salary cap next season.
But Chicago's biggest concern after sweeping its three-game season series with Arizona was the availability of Anisimov, who centers a line with Panarin and Kane.
The Blackhawks already were without goaltender Corey Crawford and forwards Andrew Shaw and Marian Hossa due to injuries. Shaw (upper body) and Hossa (lower body) are day to day, and Crawford could return for the season finale Saturday at Columbus.
Crawford, who has missed 10 straight games, participated in the morning skate and said he felt pretty good.
"I'm itching to get back in there," he said.
NOTES: It was Toews' 250th goal. ... Arizona C Martin Hanzal missed his third straight game with an upper-body injury. ... Scott Darling made 29 saves for Chicago.
___
Jay Cohen can be reached at http://www.twitter.com/jcohenap