Tarasenko scores in OT to lift Blues past Blackhawks, 6-5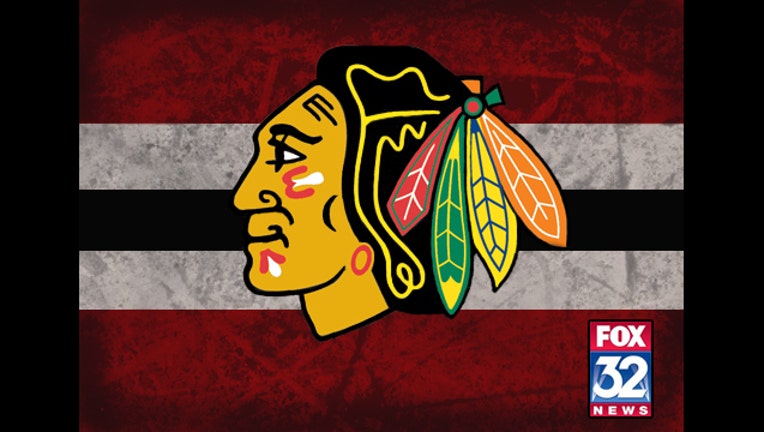 CHICAGO (AP) — Exhausted from their travel woes, the St. Louis Blues found enough energy to rally from a three-goal deficit and beat a Central Division rival.
Vladimir Tarasenko scored at 3:54 of a whistle-free overtime to give the Blues a 6-5, come-from-behind win over the Chicago Blackhawks on Wednesday night.
Tarasenko, who also had an assist, beat Corey Crawford on the glove side from the slot for his seventh goal after taking a nifty behind-the-back centering pass from Alex Pietrangelo.
"This is the first goal I've seen scored where tired people score the goal," coach Ken Hitchcock said. "I mean, Vlady was exhausted."
After a 3-0 loss at home to Los Angeles on Tuesday, the Blues' chartered flight was diverted to Milwaukee because of fog and they continued by bus to their Chicago hotel — arriving at about 4 a.m.
"Regardless of what happened in the 3 on 3, to take this game into overtime, our players deserve a lot of credit for what they did," Hitchcock said.
Alexander Steen scored twice goals, and Robby Fabbri, Jay Bouwmeester and David Backes each had a goal and an assist in regulation for St. Louis, which allowed more than three goals for the first time this season.
The Blues roared back tied it at 5-5 in the second on goals by Steen, Bouwmeester and Backes.
"No question, we had an uphill battle," Backes said. "We found a way tonight, giving up forty-some shots and still finding a way."
Steen scored his second goal of the game on a deflection at 3:11 of the second to trim Chicago's lead to 5-3. Left wide open, Bouwmeester got a power-play goal from the hashmarks with 2:48 left in the second. Backes tied it with 34 seconds remaining, fooling Crawford with a shot from a sharp angle.
"It's a real courageous win," Hitchcock said. "I mean with the day or night or whatever you want to call what we had, to come back and play with the energy we did in the second period. ... Guys deserve a lot of credit."
Patrick Kane, Brent Seabrook, Teuvo Teravainen and Andrew Shaw each had a goal and an assist and Marko Dano — recalled from the minors on Monday — got his first goal to help the Blackhawks take their three-goal lead after one period.
Chicago, which had won six straight at home, hadn't scored more than four times in a game this season.
"Looking at our overall game, it wasn't so bad," Chicago captain Jonathan Toews said. "It's unfortunate that it kind of took the wind out of our sails a little bit in that second period and we gave them life a little bit for that second 20 minutes."
Shaw scored on a penalty shot against St. Louis goalie Brian Elliott, who was pulled twice in the first period and gave up four goals on 15 shots. Jake Allen entered the game for a second time with 2:16 left in the first and finished with 27 saves.
Crawford stopped 23 shots for Chicago.
Elliott left briefly at 6:35 of the first after allowing three goals on Chicago's first six shots. He returned to the net after 41 seconds and speaking with Hitchcock on the bench.
Elliott headed to the dressing room 35 seconds after permitting Seabrook's goal that made it 4-2. The Blues didn't disclose why Elliott didn't return to the bench, but both Hitchcock and Backes pointed to a collision the goalie suffered with Toews seconds earlier when Backes checked the Chicago captain into the net.
"I take Toews into him and put him out of the game, which I feel pretty bad about," Backes said.
St. Louis forward Steve Ott left late in the second period with an upper-body injury.
Dano opened the scoring 2:08 in, connecting from the slot after a St. Louis turnover.
The Blues tied it just 54 seconds later when Colton Parayko's shot from the left point glanced off Steen's leg and sailed past Crawford.
Shaw was awarded his penalty shot at 4:37 after Parayko hooked him from behind on a breakaway, and Shaw beat Elliott on the stick side.
Teravainen made it 3-1 at 6:35 — and briefly chased Elliott — when he swatted in a rebound of Trevor's Daley's shot from the left point.
Fabbri cut it to 3-2 with 4:48 left in the period on a screened shot from the right circle.
Seabrook made it 4-2 from the left point with 2:51 left, and Kane beat Allen 43 seconds later on a screened shot from the left circle just 8 seconds into a Chicago power-play.
Chicago outshot St. Louis 14-7 in the scoreless third.
NOTES: Chicago last scored five goals in a period on March 5, 2010, in a 6-3 win over Vancouver. ... Chicago F Marian Hossa missed his second game with a lower-body injury. ... Blues D Kevin Shattenkirk sat out his his 10th, also with a lower-body injury. ... Dano, acquired in a June 30 in a trade that sent Brandon Saad to Columbus, played his second game for the Blackhawks after they sent slumping forward Bryan Bickell to Rockford of the AHL.
___
A previous version erroneously said this was the Blackhawks' first loss at home this season.