While Bears' receivers get healthy, offensive line in flux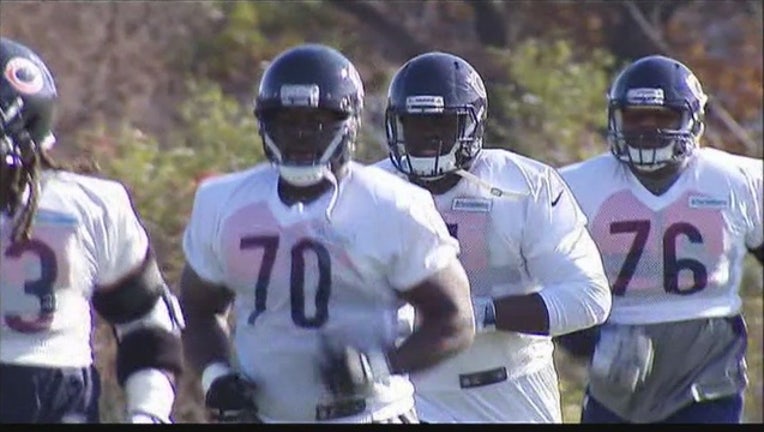 article
LAKE FOREST, Ill. (AP) — Jay Cutler can finally throw to a healthy set of receivers.
It's just not clear who will be snapping him the ball when the Chicago Bears host the Minnesota Vikings on Sunday.
While the Bears (2-4) did not list one of their top receivers on the injury report for the first time since the second week of the season, they might have to get by without starting center Hroniss Grasu. A neck injury kept him out of Thursday's practice and could force the Bears to juggle their line against the Vikings.
At least Cutler finally has all his top targets.
Alshon Jeffery and Eddie Royal returned from injuries two weeks ago at Detroit. And with the bye giving the team another week to heal and rest, the offense figures to have a different look.
"We did look at ourselves," Cutler said. "We looked at certain situations in the games, what we're running, strong and weak, those types of things. But getting everyone healthy, that was probably the biggest key for us."
The Vikings sacked Matthew Stafford seven times in last week's win at Detroit. Now, they could be going against an offensive line with some pieces in unfamiliar spots.
If Grasu can't play, the Bears could move left guard Matt Slauson to center and have Patrick Omameh fill in at one of the guard spots. The only other center they have is Barrett Jones, who is on the practice squad.
"I try to be smart," offensive coordinator Adam Gase said. "I'm not going to do anything crazy if we've got a whole bunch of guys shifted around. But for the most part, I'll hear (offensive line coach) Dave Magazu tell me, 'Call your game. Call your game.' I think our guys have done a great job of sticking with what our game plan was. And whoever is playing certain positions, we make the adjustment, we roll."
Jeffery was rolling along against the Lions after missing four games because of a pulled hamstring. He finished with 147 yards for the third highest total of his career, and he only needed eight catches to get them. That included a 45-yarder and a leaping grab in the end zone with two defenders near him for a touchdown.
It was starring performance by a former Pro Bowl pick who had not played since a season-opening loss to Green Bay.
Royal had 49 yards after missing a game because of an ankle injury. The Bears lost 37-34 in overtime to the previously winless Lions, but they did set season highs for points and yards (444).
That was an encouraging sign for the Bears even if they came up short against a struggling team. Then again, Chicago isn't exactly eyeing a Super Bowl run. The Bears are in the early stages of a rebuild under new general manager Ryan Pace and John Fox, and Gase is still learning exactly what he has on offense.
He's still trying to figure out how Jeffery fits in the system with Cutler, tight end Martellus Bennett and running back Matt Forte.
In that sense, the bye helped him.
"Coach Fox lays out a plan and then kind of gives us a blueprint of how we should play as an offense," Gase said. "Obviously, getting Alshon back does make a difference because it does open up things down the field because he can make unscheduled plays and Jay can make unscheduled plays with him. That does help us shorten drives up, which is always nice to do. But at the same time we're also trying to make sure that we possess the ball sometimes."
___
Online:
AP NFL website: http://www.pro32.ap.org and AP NFL Twitter feed: http://www.twitter.com/AP_NFL