White Sox honor Hall of Famer Thome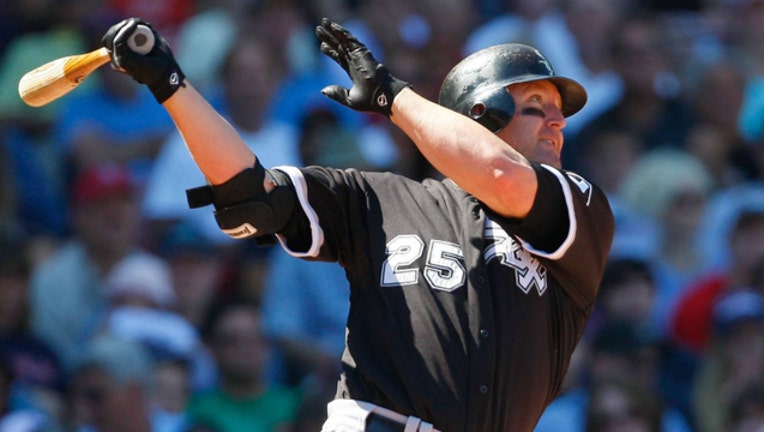 CHICAGO (AP) - Jim Thome now has a gigantic bat to go with a Hall of Fame plaque.
The Chicago White Sox gave the former slugger with the big stick an appropriate gift during a pregame ceremony before Saturday night's matchup against the Cleveland Indians, another honor for a player enshrined in Cooperstown in his first year of eligibility two weeks ago.
"This is so special," Thome said prior to the ceremony. "This is my family, this is where I work, this is where we live. ... This is really special."
The White Sox showed highlights of Thome's time with them as well as his Hall of Fame induction. Just as she did in Cooperstown, his daughter Lila sang the national anthem.
Thome got a standing ovation as he walked out of the dugout. The White Sox presented several gifts, including a black 8-foot bat that had his name and images of him.
Thome thanked former White Sox star Paul Konerko for attending the induction. He mentioned teammates such as Jermaine Dye, A.J. Pierzynski, Scott Podsednik and Joe Crede while praising former manager Ozzie Guillen and his staff as well as White Sox owner Jerry Reinsdorf and team executives Ken Williams and Rick Hahn.
The tribute was fitting for a five-time All-Star who hit 612 homers in 22 seasons with Cleveland, Philadelphia, Chicago, the Los Angeles Dodgers, Minnesota and Baltimore.
Thome got drafted by Cleveland out of Illinois Central College in the 13th round of the 1989 draft and spent his first 12 major league seasons with the Indians. But he forged a strong connection with the White Sox and their fans once Chicago acquired him in a trade with Philadelphia prior to the 2006 season.
Thome hit 134 homers for the White Sox before getting dealt to the Los Angeles Dodgers in August 2009. None were bigger than the drive he hit in the 2008 AL Central tiebreaker game to give the White Sox a 1-0 victory over the Twins. Chicago then lost to Tampa Bay in the AL Division Series.
Thome grew up about 130 miles southwest of Comiskey Park in Peoria and remains a popular figure on the South Side. He is currently a special assistant to general manager Hahn.
The Indians unveiled a statue of Thome at Progressive Field four years ago and are scheduled to honor him again next weekend. The Twins are also giving out Thome bobbleheads on Aug. 25.
___
More AP baseball: https://apnews.com/tag/MLBbaseball and https://twitter.com/AP_Sports