White Sox-Yankees game postponed due to poor air quality in New York
NEW YORK - The hazardous air quality at Yankee Stadium didn't prevent Carlos Rodón from putting in some work.
With several members of the New York Yankees' front office watching closely, Rodón threw 20 pitches in a simulated game on the field Wednesday afternoon — the latest step in his long rehabilitation from back trouble.
The left-hander faced teammates Jake Bauers and Oswaldo Cabrera under a hazy sky in the Bronx, which smelled of smoke because of Canadian wildfires that disrupted professional sports schedules along the East Coast of the United States.
A little while after Rodón was on the mound, the unhealthy air prompted Major League Baseball to postpone New York's game against the Chicago White Sox — along with the Detroit Tigers' game in Philadelphia.
SUBSCRIBE TO FOX 32 CHICAGO ON YOUTUBE
To make it up, the Yankees and White Sox were scheduled for a single-admission doubleheader Thursday beginning at 4:05 p.m.
Lance Lynn (4-6, 6.55 ERA) will pitch the opener for Chicago against Luis Severino (0-1, 5.28). Mike Clevinger (3-3, 4.13) goes in Game 2 against rookie Randy Vásquez (0-1, 3.86), set to make his second major league start. New York will add Vásquez to the roster as its 27th man for the twinbill.
"I'm assuming if Major League Baseball is comfortable setting up a doubleheader tomorrow, they have some type of information that it should be better than what it is today, or at least safe," Chicago manager Pedro Grifol said.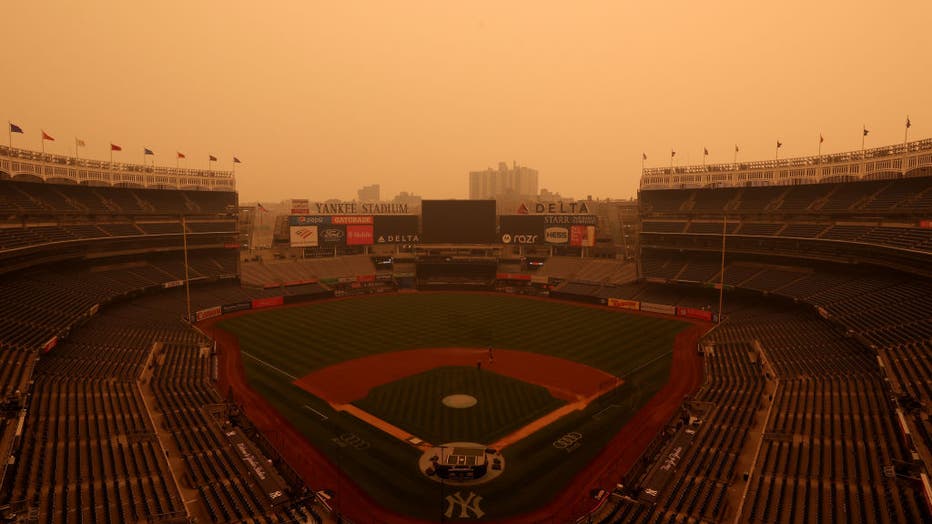 NEW YORK, NY - JUNE 7: A general view of hazy conditions resulting from Canadian wildfires at Yankee Stadium before the game between the Chicago White Sox and the New York Yankees on June 7, 2023, in New York, New York. (Photo by New York Yankees/Get
Before leaving the ballpark, several White Sox played catch in the outfield.
Rodón is yet to pitch for the Yankees after signing a $162 million, six-year contract as a free agent in December. The two-time All-Star began the season on the injured list with a left forearm strain that's healed, but an ailing back has slowed his return significantly.
He's been throwing pain-free and gradually ramping up since receiving a round of injections last month.
As planned Tuesday night, the Yankees placed slugger Aaron Judge on the 10-day injured list Wednesday with a sprained and bruised right big toe — retroactive to June 4. The reigning AL MVP got hurt Saturday when he banged into the outfield fence making a sensational catch at Dodger Stadium.
New York called up outfielder Billy McKinney from Triple-A Scranton/Wilkes-Barre and transferred reliever Ryan Weber (right forearm strain) to the 60-day IL.