Wrigley Field renovations mean fewer souvenirs for ballhawks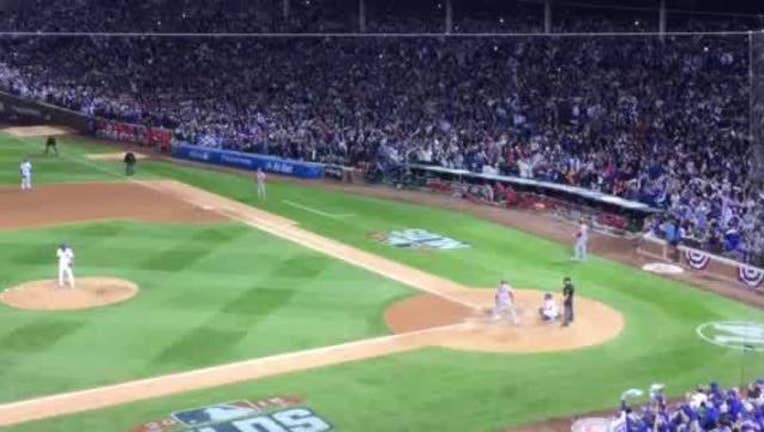 article
CHICAGO (AP) — Glove in hand, eyes fixed straight ahead, Brian Talarico stands poised like an outfielder. Always in position, he's on patrol at Wrigley Field.
Outside the park, that is.
As soon as he sees a ball coming his way, he breaks to his right. Another souvenir clears the left-field bleachers and this time, he's racing to his left.
Balls keep flying. He keeps chasing. At one point, he tries to make a leaping catch in a crowd, only to land on his backside and come away empty-handed.
"The key is to keep your head up because another one could be coming," the Chicago resident said.
Talarico was one of about two dozen ballhawks along Waveland Avenue across the street from Wrigley during batting practice before Game 3 of the NL Division Series between the Cubs and rival St. Louis Cardinals. Some had tickets. Others planned to spend the evening on the street, trying to bring home a prize.
A group of fans chasing balls in the streets is almost as much a part of the fabric of the 101-year-old ballpark as the ivy-covered wall and the manual scoreboard.
It's another tradition that sets it apart from other stadiums. And there will be a few more chances after the Cubs clinched a playoff series for the first time at Wrigley with Tuesday's victory over St. Louis in Game 4 of the NLDS.
Thing is, there aren't as many souvenirs flying out of the Friendly Confines these days thanks to some bleacher expansions over the years.
In the past, 19-year-old hawker Sergio Arzate of Chicago said, it was "raining baseballs." These days? Not as much.
The latest renovation saw bleacher sections in left and right field get ripped out last offseason. The bleachers are higher and deeper, and there are now two gigantic video boards in left and right field that help keep balls off the streets.
The high-definition upgrade is part of a $575 million overhaul that figures to transform the ballpark and the surrounding area.
The coming years will see a new retail and entertainment annex, more concession areas and options, added club spaces, a plaza outside the ballpark and a hotel across the street. Most important for the players, the notoriously cramped home and visitors clubhouses are in for major upgrades.
The Cubs are scheduled to move into a 30,000 square-foot facility next season that will house a new locker room, strength and conditioning center, training areas, offices and a lounge.
Two new underground batting tunnels are also in the works, and they will presumably not house rats. That should please former White Sox manager Ozzie Guillen, who famously claimed to see them in the batting cages under the right-field bleachers, and maybe he will approve of the new digs visitors are scheduled to move into in 2017.
"We like it," Cubs reliever Pedro Strop said, referring to the home clubhouse. "Sometimes when you're sitting in here you know Ernie Banks was here in the same clubhouse. You know, something like that. It's special for us. I know we're getting a new clubhouse next year and everything like that. It's going to be good, it's going to be comfy but we really think that this clubhouse is really special."
On the other side of the ballpark, in a clubhouse that makes the home team's look palatial by comparison, Cardinals pitcher Adam Wainwright can't wait for the upgrade.
"Yeah, this clubhouse will not be missed," he said, grinning. "Not in the least."
Back outside the ballpark, Arzate puts himself near the corner of Waveland and Kenmore Avenues behind a gap between the left-field foul pole and the new video board.
"Every time it hits the board, I throw my glove on the floor," said Arzate, who has been hawking for about four years
Arzate said he was giving someone change for a $5 bill this season when a ball blasted by the Dodgers' Justin Turner nailed him in the head and knocked him out for about 20 seconds. Someone else retrieved the ball and gave it to him. Arzate said he tagged a picture on Instagram to Turner, who recognized him in the bleachers the next day and signed the ball for him.
Talarico has a trick: He keeps an eye on a guy with a glove in the bleacher concourse who seems to be on the hunt for souvenirs. When that guy breaks in a certain direction, so does he. Then he returns to his spot in front of a building where, two floors above, St. Louis' Mark Reynolds smashed a window with a drive during batting practice Sunday.
"I feel blessed every time I get one," Talarico said. "If it's meant, it's meant. If it's not, it's not."