Zobrist homers twice to lead Cubs over Nationals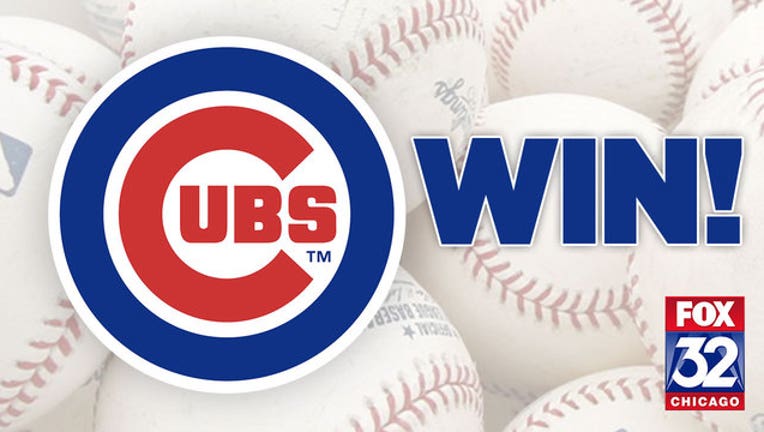 article
CHICAGO (AP) - Joe Maddon loves what Ben Zobrist brings to the Chicago Cubs' locker room.
"He's this thing that spreads," the manager said.
Maddon can't complain about what Zobrist is doing on the field lately, either.
Zobrist homered for the third straight game, connecting twice Friday as the streaking Chicago Cubs defeated the Washington Nationals 8-6 for their fifth win in a row.
"Anytime you start feeling good at the plate, it makes the game a lot more fun, especially with a nice warm day and the wind blowing out," Zobrist said. "I think probably a week ago both of those balls I hit would have been caught."
Zobrist drove in four runs for the second consecutive day against the Nationals as the Cubs won for the ninth time in 10 games and improved to a major league-leading 22-6.
That's the best 28-game start in the National League since the 1977 Los Angeles Dodgers also were 22-6.
Anthony Rizzo added a towering solo homer and Tommy La Stella hit a two-run shot as the Cubs took advantage of the wind blowing out at Wrigley Field.
John Lackey (4-1) struck out 11, one shy of his career high, in seven innings. Hector Rondon pitched a scoreless ninth for his fifth save in as many chances.
Washington began the day 19-9, second-best in baseball. Max Scherzer (3-2) was tagged for seven runs and seven hits in five innings.
"The damage came today from Rizzo and Zobrist," Scherzer said. "I wasn't able to contain the lefties in their lineup. When you look at it like that, they do a great job of putting in a good approach against right-handed pitching."
Anthony Rendon and Wilson Ramos homered for Washington.
K-MART
Lackey became the fifth active pitcher with 2,000 strikeouts when he fanned Jayson Werth in the fourth, joining CC Sabathia, Bartolo Colon, Felix Hernandez and Jake Peavy and earning a standing ovation from the Wrigley Field crowd of 39,206.
"I guess it means I'm old and been around awhile, done a few things," said Lackey, 37.
HIT HARD
Scherzer hadn't given up seven runs in a game since joining the Nationals last year. He surrendered 10 in 2014 when he pitched for Detroit against Kansas City.
Scherzer hit an RBI single in the second to give Washington a 2-0 lead.
LONG GONE
La Stella tied it with a two-run shot in the second. Rizzo and Zobrist hit back-to-back homers in the fourth for a 4-2 lead.
Rizzo's 10th homer up toward the flags atop the foul pole in right field was reviewed and upheld.
"I saw it fair, said Rizzo, who teased injured Cubs teammate Kyle Schwarber that it was one of his "Schwarbombs."
Zobrist connected again for his fifth homer, a three-run shot with two outs in the fifth that made it 7-2.
TRAINER'S ROOM
Nationals: CF/leadoff hitter Ben Revere was reinstated from the 15-day disabled list and went 0 for 5. He had been sidelined since the season opener because of a strained right oblique. To make room, OF Matt den Dekker was optioned to Triple-A Syracuse.
Cubs: C Miguel Montero (lower back tightness), would rather not go on a rehab assignment when he returns from the 15-day disabled list.
"I've only lost eight games, so it's not really that much, but it's not up to me," said Montero, sidelined since April 24. "If they ask me, I don't think I really need a rehab, but like I say, it's not my decision."
UP NEXT
Cubs RHP Jason Hammel (4-0, 1.24 ERA) will face Nationals LHP Gio Gonzales (2-1, 1.15) in a matchup of two of the NL's top four pitchers in ERA entering the weekend.
In 11 career starts against the Nationals, Hammel is 9-0 with a 3.01 ERA. No other active pitcher has as many wins without a loss against one opponent.