Zobrist, Rizzo homer as Cubs top Pirates 6-2 for sweep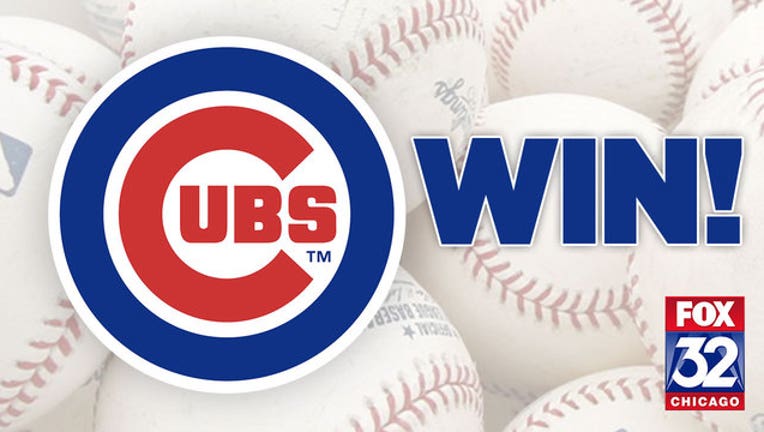 PITTSBURGH (AP) - The Chicago Cubs are threatening to run away with the NL Central.
Ben Zobrist hit a three-run home run, Anthony Rizzo also connected and Jon Lester worked out of a pair of jams to lead the Cubs over the second-place Pittsburgh Pirates 6-2 Wednesday for a three-game sweep.
With its seventh win in eight games, Chicago improved to a major league-best 20-6. The Cubs have won seven straight road games and completed their first sweep in Pittsburgh since Sept. 7-9, 2012. They lead the division by six games.
"We pitched really well in this series. We've been doing that the whole year," Cubs manager Joe Maddon said. "And the offense was good again. But the part that permits the offense to get into the flow of the game is the pitching's been so good. That we are able to stay even or most of the times on top of the other side.
"Offensively we keep having good at bats over the course of the game and then have a chance to work people down by the end. That's pretty much been the roadmap to this point."
Zobrist's third-inning homer put Chicago ahead after center fielder Andrew McCutchen dropped Rizzo's two-out liner for an error.
Lester (3-1) scattered eight hits in 5 2/3 scoreless innings, struck out five and walked two. The left-hander has allowed one run or none in five of six starts this season.
Pittsburgh loaded the bases in the fourth and put runners on first and second in the fifth — both times with no outs. The Pirates have lost four straight following a six-game winning streak.
"It says a lot about pitch execution because Johnny got in some jams and was able to pitch out of it, which was really nice to see," Cubs catcher David Ross said. "He's done that a couple times here lately."
Rizzo doubled and scored on Javier Baez's fifth-inning double and hit his ninth home run of the season in the seventh off Ryan Vogelsong. He had three hits, scored three times and finished the series with five doubles and the home run.
Baez also had three of the Cubs' 12 hits and drove in the game's final run with an RBI forceout in the ninth. Addison Russell added two hits and Kris Bryant extended his hitting streak to 10 games.
Pinch-hitter Matt Joyce had a two-run homer in the seventh against Adam Warren. Three of his four home runs have come as a pinch hitter.
Juan Nicasio (3-3) had won his first three home starts after being signed as a free agent, allowed four runs - one earned - eight hits and three walks in 4 1/3 innings.
Pittsburgh got two hits each from McCutchen, David Freese and Josh Harrison. McCutchen had gone 2 for 19 in his previous five games.
"We had our chances but we didn't capitalize on them," Harrison said. "It's disappointing to get swept but we're good about getting past things. We came in, took a shower and now we're moving on."
RED-HOT RIZZO
Rizzo is hitting .362 (17 for 47) with 16 RBIs in his last 12 games after hitting .163 in his first 14. He also is batting .442 (23 for 52) in his last 13 regular-season games at Pittsburgh with nine doubles and nine RBIs.
"Part of it is just that he had to have better luck," Maddon said. "I saw (his batting average on) batted balls in play was just atrociously low, and that just comes back to you."
TRAINER'S ROOM
Cubs: RF Jason Heyward (sore right wrist) did not start for a third straight game but Maddon is optimistic he might play Thursday.
Pirates: C Elias Diaz underwent surgery Tuesday to debride his right elbow, and the rookie is expected to be out until mid-July.
UP NEXT
Cubs: Chicago opens a four-game series Thursday night against Washington with RHP Kyle Hendricks (1-2, 3.52 ERA) pitching on eight days' rest against RHP Joe Ross (3-0, 0.79).
Pirates: Pittsburgh starts a three-game series Friday night at St. Louis with LHP Francisco Liriano (2-1, 3.86) facing RHP Carlos Martinez (4-1, 2.60). Liriano is 6-2 against the Cardinals in 13 starts.