Final month of summer brings threat of extreme weather to Chicago, historical data shows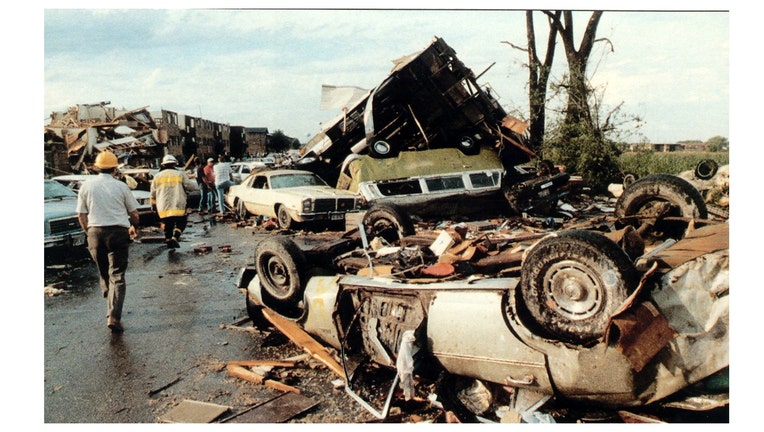 article
The final month of meteorological summer has started with fall coming before you know it.
August may be the quietest month of summer when it comes to severe weather, but it ranks as the fourth most active of the year when it comes to reports of large hail, damaging winds, and tornadoes. We can't afford to let our collective guard down.
To illustrate this, I selected some severe weather events that occurred during the month of August in Illinois. Leading the list is the month's most notorious event and the month's most deadly.
August 28 of this year will mark the 33rd anniversary of the Plainfield tornado. It was and still is the strongest tornado to strike during the month of August not just in Illinois, but anywhere in our country. It was a violent F5 tornado that ripped through portions of Kendall and Will counties. 
Today we employ the Enhanced Fujita Scale, or EF scale, to rate the strength of twisters. In 1990, we were still using the Fujita Scale or F Scale. The Plainfield tornado was at the top of the scale, an F5 tornado. F5 tornadoes have winds between 261 mph and 318 mph. The National Weather Service says a tornado of that strength can produce "incredible damage in which strong frame houses can be leveled and swept off of foundations, automobile-sized objects can be lifted into the air, and trees are usually debarked".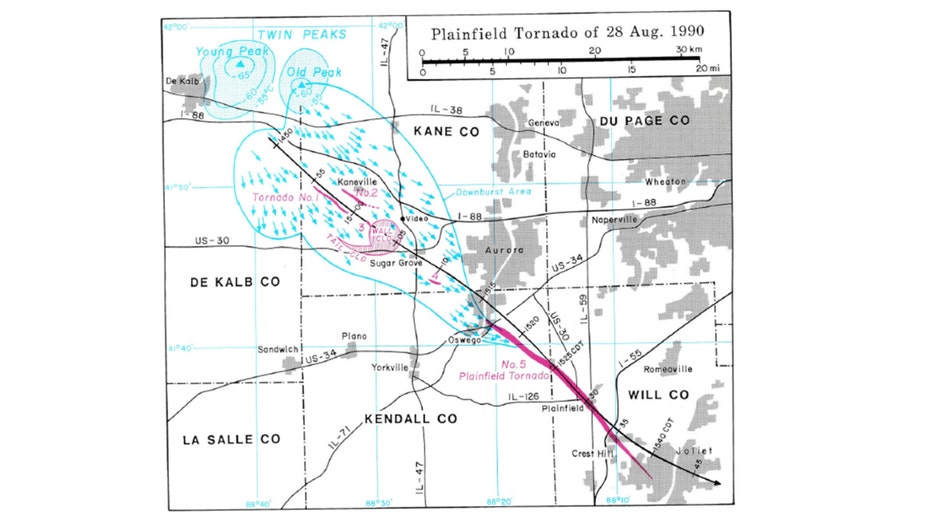 The original storm survey by Dr. Theodore Fujita of the University of Chicago.
The tornado killed 29 people, injured 350, and caused damage amounting to $160 million. Nearly 500 homes were destroyed and 1000 damaged.
In their subsequent study of the tornado, the National Weather Service concluded it was very unusual for the following reasons:
The Plainfield tornado was the first ever tornado greater than an F3 rating, since records began in 1950, to occur during the month of August in the state of Illinois.
It was the second killer tornado since 1950 to occur during the month of August in Illinois.
This tornado remains the only F5/EF5 rated tornado documented in the United States during the month of August.
The tornado had low clouds and rain surrounding it, making it difficult to see. Because of this, no known photographs or videos of this tornado exist.
The tornado approached from the northwest; most tornadoes approach from the southwest.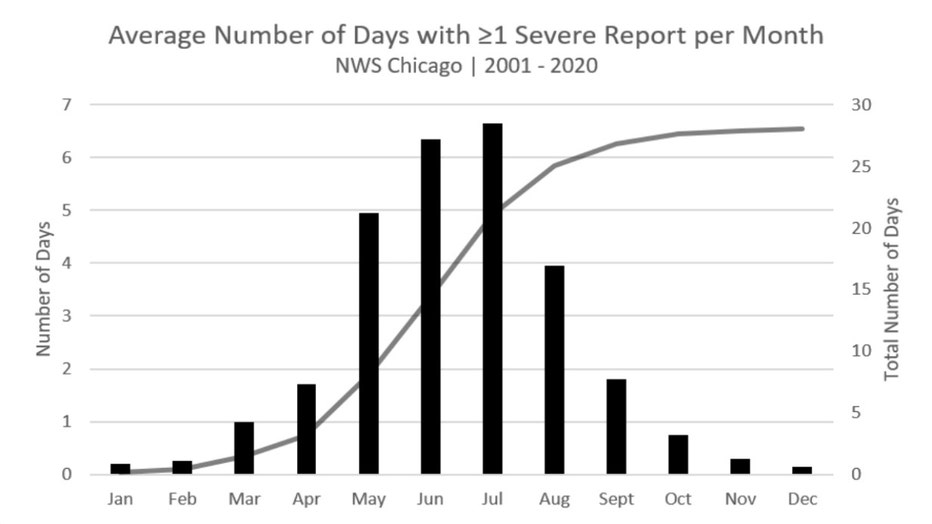 August is the fourth highest-producing month for tornadoes in Illinois. Nearly 7% of them occur during this month. August also ranks as the fourth-worst month for severe storm reports in general. These reports can either be from hail an inch in diameter or bigger, winds equal to or exceeding 58 mph, or a tornado. Three years ago a powerful storm system blasted across northern Illinois and Indiana and produced all three types of severe weather.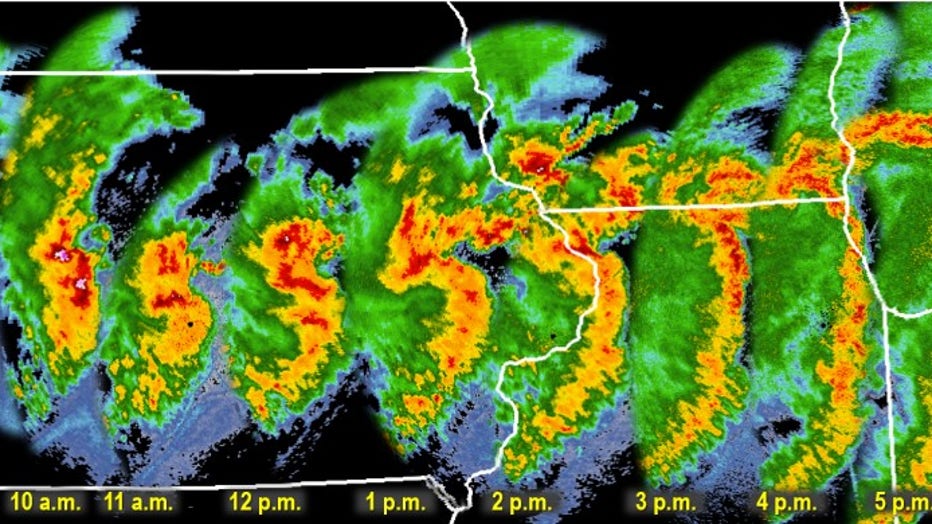 One-hour radar image time steps from August 10, 2020 derecho
A "derecho" swept across our region on Aug. 10, 2020. It did damage in much of the Midwest with severe winds impacting an area of more than 90,000 square miles. It was the costliest known thunderstorm event in modern U.S. history with more than $11 billion in damage. Four people were killed. I recall covering the event. At one point or another, every county in the Chicago area was under a tornado warning. The derecho produced 26 tornadoes in total (15 in northern Illinois and northwest Indiana) and left at least 1 million people without power. Some had to wait more than two weeks for it to go back on.
It tied for the 2nd highest number of tornadoes to occur on a single calendar day in the area under the responsibility of Chicago's NWS office since official tornado records began in 1950. It was also the most tornadoes to occur on a single day in August.
Here's a summary of the amazing statistics from this event as compiled by the National Weather Service:
Over 700 reports of severe wind speeds (58+ mph) or wind damage from the Nebraska/Iowa border, across Iowa, northern Illinois, and northern Indiana. This was a high end, once-a-decade type event for the area.
Over 160 of the wind reports are from all of northern Illinois and northwest Indiana.
12 injuries were reported in the NWS Chicago CWA, 5 being in Forreston, Ill., 1 in Peru, Ill., 3 in Matthiessen State Park near Utica, Ill., 1 in Lake Villa, Ill., 1 in Lake Station, Ind., and 1 in Hammond, Ind.
In the NWS Chicago County Warning Area, 15 tornadoes were confirmed, which includes portions of northern Illinois and northwest Indiana. As of this time, this count ties Aug. 10, 2020 with June 22, 2016 as the single calendar day with the second-most tornadoes within our county warning area (behind the 6/30/2014 "Double Derecho" event).
In total, the derecho produced 26 confirmed tornadoes across Iowa, Illinois, Wisconsin, and Indiana.
The tornadoes include an EF-1 tornado in Rogers Park, Ill. (a north-side neighborhood of Chicago), that moved out over Lake Michigan and became a waterspout. This was the first tornado in the city of Chicago since Sept. 3, 2018 (EF-0). This was the first F-1/EF-1+ tornado in the city of Chicago since March 12, 1976 (F-2) that clipped the far northwest side of the city, roughly near O'Hare Airport and Edison Park.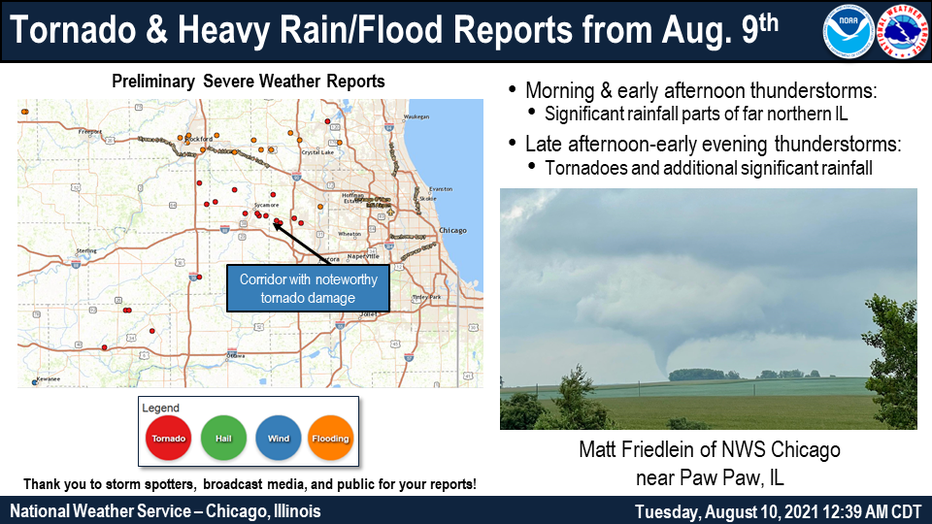 That derecho occurred just three years ago. Even more recently, just two years ago, Illinois had multiple rounds of thunderstorms that produced ten tornadoes in our area on Aug. 9, 2021. The strongest estimated winds that day reached 110 mph. Thunderstorms also produced flooding rain with some spots receiving nearly 4 inches.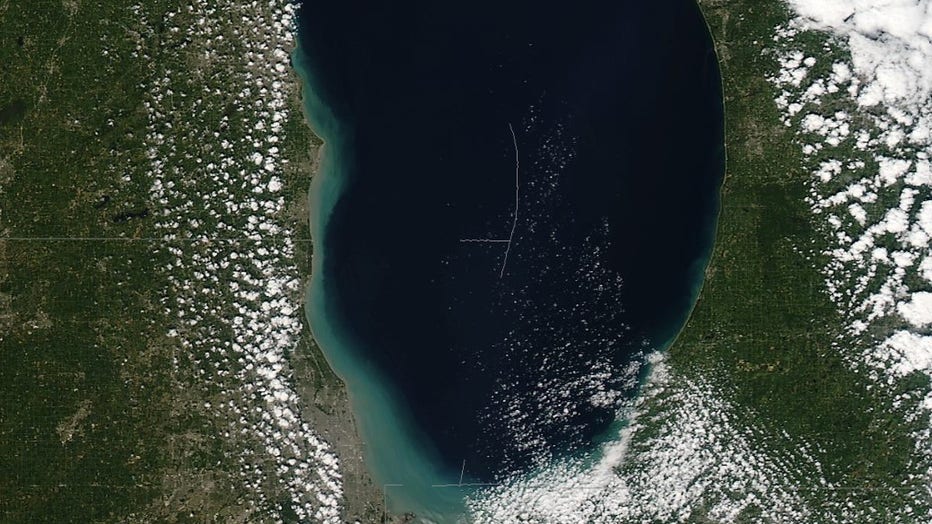 Sediment visible along southern shoreline of Lake Michigan after record breaking August gale.
Lake Michigan was rocked by strong winds that whipped up record waves back on Aug. 10, 2012. A storm system produced a long period of intense northerly winds that would make it one of the strongest gales ever in the month of August. Those gales produced the highest waves ever recorded for the month (dating back to 1981) as measured by a mid-lake buoy in southern Lake Michigan.
Wave heights peaked at 13.5 feet during the event, surpassing the previous record for August of 11.8 feet. Perhaps most remarkable were the 9 straight hourly observations that day that recorded wave heights of 10 feet or greater. Since 1981, there had only been 13 total hourly observations at the south buoy in August that had wave heights of 10 feet or greater. There were as many hourly observations with 10 ft or greater wave heights that day alone as had been recorded during the previous 30 years combined for the month of August.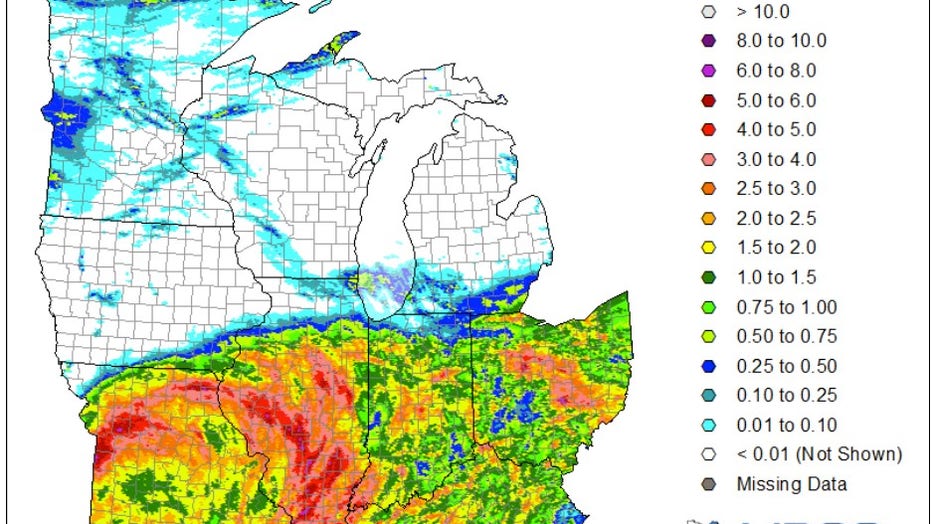 Rainfall totals from Aug 27-Sept 2 after remnants of tropical cyclone Isaac move through.
So far we have looked at examples of significant tornado outbreaks, derechos, and record gales and waves. There has even been a significant event caused by a hurricane here, or at least the remnants of one.
Hurricane Isaac struck the Gulf Coast when it made a second landfall in Louisiana on Aug. 29 of 2012. It was the fourth hurricane of the season that year. Before it came ashore in our country it took a deadly toll in Haiti. Flooding rain there took the lives of 24 people. The maximum sustained winds peaked at 80 mph shortly before the second landfall. The storm took 41 lives in total and caused $3.11 billion in damage.
The remnants of the storm, in the form of an extratropical cyclone, produced one to five inches of rain south of the city.