Chicago still has snow in the forecast
Chicago - From severe spring storms Thursday to snow by Saturday morning. Welcome to spring in Chicago! 
Rounds of showers and thunderstorms Thursday produced hail as big as nearly tennis ball size near Mendota. Damaging winds were as strong as 81 mph in Roselle. Saturday's forecast now includes snow.  
Very few people want to hear this, but you could almost say that we are due for some snow. We have seen just four tenths of an inch so far this April. That is seven tenths of an inch below average. 
We are down a bit over four inches below average for snowfall since the start of meteorological spring on March 1st. We are down a whopping 18.1 inches since the start of snow season last fall. The snow that may be coming Saturday won't do much to get us back to normal.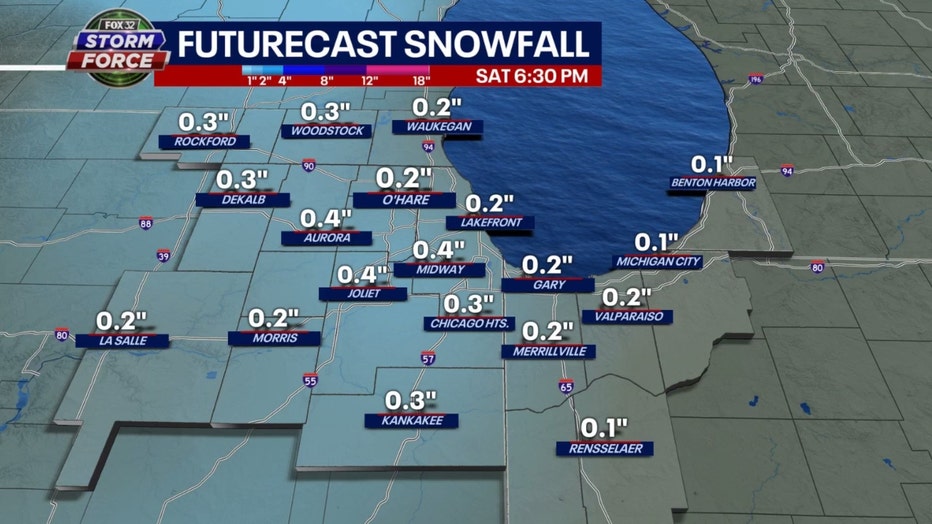 The GFS model is most robust with its total snowfall accumulation forecast. It spits out around two tenths to nearly a third of an inch of snow. This wet snow would mix with rain and most likely fall during the morning hours Saturday. Some scattered afternoon rain showers could also spit out a wet snowflake or two. 
The best chance for snow will be near the Wisconsin state line. Any snow that falls will quickly melt with our relatively warm ground temperatures. We may see a dusting on some grassy surfaces. The colder pattern that could bring this snow may stick around for quite some time.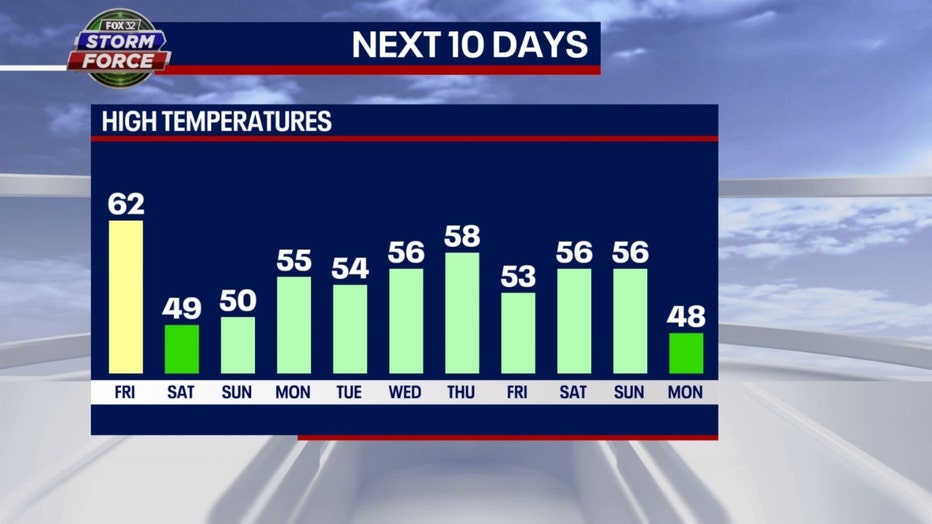 Our Fox Model forecast has highs below average for at least ten days in a row starting on Saturday. Looking even further into the future shows a cooler than average pattern overall could hang around into at least early May.
The Climate Prediction Center's long-range temperature outlook keeps the cooler temperatures coming.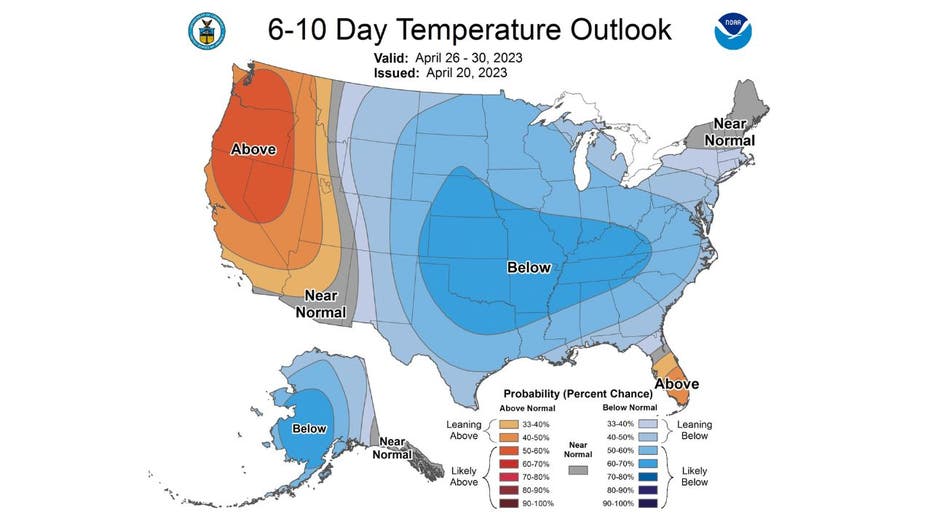 The 6-10 day temperature outlook has us "likely below" average overall from next Saturday through the following Wednesday. Average highs for this time of the year are in the lower to middle 60s.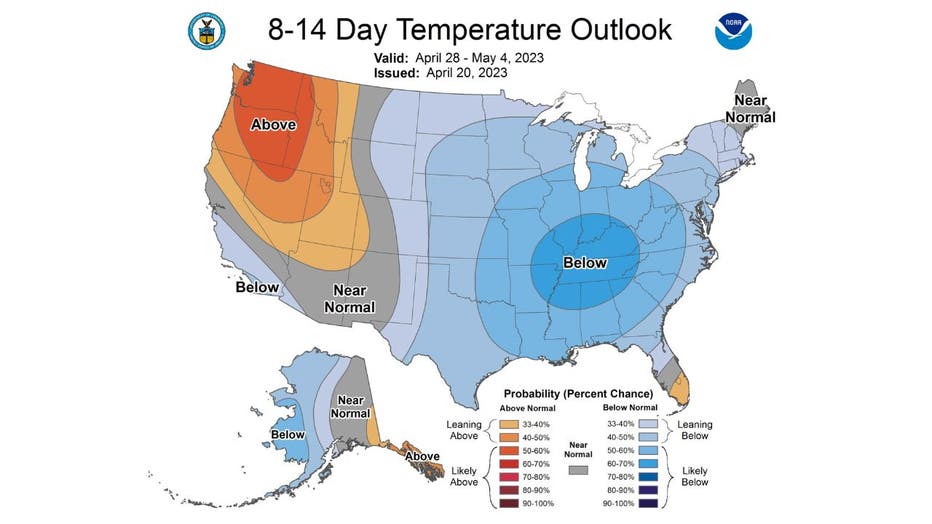 The 8-14 day temperature outlook also has us "likely below" average overall. It covers the period from next Friday through the following Monday and includes the first four days of May.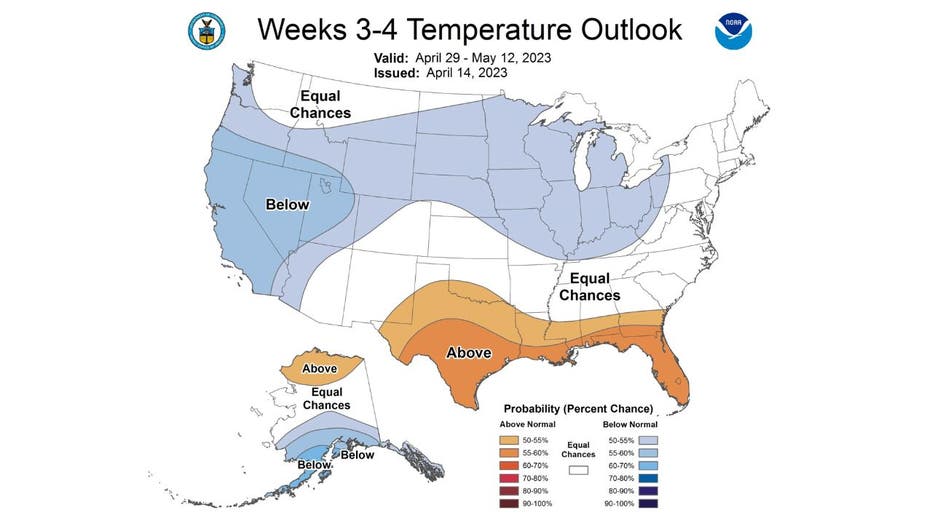 The Climate Prediction Center's week 3-4 outlook also has us covered in blue. It favors us to stay cooler than average overall into the middle of next month. Average highs for the period start off in the middle 60s at the end of April and climb to near 70 degrees by May 12.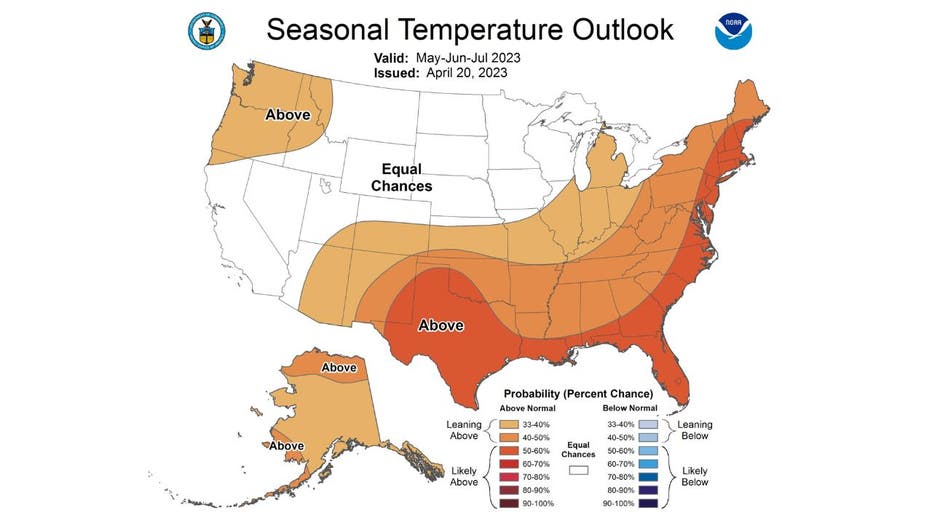 Good news if you are waiting for some warmer weather. The Climate Prediction Center's long-range temperature outlook that includes the months of May, June and July offers some hope. Most of Illinois, including all of Chicago, is "leaning" above average overall for the three-month period.