When will 80s be back in Chicago?
CHICAGO - We got off to a cool start in March, the first month of meteorological spring. The month ended up slightly below average. O'Hare came in just .2 degrees below average for the month overall.
We got glimpses of hope that we could salvage a mild or even warm spring as early as March 31st. That marked the first day with a high of 70 degrees for 2023. Our first day with a high of 80 degrees or warmer came under two weeks later when we hit a high of 82 degrees on April 12th. That was nearly 10 days earlier than average for a first 80 degree spring day. This was the start of a streak of four straight days with highs in the 80s. 
We are now day five in a streak of consecutive colder days than average. If we don't make it to the forecast high of 64 degrees tomorrow, we could be looking at that streak continuing through at least a week from Saturday. That would mean 15 straight days coming in colder than average. Even if we manage to make it up to 64 Thursday, it looks likely we will have at least another 9 days in a row that will be colder than average starting Saturday.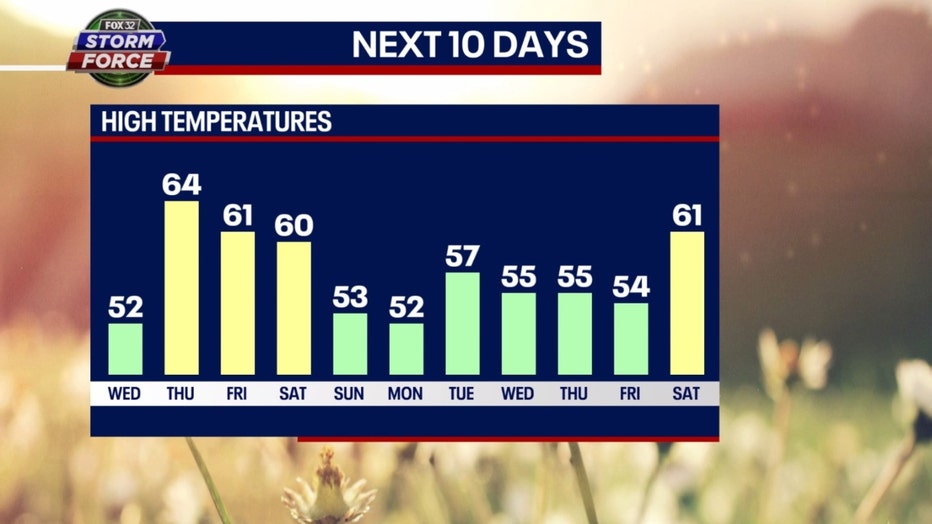 Our Fox model leaves little room for hope of a return to the 80s or even 70s at least through the first week of May. Average highs this weekend are around 64 degrees and by the following weekend they climb to around 67 degrees.
SUBSCRIBE TO FOX 32 ON YOUTUBE
Our cool pattern could continue for quite some time. The Climate Prediction Center's long-range temperature outlooks gives Chicago the blues for the next four weeks. Any shade of blue depicted on these maps means a portion of the country forecast to be below average overall.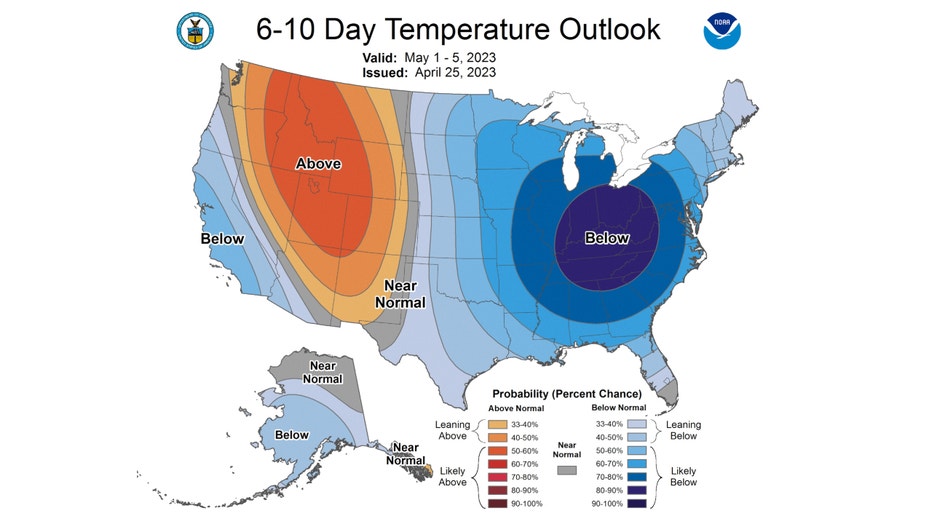 The 6-10 day temperature outlook has us "likely below" average overall from next Monday through the following Friday. 
There is between a 70 to 80% probability of us being below average during the period.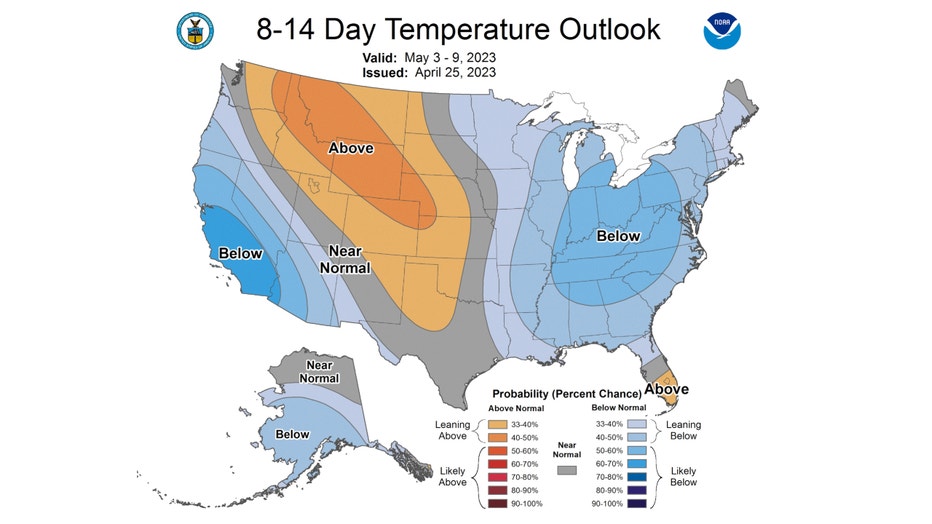 The 8-14 day temperature outlook also has most of the Chicago area "leaning below" average. 
It covers the period from next Wednesday through the following Tuesday, just beyond the first week of May.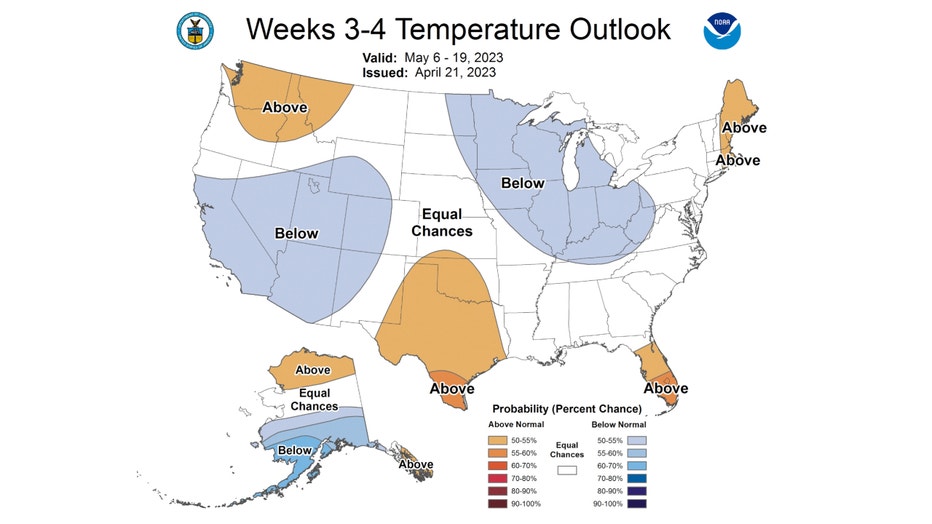 The Climate Prediction Center's week 3-4 outlook favors us for cooler than average temperatures overall right through the middle of next month. 
Average highs at the beginning of this two week period are around 67 degrees and soar to 72 degrees by the end of it. While a few days may spike above average, overall we will probably end up being below average.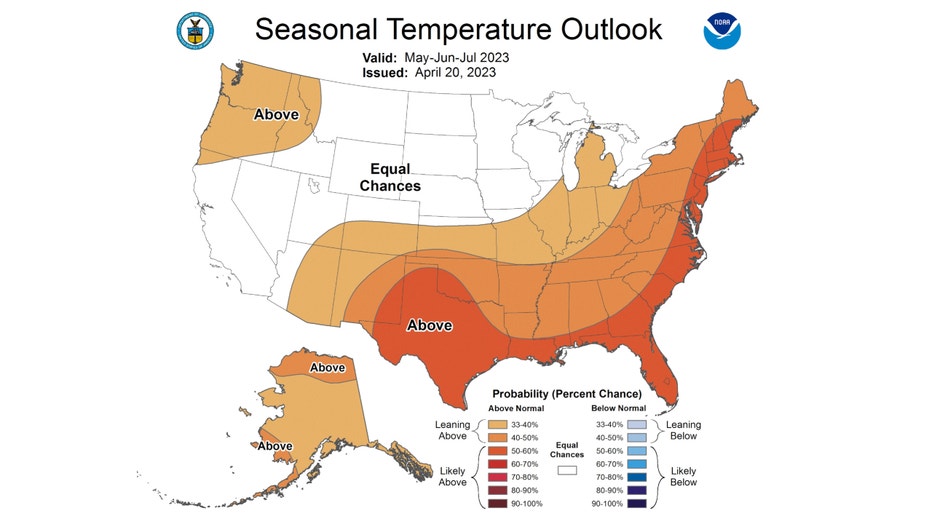 The Climate Prediction Center's seasonal temperature outlook for the months of May, June and July finally favor us to warm above average. Most of the Chicago area is forecast to be "leaning above" average for the three month period. 
For now we can have warm thoughts. Hang in there. Our cool pattern could start to flip towards a warmer one by the middle or end of May. Pretty soon we may start complaining that it is too warm.