Measuring the miserableness of Chicago's winter weather
Chicago - We really can't complain. This winter has had its moments but by and large, it has been a breeze. 
O'Hare has seen just 14.2 inches of snow so far which is only 60% of average through this part of the season. December finished just over a degree below average overall, but January was more than 7 degrees above average. 
After a frigid start to February, the last four days have been above average. We are now a tenth of a degree above average overall for the month and trending even further upwards according to model forecasts. 
Our latest round of "weather whiplash" shows how quickly things can change here. We froze last Friday with wind chills as cold as 25 degrees below zero. Just four days later it felt less like February and more like late March with a highs Tuesday of 51 degrees. In other words, it felt more than 75 degrees warmer yesterday compared to just a few days ago.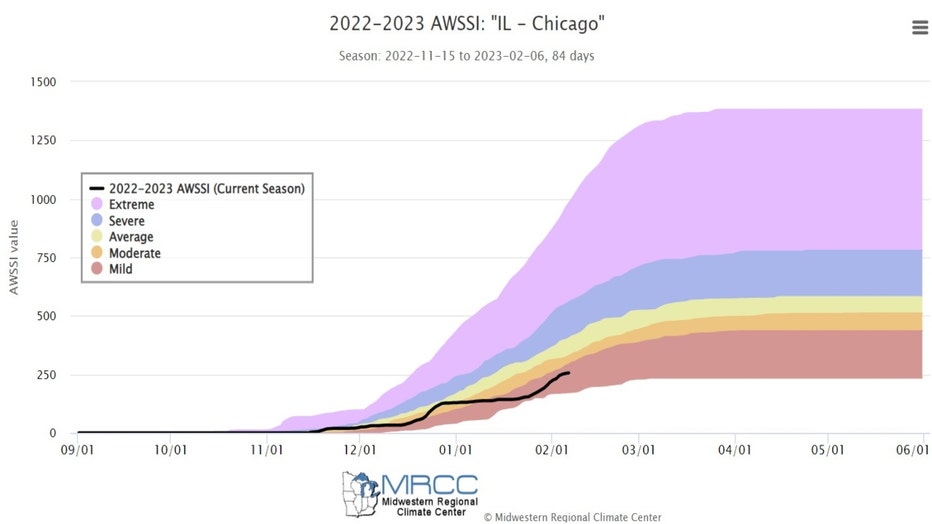 Chicago's Accumulated Winter Season Severity Index
 The "Accumulated Winter Season Severity Index" or AWSSI (or "misery index") calculated by the Midwest Regional Climate Center measures our winter misery and assigns it a category. The categories in order from least miserable to most include mild, moderate, average, severe and extreme. We are now near the middle of the "mild" category which is on the lowest end of the misery scale.
Chicagoans know to never let their guard down no matter how well a winter may be going. There are some indications of at least a few challenging days ahead, especially as we hit the finish line of meteorological winter in February and start off spring in early March.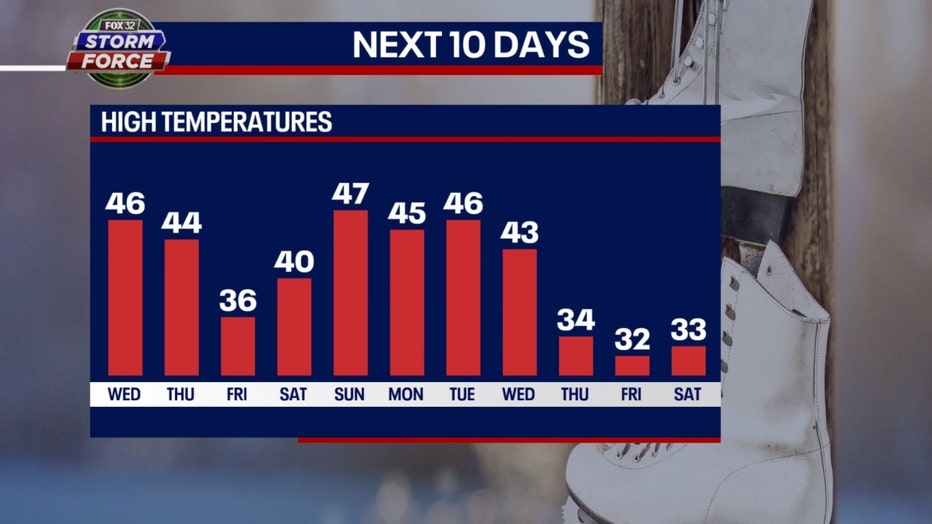 There are no signs of any serious trouble through at least next week. Today and the next seven straight days after should be above average. Six of the next seven days will have high temperatures more like March than February. 
A couple of colder days could be coming for the end of next week that could spill into the following Saturday. Our Fox model suggests it will turn colder in about a week but not bitterly cold.
The Climate Prediction Center's long range temperature outlooks suggest those colder days will be exception. It has us enjoying a mild pattern through the third week of February.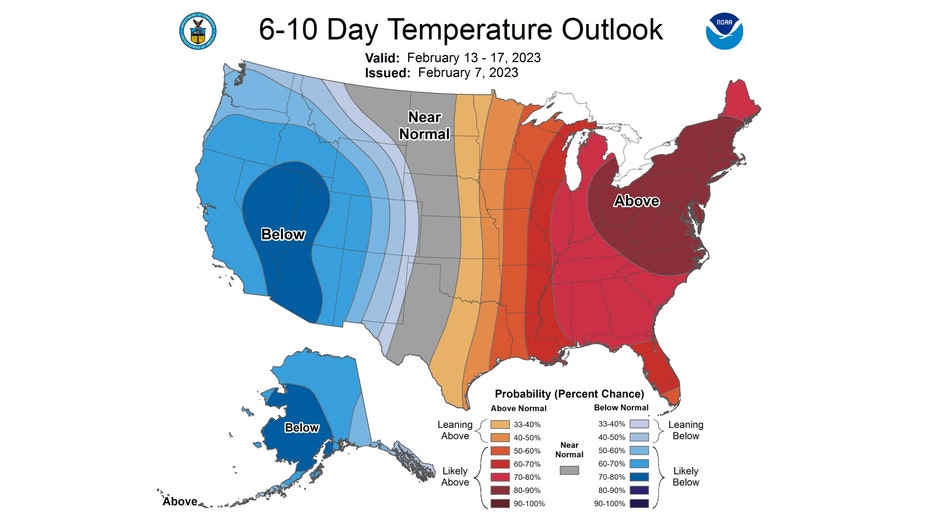 The 6-10 day temperature outlook has us "likely above" average overall for the period from next Monday through the following Friday. It is a strong signal with a 70 to 80 percent probability.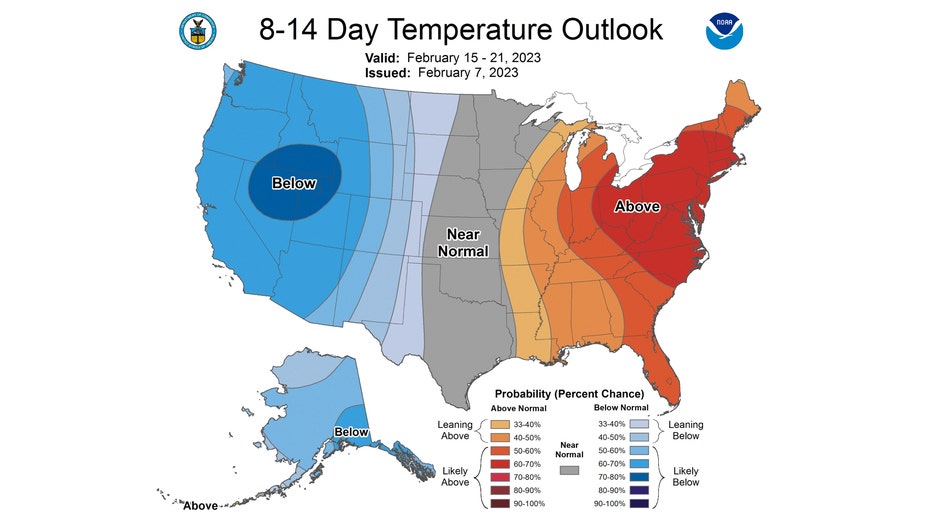 The 8-14 day temperature outlook lowers the probabilities a bit but still favors us for a mild February pattern. It has our area either "leaning above" or "likely above" average overall from next Wednesday through the following Tuesday.
Trouble could be brewing for the final few days of February and the first few days of March. Models are seeing signs of a "sudden stratospheric warming" developing that could mean a dramatic drop in temperatures is coming as we finish out one season and start the next. 
A SSW means a rapid rise in temperatures (up to 120 degrees) over the course of a few days in a layer between about 5 to 30 miles above the earth's surface. The winds at that level that normally flow from west to east around the pole weaken dramatically and can even reverse direction. This can move the polar vortex out of position and send a lobe of bitterly cold air south towards the United States.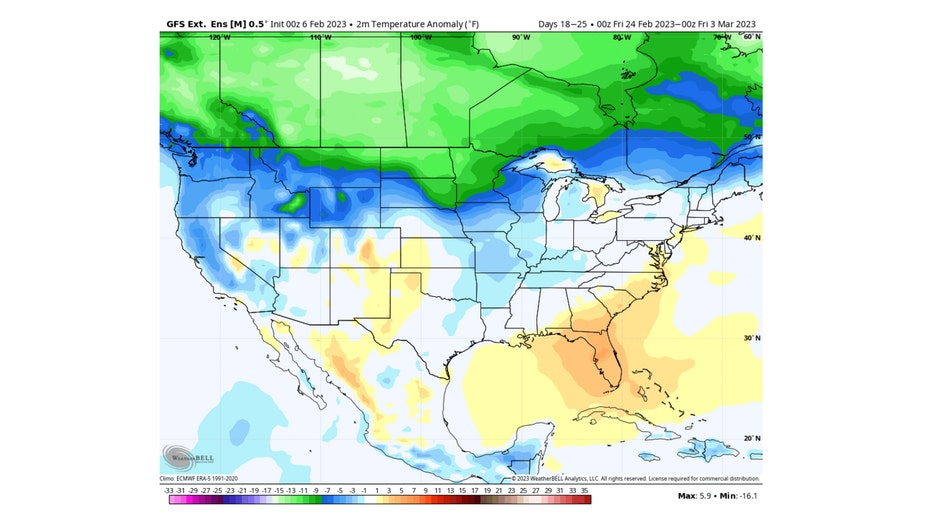 GEFS Temperature Anomaly Forecast For 2/23 Thru 3/2
The Global Ensemble Forecast System (GEFS) seems to be picking up on this. The temperature anomaly forecast for the period from the evening of February 23rd through the evening of March second has us anywhere between 2 and 5 degrees below average overall. Portions of the northern plains could be 15 degrees below average or colder.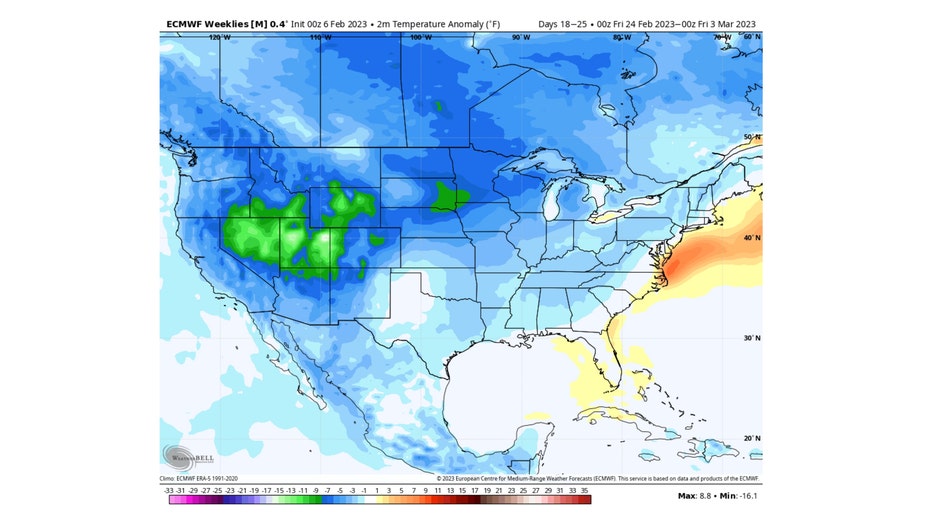 ECMWF Temperature Anomaly Forecast For 2/23 Thru 3/2
The ECMWF or European model also shows a dramatic drop in temperatures during this period. It has us falling around one degree to four degrees below average overall.
None of this is written in stone since we are still a few weeks away. It is just a reminder that we can't be too complacent no matter how well our winter may be going.