More 'risky heat days' for Chicago means more are in danger
Chicago - There are hot days and then there are dangerously hot days that can kill. Chicago has seen a jump in "risky heat days" since 1970 that causes more heat-related illnesses and deaths according to a new study.
The minimum mortality temperature or MMT, is defined as the daily average temperature that corresponds to the lowest risk of heat-related deaths. The risk of heat-related illness and death climbs dramatically when temperatures start to rise above the local MMT. The 59 degree MMT in Anchorage, Alaska is much lower than the 87 degree MMT in Austin, Texas because Austin residents are more accustomed to hotter temperatures and have adapted, primarily with air conditioning and similar accommodations, to reduce risks that come with extreme heat.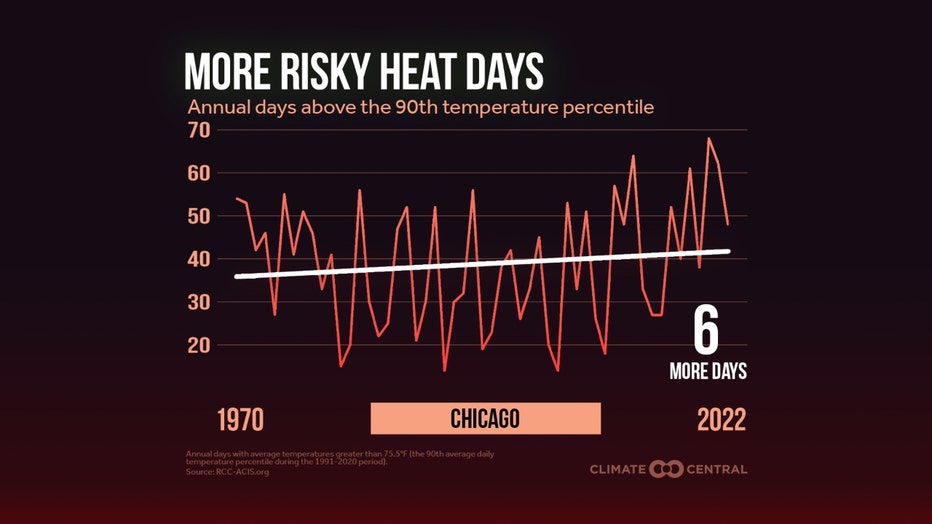 Climate Central did an analysis of nearly 250 cities to see how the number of annual days above a location's MMT has changed between 1970 and 2022. Chicago has seen an increase of 6 risky heat days during this period. Nearly 94% of the locations they looked at have seen an annual number of risky heat days jump by 21 more days. The South and Southeast regions saw some of the biggest increases overall, but an increase in risky heat days was observed in every region of our country.
Here are the locations that saw the biggest increases in annual days above MMT in this study:
Location Change in annual days above MMT 1. Reno, Nev. 64 days 2. Panama City, Fla. 60 days 3. Tampa Area, Fla. 58 days 4. Albany, Ga. 54 days 5. Sarasota, Fla. 54 days 6. Austin, Texas 53 days 7. McAllen, Texas 52 days 8. Houston, Texas 51 days 9. Miami, Fla. 49 days 10. New Orleans, La. 48 days
Climate Central points out that while all of us will be affected by an increase in risky heat days, the following groups will be most at risk:
Children
Adults over 65
Pregnant people
People living with illness
The release of this data came just a few days before the World Meteorological Organization said there is a 66% probability that our global average surface temperature will top the 1.5 degree Celsius target set by the Paris Agreement (an international treaty on climate change adopted in 2015) at some point over the next five years. It's a critical climate threshold that when exceeded, will mean heightened risks when it comes to "health, livelihoods, food security, water supply, human security, and economic growth" according to the Intergovernmental Panel on Climate Change.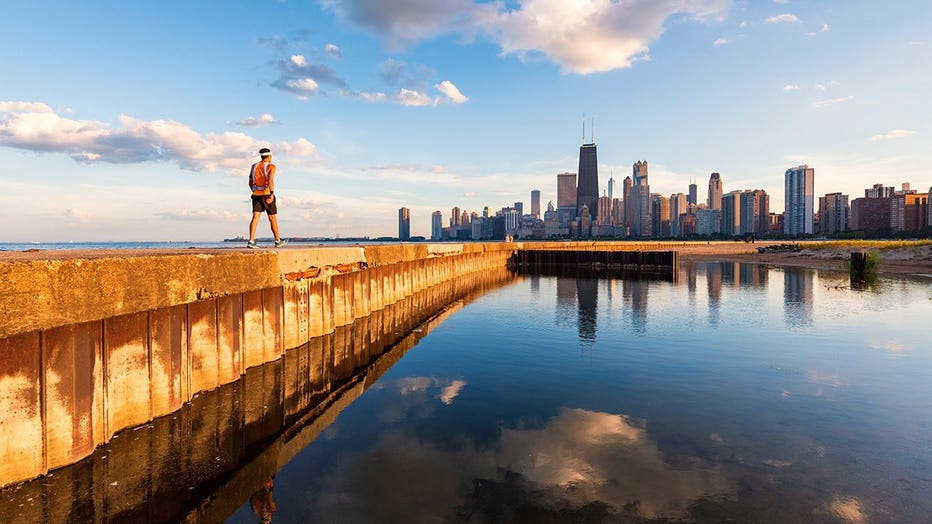 There was other bad news regarding climate change announced by the National Centers for Environmental Information. The 2023 April Global Climate Report said that this was the 4th warmest April on record for our planet. The report also noted there is almost a 30% chance 2023 will end up being the warmest on record and it is virtually certain it will at least rank among the top ten warmest years on record. That bit of bad news came out just a day before Time Magazine reported on a study done in 2018 by a Stanford economist that an increase of 1.8 degrees in the average temperature for the United States or Mexico would mean a 1% jump in suicides. That would correspond to thousands of new deaths every year.
Last summer there was another study about heat that made headlines. The nonprofit First Street Foundation predicted the development of an "extreme heat belt" that will eventually stretch from Illinois southward to Texas. This zone may see the heat index hit 125 degrees at least on average one day a year by 2053. That would expose more than 105 million Americans to this extremely dangerous level of heat and humidity.