When will Chicago be done with the snow?
Chicago - Winter keeps impinging on spring's territory. Meteorological winter may have started on March 1, but this weekend could be the coldest we have seen since the end of January.
March started off mild but then took a turn towards cold. The first eight days of the month were above average, and that was followed by seven days in a row below average.
There is a chance for a few flurries Friday night and Saturday, but no significant snow in sight. We can breathe a sigh of relief for now but are we done seeing significant snow this season? On average, we see another 1.6" of snow by the end of the month of March. The average snowfall for April is 1.3" and May typically gets a trace of snow.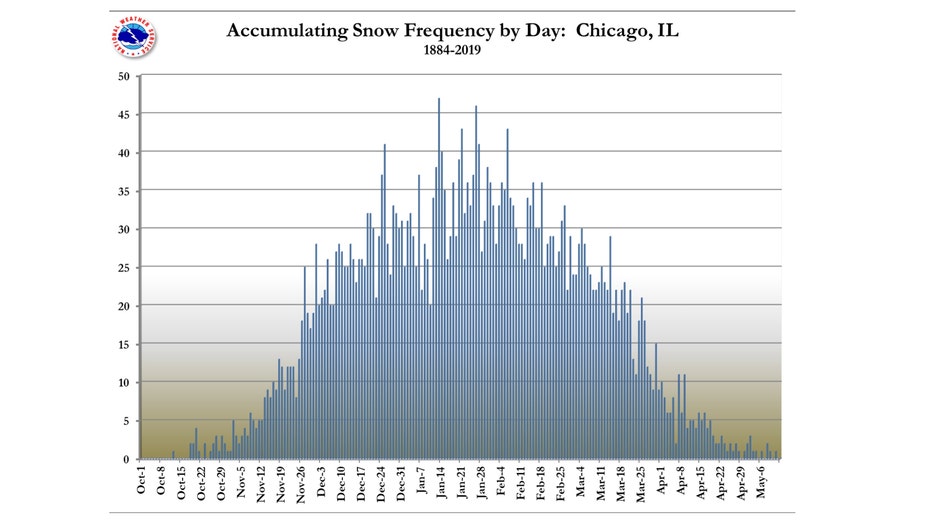 Days with .1" snowfall or more
The graphic above shows the distribution through the year of the number of days with a tenth of an inch of snowfall or more. Notice it peaks around the middle of January. The number of days starts dwindle slowly then through February and more quickly through March before dropping to near zero by early May.
The average last date for a trace of now is April 14, but it has fallen as late as May 25;
The average last date of the last measurable snow (.1" or more) is April 2, but it has fallen as late as May 11;
The average last date of an inch of snow or more is March 20, but it has fallen as late as May 3-4.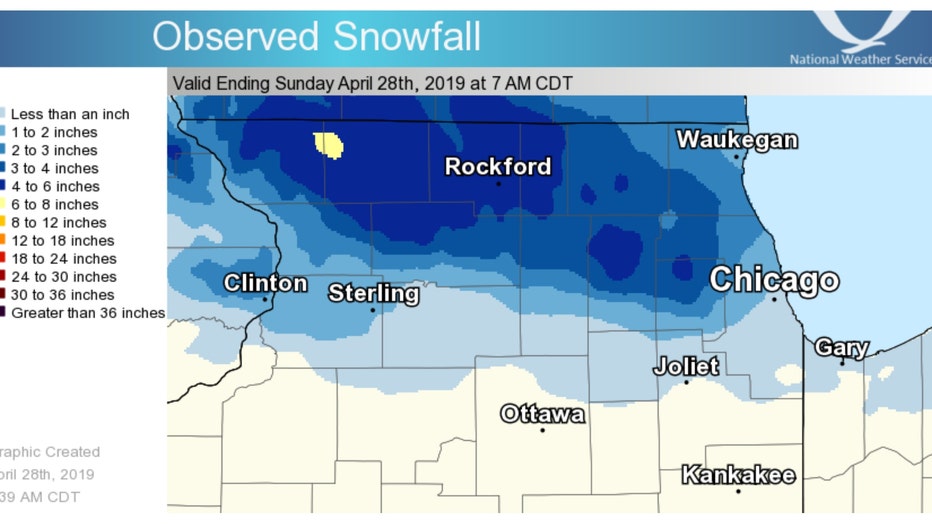 Total snowfall amounts for April 27-28, 2019
One of the more recent occurrences of a late season significant snow happened just four years ago. O'Hare reported 2.5" of snow during the period of April 27 through April 28, 2019 to make it the latest accumulating snow in nearly 30 years at that time. Some of our northwestern suburbs saw 3 to 5 inches.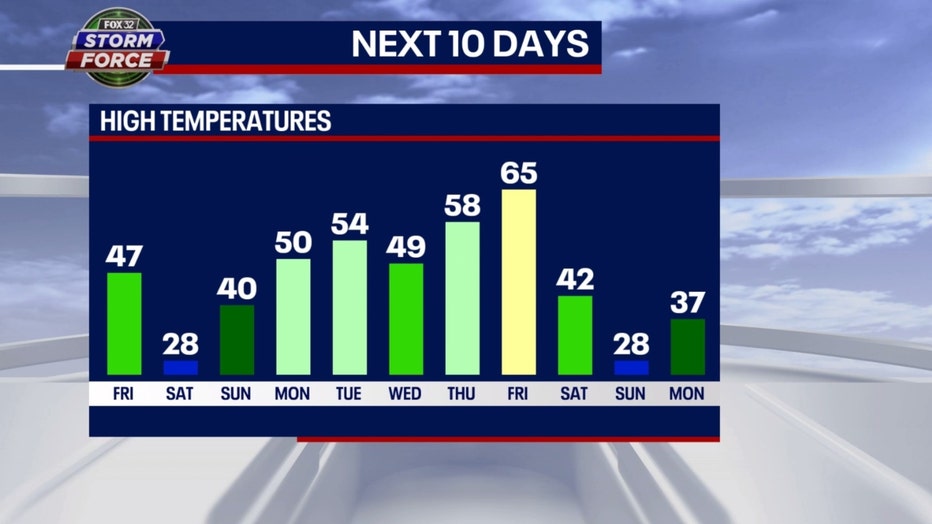 Our 10-day-high temperature forecast from our Fox Model shows that typical rollercoaster spring pattern. Saturday will be cold enough to support a few expected flurries but after that, we stay well above freezing.
A week from this Sunday and the following Monday could be cold enough for some snow but at this juncture, it is difficult to make an accurate snowfall forecast. Based on our averages, the odds are that we shouldn't see snowfall either of those days of an inch or more. That would be beyond the average date we tend to see significant snowfall.
The Climate Prediction Center's long-range temperature outlooks hint at a pattern change from the colder current pattern to something closer to about average. The average highs for the periods covered in these forecasts range from around 50 on March 22 to around 53 by the end of the month. This doesn't rule out a couple of colder days but overall, this pattern isn't conducive for cold enough weather to support significant snow.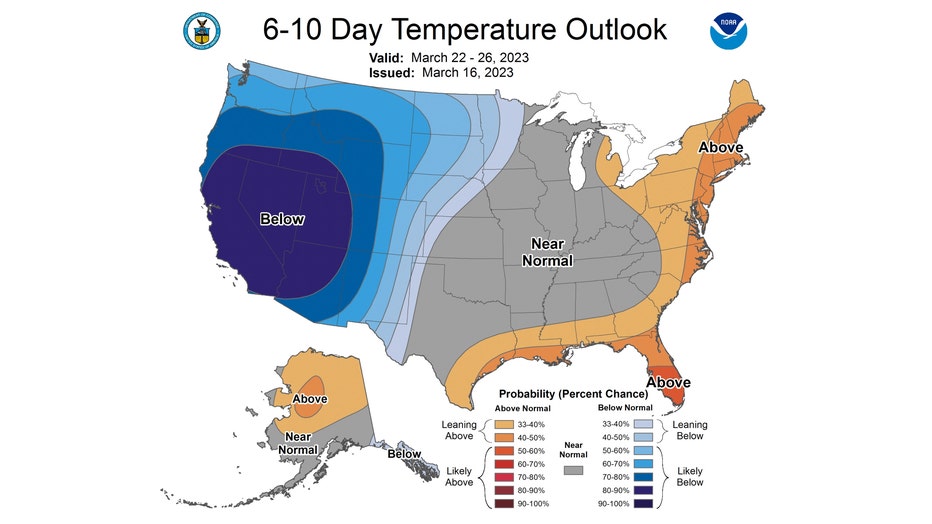 The 6-10 day temperature outlook has us "near normal" average overall from next Wednesday through the following Sunday.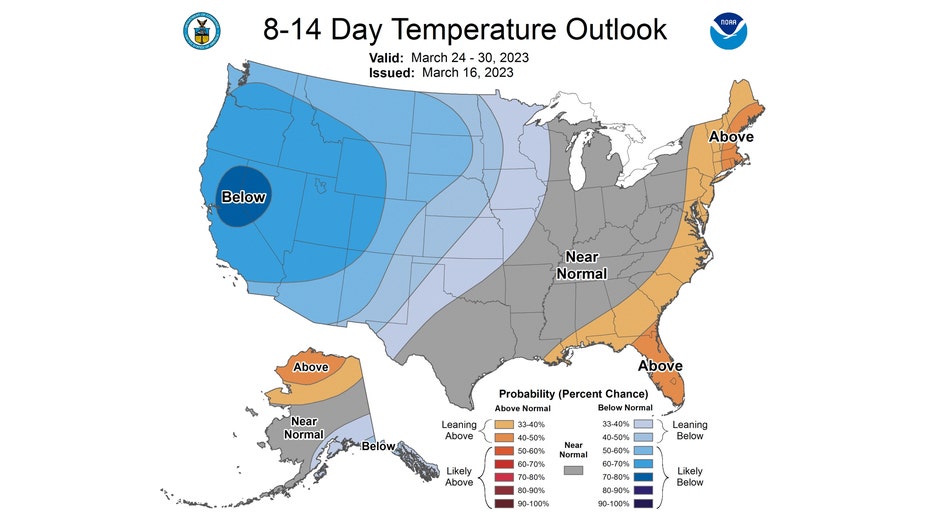 The 8-14 day temperature outlook also has us favored to be "near normal" from next Friday through the following Thursday.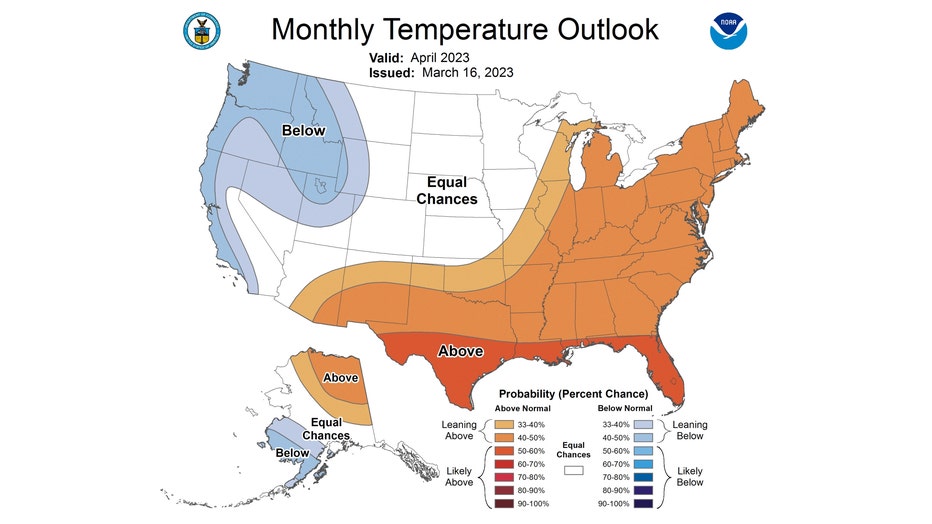 More good news if you aren't a fan of snow, at least this time of year. The Climate Prediction Center's monthly forecast for April favors us to be "leaning above" average overall for next month.
Average highs for the start of April are around 53 and climb to 65 by the end of the month.