Chicago election results: Map shows breakdown of votes for mayor by neighborhood
CHICAGO - It was another history-making election for the city of Chicago.
Lori Lightfoot became only the second sitting mayor in 40 years to lose a bid for re-election. She will leave office May 15, inauguration day for either Paul Vallas or Brandon Johnson.
While a record number voted by mail, the total voter turnout may end up slightly lower than in 2015 and 2019, when turnout was in the mid-thirties as a percentage of registered voters.
Vallas at 34% and Brandon Johnson at 20% finished ahead of Lightfoot, who won just 17.1% of the vote. That's slightly lower than the 17.5% she won in the first round of voting in 2019.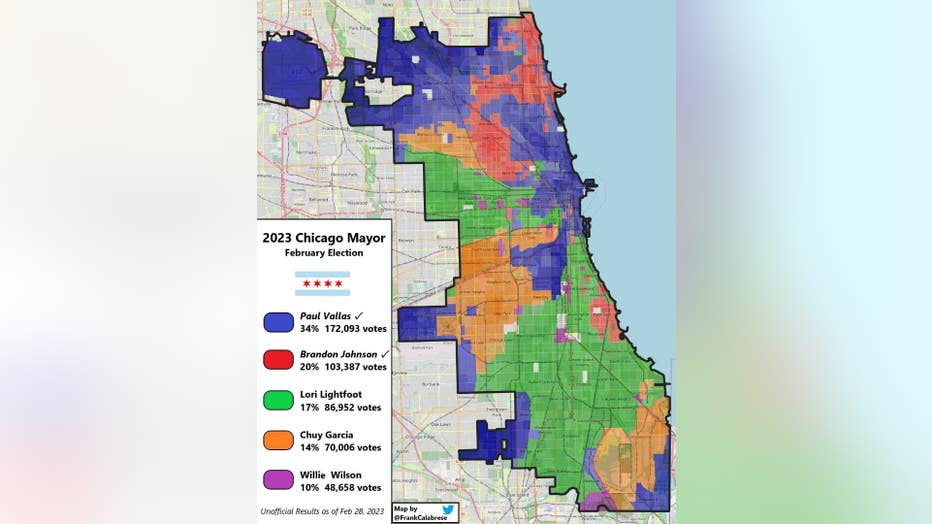 Map shows how Chicagoan's voted for mayor by precinct. (Courtesy of Frank Calabrese)
A map created by Northwestern graduate student Frank Calabrese shows how individual precincts across the city voted for mayor, using certified data from the Chicago Board of Elections. 
First-place finisher Vallas won a large percentage of precincts on the North Side, as well as on the outskirts of the Southwest and Northwest Sides.
Johnson's supporters were mainly on the North Side – in neighborhoods such as Rogers Park, Edgewater, Uptown and Logan Square. He also had many supporters in the Hyde Park neighborhood. 
Lightfoot's 17% came mainly from precincts on the South and West Sides. 
Election officials expect another 50,000 to 80,000 vote by mail ballots to come in before the March 14 – cut off. Check back HERE as the final votes are tallied.