Illinois candidates file for ballot spot in possibly the most expensive gubernatorial race in state history
CHICAGO - Suburban businessman Gary Rabine was the first Republican candidate for governor to file for the June Primary Election Ballot Monday.
"We were first in line for the governor's race, and we're going to be first the rest of the way," said Rabine.
Rabine is not guaranteed top spot on the Republican Primary Ballot, though, as several other candidates for governor were also in line before the Illinois Board of Elections opened it doors at 8 a.m. 
A random drawing will determine who gets the sought-after top spot, believed to be worth at least a few extra votes.
Hundreds of hopefuls seeking state and local office showed up, with some rivals bumping into each other at the Springfield Offices of the Elections Board.
Photos posted on Twitter by downstate reporter Hannah Meisel showed Republicans Darren Bailey and Gary Rabine talking with the man they hope to unseat this year, Gov. J.B. Pritzker.
DOWNLOAD THE FOX 32 CHICAGO APP FOR BREAKING NEWS ALERTS
"We pretty well talked about the weather," Bailey said. "That's the third face-to-face that I've had with Gov. Pritzker."
The governor said the nominating petitions he submitted held signatures from each of Illinois' 102 counties.  
"We brought thousands and thousands of petition signatures to file from all 102 counties of Illinois," he said. "We have support everywhere in this state for the agenda we're standing for — and that's standing up for working families, making sure that we're raising wages, lowering the cost of higher education, protecting retirement income."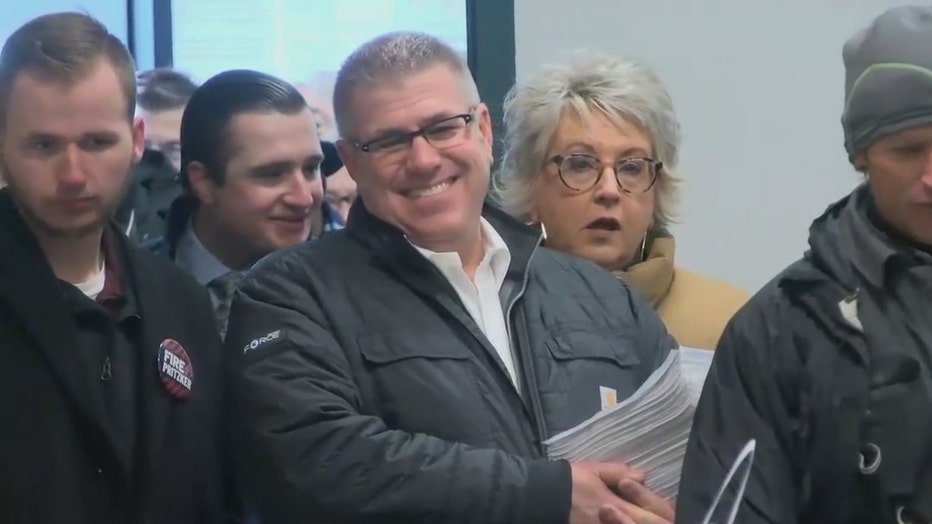 State Sen. Darren Bailey (R)
For another Republican candidate, Aurora's Mayor Richard Irvin, this was his first day of publicly disclosed campaign events with voters.
"I'm hearing that they believe crime is out of control under J.B. Pritzker," Irvin said. "Taxes and wasteful spending is out of control. Corruption is out of control."
Republicans hope the corruption issue will help them flip enough seats in the General Assembly to end the Democrats' veto-proof supermajorities.
Last week's indictment of longtime House Speaker Mike Madigan has Democrats on the defensive.
House minority leader James Durkin, (R) Hillside, complained that Madigan should have been stripped of his office much earlier.
"Chris Welch, who is now the speaker, blocked any type of inquiry or any type of work to be done where the House of Representatives could have taken action to remove him much sooner," said Durkin.
"The justice system will handle (Madigdan). I think that's the appropriate place for that to be addressed. The former speaker will have his day in court," said House speaker Chris Welch.