1 shot, 2 assaulted during robbery at Mag Mile steakhouse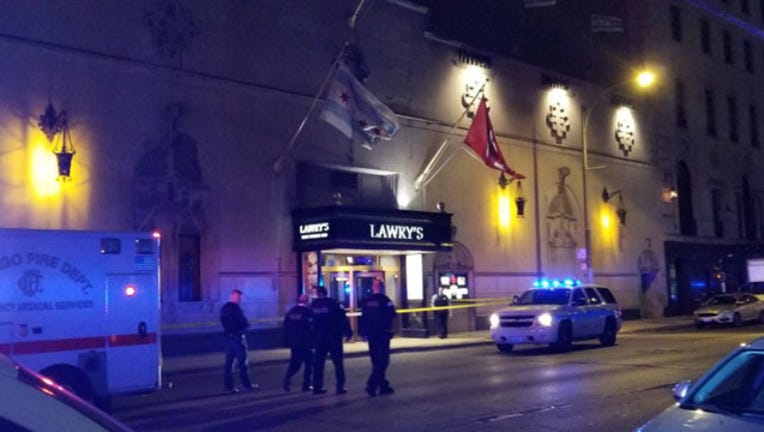 article
CHICAGO (FOX 32 News) - A man was in custody Sunday night after he shot someone and assaulted two others during a robbery at a steakhouse where he used to work near the Magnificent Mile, authorities said.
About 11:45 p.m., the man entered Lawry's The Prime Rib, 100 E. Ontario St., and found several employees in the locker room, where he restrained them, stole their cellphones and announced a robbery, according to Chicago Police and the Chicago Fire Department.
One of the victims interrupted the robber, who then opened fire, police said.
A 28-year-old man suffered a gunshot wound to his right arm and was taken to Northwestern Memorial Hospital, where his condition was stabilized, police said.
Fire officials said two other people were assaulted and also taken to Northwestern. Their conditions were not available.
Two men could be seen being escorted from the restaurant by paramedics, one of whom had duct tape wrapped around his head and a bloody T-shirt and apron.
The suspect ran away after the shooting, but was apprehended without incident a short time later by 18th District officers, police said. A weapon was recovered.
A police source said the suspect was a disgruntled former employee who knew his way around the establishment.
"That is a safe area it was an isolated incident a disgruntled employee," said Eddie Johnson, Chicago Police Superintendent. "Other than that we have someone in custody and we have recovered a weapon."
Video showed the take down of the ex-employee handcuffed by Chicago Police. Officers from the 18th District were searching a nearby trash can and uncovered a gun.
Julio Ayala, 36, works as security at The James Hotel, a luxury boutique hotel across the street from Lawry's. He came out to see what all the commotion was about.
"There was a manager that was shot and he came out of the shooting area," Ayala said. "This is really scary."
He was one of dozens of people who exited businesses in the area and approached the crime scene, curious about the emergency response.
Ayala, who did not hear any gunshots, said he saw police tending to a man who was sitting on a ground, bleeding outside the restaurant before paramedics arrived.
"It's normally a very safe area around here," he said. "We see a lot of people walking around this area at night and I've never seen anything like this before."
Ayala said that he planned to tell hotel management what he saw, adding, "We need to make sure our guests and our workers are safe."
The Sun-Times Media Wire contributed to this report.