2 charged with murder in Albany Park shooting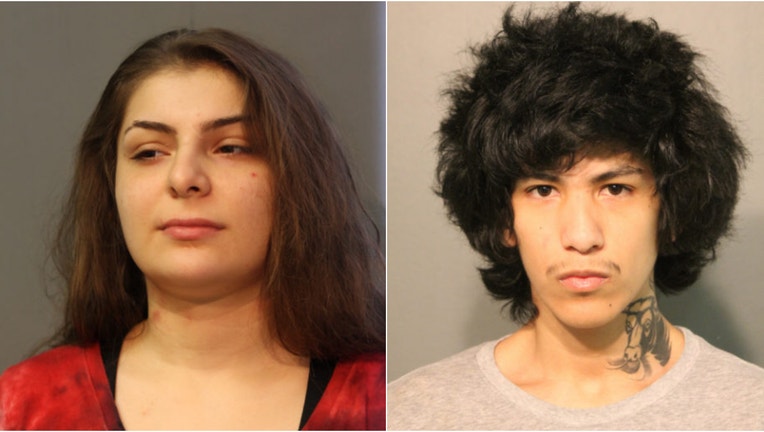 CHICAGO - A man and a woman have been charged in connection with the September 2020 deadly shooting of a man in the Albany Park neighborhood.
Maverick Cela, 19, and Prezila Apreza, 20, are each charged with first-degree murder in the Sept. 16, 2020 death of 20-year-old Adam Samuel Lique.
Lique was shot multiple times about 6:20 p.m. in the 3600 block of West Lawrence Avenue, according to a statement from Chicago police. He was taken to Illinois Masonic Medical Center and pronounced dead.
On Sept. 16, Apreza slowed the silver Chevrolet Trailblazer she was driving so that Cela could shoot his weapon from the back seat at Lique as he stood on the sidewalk in front of a Metro PCS store, Assistant State's Attorney Kevin DeBoni said.
"I got him," Cela, 19, said after shooting at least nine 9-mm rounds at Lique, DeBoni said.
Paramedics who treated Lique saw that he was armed with a 0.380-caliber handgun, but it was later determined that the weapon had not been fired, DeBoni said.
The shooting, which was captured by a Chicago police POD camera, took place during a spike in gun violence in Albany Park. It was the neighborhood's third shooting within several days, and came less than 24 hours after five people were wounded in shooting a block away.
The Trailblazer used in Lique's murder was found by police in Skokie that night for is alleged use in a credit card case. The license plates on the SUV were registered to Apreza, but they did not match the ones captured on surveillance footage of the shooting, DeBoni said.
Apreza and Cela discussed the shooting on social media with each other and others for the next several days, DeBoni said. In one conversation, Cela mentioned to someone that there would be no shell casings inside the Trailblazer, but that his fingerprints might be inside, DeBoni said.
Cela also allegedly assured Apreza that police were looking for another person in connection to the murder. He also told her he could show her how to delete data from her cellphone, DeBoni said.
After Apreza and Cela were arrested Monday, Apreza admitted to changing the Trailblazer's license plates before and after Lique's shooting, DeBoni said. Apreza also allegedly told investigators she had driven Cela to the scene of the crime.
A witness who was in the Trailblazer's front passenger seat at the time of the shooting also identified Apreza as the driver and Cela as the gunman, DeBoni said.
There was no evidence Apreza knew the shooting would take place, an assistant public defender said. She also had no motive for participating in the murder, the defense attorney added.
Cela lives with his mother in the city, another assistant public defender told Judge David Navarro.
Both suspects were arrested Monday without incident. Apreza and Cela are expected back in court May 18.
Sun-Times Media Wire contributed to this report.