2 killed in Bronzeville, 8 others wounded in Thursday shootings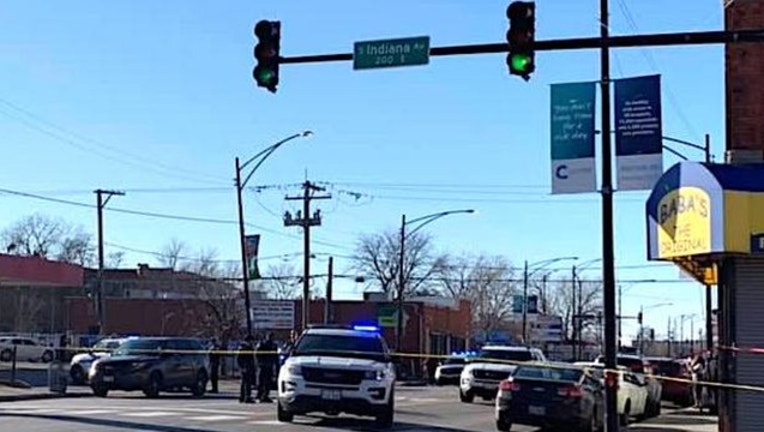 CHICAGO (SUN TIMES MEDIA WIRE) - Two people were killed and eight others wounded in 24 hours of citywide gun violence Thursday.
The double homicide happened shortly before 1 p.m. in the Bronzeville neighborhood on the South Side. Someone fired multiple shots at a gray Dodge Avenger in the 5000 block of South Indiana, according to Chicago police. The driver was shot in the chest while the front-seat passenger was shot in the face.
Marcus M. Clark and Wilbert Morris, both 25, were pronounced dead at the scene, according to police and the Cook County medical examiner's office.
Clark lived in Bronzeville and Morris lived in the South Shore neighborhood, the medical examiner's office said. A third person inside the car was not injured and was being questioned by detectives as a witness, police said.
In nonfatal shootings:
about 8:30 p.m., a man, 25, was shot in the buttocks in a drive-by shooting in the Parkway Gardens neighborhood on the South Side, police said. He was treated at the University of Chicago Medical Center;

about 2:30 p.m., the 19-year-old was standing on a front porch in West Garfield Park when the driver of a dark-colored SUV got out of the vehicle and fired shots at the man, according to police.He was struck in his lower body and taken to Mount Sinai Hospital, where his condition was stabilized;

about 1:50 p.m., a man was wounded in a shooting in the Austin neighborhood on the West Side. Someone approached the 23-year-old about 1:50 p.m. in the 600 block of South Cicero Avenue and shot him in the hip, according to police. He was seriously wounded;

two men and a woman were shot in the Altgeld Gardens neighborhood on the Far South Side. The shooting happened at 12:28 p.m. in the 900 block of East 131st Street, according to police;

about 12:25 p.m., a man was shot in the Back of the Yards neighborhood on the South Side. The 18-year-old was shot in the neck in the 4900 block of South Seeley, according to police, who said the shooting may have been accidental; and

about 8 a.m., a man was shot in the Austin neighborhood. The 29-year-old pulled a vehicle into a parking lot about 8 a.m. in the 4800 block of West Chicago Avenue when someone walked up to the driver's side and started shooting at him, according to police. The victim was shot in the arm and drove himself to West Suburban Medical Center in Oak Lawn, police said. His condition was stabilized.