Clearing fatal fire: Pit bull alerts neighbor who then rescued child from burning home
CHICAGO - A woman is dead and three others were injured after a fire broke out in the basement of a Clearing home Monday morning.
The residence is located at 5724 W. 64th St.
The injured people evacuated from the home around 6 a.m.
The Chicago Fire Department said the woman who died was 60-years-old and has been identified as Susan M. Collopy. She was found in a bedroom in the rear of the home. Paramedics took her to Holy Cross Hospital, where she was pronounced dead, Chicago police said.
A man about 60-years-old was listed in fair condition. A woman about 30-years-old was initially listed in critical condition.
A boy, 7, was initially listed in critical condition, CFD said.
However, neighbors tells FOX 32 that the two adults and child are expected to be OK.
Renaldo Vera's pit bull "Chicago" heard screams and woke him up around 6 a.m., according to the Chicago Fire Department.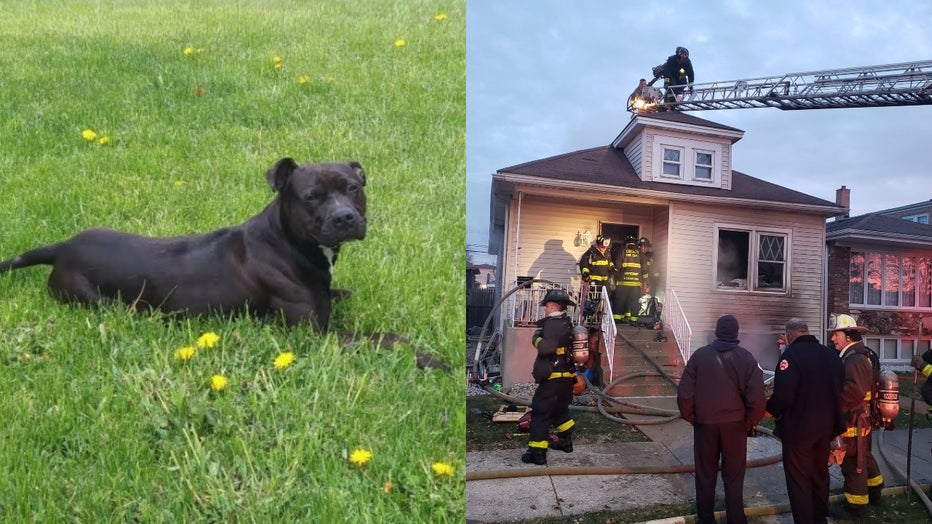 'Chicago' the pit bull, 3.5-years-old.
Vera rushed to the burning home and pulled out the 7-year-old boy and an adult before firefighters arrived, the department said.
"I heard the window break and I screamed out… to see if everything was OK," Vera told reporters at the scene. "I ran downstairs. The grandfather started breaking the windows and I started helping the little boy out."
"Then I went back to help the mother out of the window," Vera said. "Anyone else would've done the same."
The investigation into the fire is ongoing.
In addition, there is now a small memorial outside of the home and neighbors tell FOX 32 they are collecting money for the family.
The Sun-Times Media Wire contributed to this report.