6 arrested on mob action charges for Gurnee Mills Mall fight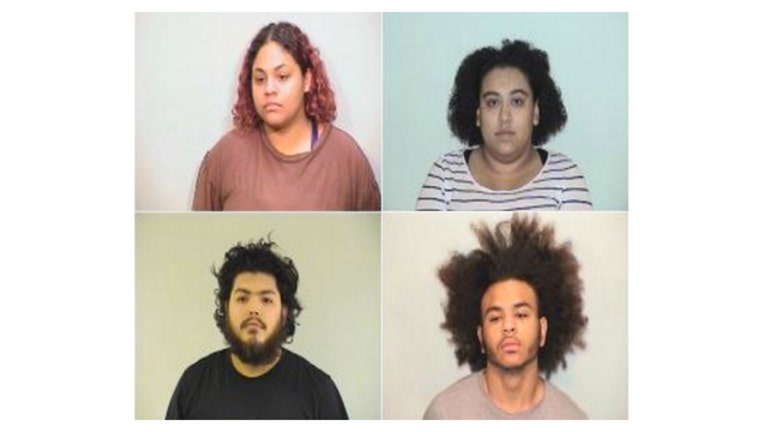 article
(SUN TIMES MEDIA WIRE) -  Authorities have arrested six of the seven adults wanted on mob action charges for a Christmas Eve fight in a north suburban Gurnee mall.
On Dec. 24, officers responded to Gurnee Mills Mall, 6170 W. Grand Ave., for a fight involving several people, according to a statement from Gurnee police. Video of the fight, which stemmed from an ongoing dispute between two groups of people, was later posted to social media.
With the assistance of mall security and the Waukegan Police Department, those involved in the fight were identified, but not all remained at the scene. Arrest warrants for seven adults were issued earlier this month, charging each person with a Class 4 felony count of mob action.
On Monday, authorities arrested 27-year-old Adonis Skyles of Waukegan; 19-year-old David Wales Jr. of Gurnee; and 18-year-old Sapphire Young of North Chicago, police said. Bond for Skyles and Wales was set at $30,000, while Young was ordered held on a $20,000 bond.
Amanda Ortiz, 22, and 18-year-old Deaja Cherry, who both live in North Chicago, turned themselves in after investigators made contact with them, police said. In addition to the mob action charge, Ortiz was charged with two Class 3 felony counts of aggravated battery and her bond was set at $50,000. Cherry was ordered held on a $20,000 bond.
Juan Padilla, 23, was already in custody at the Lake County Jail on an unrelated drug possession charge when charges related to the fight were filed against him, according to police and the Lake County sheriff's office. Padilla, of North Chicago, was charged with two Class 4 felony counts of obstructing justice in addition to the mob action count and his bond was set at $50,000.
The last adult wanted in connection with the fight, 18-year-old Amania Dubose of North Chicago, was located out of state, police said. Arrangements for her surrender were "in the works" Tuesday.
Two juveniles were also referred to juvenile court for their involvement in the fight, according to police.
"This is an excellent example of teamwork between law enforcement agencies and we are thankful to the Lake County Sheriff's Office for assisting us in bringing this investigation to a safe and successful resolution," Gurnee Police Chief Kevin Woodside said in the statement.