70 students sickened by carbon monoxide at Jefferson Park school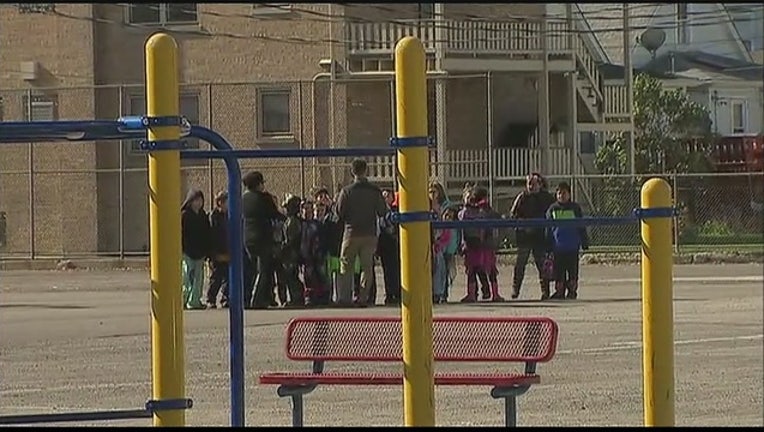 article
CHICAGO (STMW) - More than 70 children were taken to hospitals from an elementary school in the Northwest Side Jefferson Park neighborhood after a carbon monoxide leak Friday morning.
Authorities were called about 9:30 a.m. to Prussing Elementary School at 4650 N. Menard, police and fire officials said.
Fire crews were initially responding to reports of a sick child in the school's gymnasium, but their carbon monoxide readers began reporting high levels of the gas inside the school, CFD Commander Curtis Hudson said. The school was then evacuated.
The school's boiler, last inspected in July, appears to be the cause of the leak, according to a statement from Chicago Public Schools. An investigation is underway to determine the exact cause.
Parents were notified by phone and students were relocated to Smyser Elementary at 4310 N. Melvina Ave. in Portage Park to finish the school day, according to a statement from Chicago Public Schools.
"The safety and security of our students and staff is the top priority at CPS," the statement said. "CPS worked with Fire and Police personnel to ensure students and staff received medical attention as needed."
Fire crews transported 71 children and seven adults to Advocate Lutheran General Hospital in Park Ridge, Swedish Covenant Hospital, Community First Medical Center, Presence Resurrection Medical Center, Presence Saints Mary and Elizabeth Medical Center, Advocate Illinois Masonic Medical Center and West Suburban Medical Center in Oak Park, Hudson said.
All were suffering non-life threatening illnesses and generally had symptoms including dizziness, nausea and abdominal pain, he said.
The situation was secured by 11:03 a.m., according to Hudson.
CPS said it anticipated that class will resume at Prussing on Monday.