8 now dead from Legionnaires' disease in western Illinois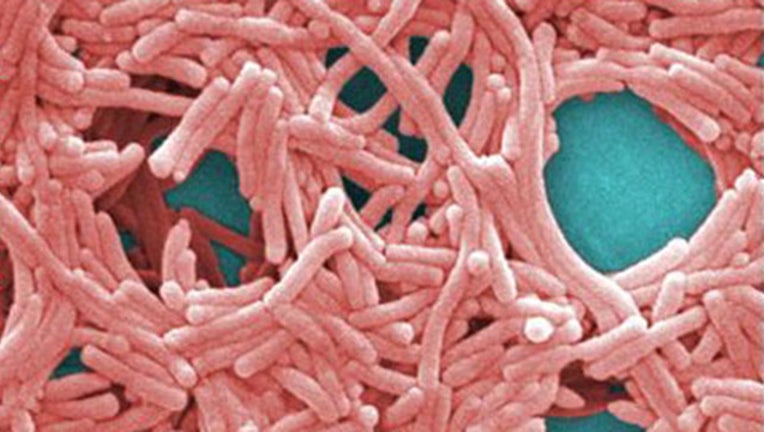 article
(AP) - State officials are reporting another death and four new cases of Legionnaires' disease among residents of a western Illinois town, bringing the number of deaths to eight from an outbreak first disclosed last week.
The Illinois Department of Public Health said Wednesday that the new cases are not connected to an infectious disease outbreak that has sickened nearly 50 residents of the 129-year-old veterans home in Quincy, Illinois, but they are in the same city.
Adams County Health Department Director Jerrod Welch said that the eighth person to die from the severe form of pneumonia, like the seven veterans home residents who died, was also elderly and had underlying medical conditions that increased the risk of exposure.
The state public health director has warned that more fatalities could occur since the disease has a two-week incubation period.
As of Wednesday, 49 people have been sickened in Quincy-- 45 of whom lived at the state facility. Similar outbreaks have been reported in California and New York.
Legionnaires' experts at the U.S. Centers for Disease Control and Prevention said the outbreak prevalence so far this year is not unusual, but that the number of patients involved is larger than typically seen. The outbreak was first identified in Illinois late last week after an initial case at the home in early August; its source remains undetermined.
An epidemiological team from the CDC remains at the 129-year-old facility to assist the state investigation.
Those who exhibit symptoms -- such as breathing difficulties, coughing, fever and muscle aches -- are monitored closely, and infected patients are treated with antibiotics, said Ryan Yantis, a Department of Veterans Affairs spokesman.
Dr. Nirav Shah, Illinois' public health director, said that officials "do not believe there is an increased risk of Legionnaires' disease to the Quincy community."
That forecast was tempered Wednesday by an update from the state VA that noted no residents of the veterans home had been referred to the local hospital with symptoms in the past 48 hours. Hours later, the state reported the additional death -- while also noting that on average 200 people in Illinois are sickened from the disease each year, with Adams County reporting infections in three of the past six years.
Legionnaires' disease is mostly contracted through inhaling bacteria that thrives in warm water. People can get sick if they inhale mist or vapor from contaminated water systems.
Residents of the veterans home are relying on bottled water and sponge baths as a precaution. The facility has cleaned its hot water tanks and air conditioning system, and has shut down decorative and drinking water fountains and other potential sources of aerosolized water.
The veterans home has slightly more than 400 residents. Several dozen live independently but the rest live in a sprawling complex similar to assisted living or a nursing home, Yantis said.
Legionnaires' disease has also been reported this summer at the San Quentin state prison in California. It also was reported in New York, where 12 people died and more than 100 infected in an outbreak traced to bacteria found in a cooling tower on the roof of a Bronx hotel.
In Illinois, health officials are advising the elderly and those who are sick or with compromised immune systems, including organ transplant recipients, to not visit the home in Quincy. Access is otherwise not restricted, and residents are free to leave the home.