Alleged Chicago gang boss denies ordering hit on informant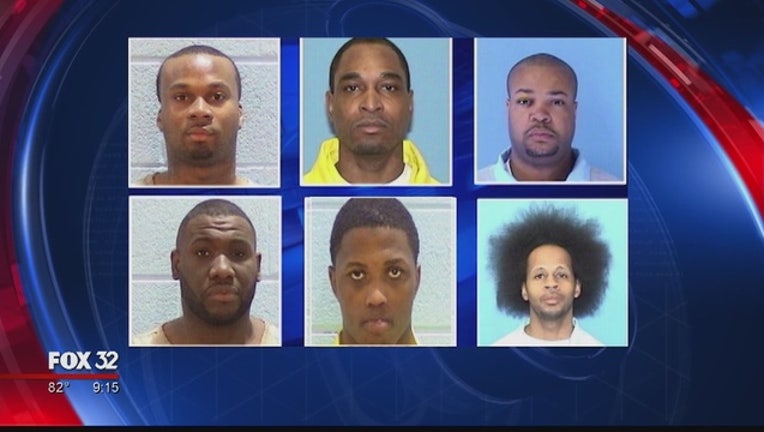 article
CHICAGO (AP) — The purported leader of Chicago's notorious Hobos street gang took the stand Thursday at his racketeering trial — one of the biggest in recent city history — to insist he didn't order a deadly hit on a gang associate-turned-informant to stop him from providing evidence that could put the gang leadership behind bars for life.
The trial, in its third month and expected to end by Christmas, comes as national attention has focused on a spike in Chicago violence, which authorities say frequently stems from gang rivalry; there have been more than 700 homicides this year. Prosecutors have described Gregory "Bowlegs" Chester and five alleged Hobos subordinates on trial in U.S. District Court as "an all-star team of the worst of the worst" who "terrorized" the city.
Among the co-defendants looking on as Chester testified was alleged Hobos hit man Paris Poe. Prosecutors say he fatally shot Keith Daniels in front of Daniels' screaming step-kids on April 14, 2013, days after Chester's arrest and shortly after Daniels spoke to the grand jurors who would later hand down an indictment leading to the current trial.
Asked by defense attorney Beau Brindley why he was so adamant about not ordering Daniels' murder, Chester, 39, said the two men and their families had been close.
"He was like family to me," he said. "His mother was like my mother."
The Hobos was founded by members the Black Disciples and Gangster Disciples, then established a reputation for daring robberies and for resorting to torture and murder to expand their criminal empire on the city's South Side, prosecutors have said.
But when he first took the stand Wednesday, Chester claimed no such gang as the Hobos even existed despite his full-arm tattoo emblazoned with the words — "Hobo: The Earth Is Our Turf." He insisted "hobo" referred, not to any gang, but to the nickname of a beloved dead friend.
During cross examination Thursday, prosecutor Patrick Otlewski displayed a photograph in court of Chester and another one of the accused flashing hand signs the government says were meant to be an "H'' for "hobo." Chester denied it was a gang sign, telling jurors: "That's a celebration sign."
Chester has repeatedly highlighted his severely deformed legs caused by a rare bone disease, saying it was inconceivable someone who struggled to even walk could rise to the top of a Chicago gang.
He described himself Thursday as a one-man drug dealer who smartly invested the illicit profits into a record label, concerts and restaurants.
"I'm a big time hustler," he said. "That's what I do."
To prove racketeering, the government must show the defendants coordinated their criminal activities. But Chester said his co-defendants, while friends, had no hand in his crimes and he had no hand in theirs.
Chester's decision to testify came as a surprise. Lawyers are often reluctant to let their clients take the witness stand because it opens them up to grilling by prosecutors on issues a judge would otherwise bar from trial.
Otlewski asked Chester about smuggling synthetic marijuana into the Chicago federal jail where he's held during the trial. Chester admitted he swallowed a balloon filled with the drug that a friend slipped to him during an October visit. He told jurors he needed it to deal with painful nerve damage.