Alleged Chicago gang member 'D.Rose' gets 40 years for teen's murder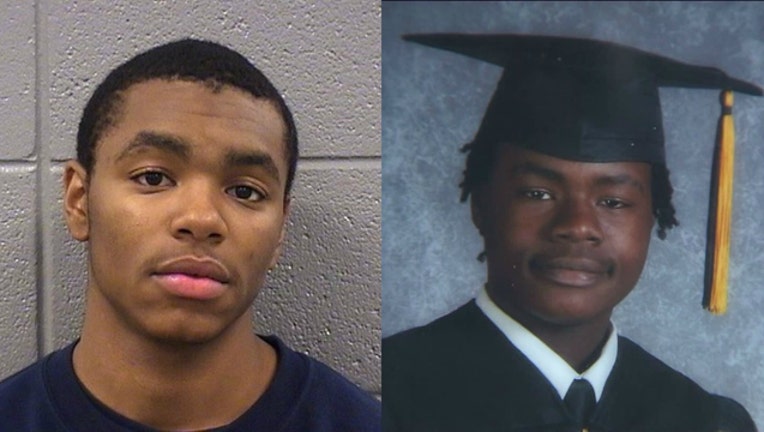 article
SUN-TIMES MEDIA WIRE - A South Side man whose street name appeared in the lyrics of several Chicago rappers was sentenced to 40 years in prison Tuesday after being found guilty last year of the 2014 fatal shooting of a 14-year-old boy in Woodlawn.
Ahbir Sardin, known as "D.Rose," was part of a crew of rappers including Lil Reese, Lil Durk and Chief Keef, known for their lyrical and coial media feud with rapper Lil JoJo, who was murdered in 2012.
He was at one point accused, and then cleared of that murder.
But a Cook County jury convicted the 20-year-old of first-degree murder on Sept. 15, 2016, for the shooting death of Venzel Richardson, according to the Cook County state's attorney's office.
On Tuesday, the alleged gang member was sentenced to 40 years, according to court records.
Sardin, 17 at the time of the Richardson's murder, was featured by his "D.Rose" name in lyrics by Chief Keef, Cdai and RondoNumbaNine, sources said at the time of his arrest.
Richardson and his friends had just left a convenience store near 61st and King Drive on Feb. 12, 2014, and were walking south in the 6100 block of South Vernon when a white minivan pulled up alongside them, prosecutors said during Sardin's trial.
Sardin, a member of the Black Disciples, according to prosecutors, slid the driver's-side passenger door open and fired a handgun at the group multiple times.
Richardson, who lived in the 6400 block of South St. Lawrence, suffered four gunshot wounds, including one to the back of the head, the Cook County medical examiner's office said at the time of the shooting. He ran into a gangway, but collapsed, and was pronounced dead there at 8:25 p.m.
Police learned Sardin may have been involved in the shooting and witnesses identified him in a photo array, prosecutors said. He was arrested about six weeks after the shooting, which police believe was gang related.
Sardin was at one time linked, falsely, to the high-profile 2012 slaying of  Lil JoJo, whose real name was Joseph Coleman. He had been feuding with the Black Disciples, along with rival rappers Lil Reese, Lil Durk and Chief Keef before the murder, Homicide Watch Chicago reported at the time.
A post on social media claimed Sardin killed Lil JoJo, but the owner of the Facebook page where it was posted later claimed his  account had been hacked. Sardin was not charged in that case.
But Cdai, whose real name was Courtney Ealy; and RondoNumberNine, real name Clint Massey, were both convicted of the murder of jitney cab driver Javan Boyd in May 2016 and are serving prison sentences of 38 and 39 years, respectively.
While Sardin was linked to a street gang, Richardson was a participant in the Mikva Challenge, a program that encourages high school students to take part in the political process through elections, community problem solving and policy-making programs, according to its website.
Jelani McEwen-Torrence, Richardson's mentor in the program, said at the time that the teen would walk his nephews home every day after school before returning to take part in the program, Homicide Watch Chicago reported at the time.