Bombshell allegations surface against Illinois organization after 3 severed heads appear on worker's desk
CHICAGO - *Graphic Content Warning: Some of the details and images included in this story are disturbing.
The Anatomical Gift Association of Illinois (AGA) – a Chicago nonprofit responsible for facilitating human body donations to medical schools for scientific research – is facing serious accusations made by an employee.  
Dale Wheatley, the organization's transportation coordinator, has come forward with shocking claims alleging that donated bodies are mishandled and mistreated by the association before and after they are sent to local hospitals and schools. 
Wheatley alleges that some bodies have even been returned by medical institutions due to their poor condition.
"They're sending donors back because of mold and rot, bugs," said Wheatley, "It's deplorable."
During a press conference with his attorney on Tuesday, Wheatley sounded the alarm – describing the disturbing conditions he claims to have witnessed at the AGA.
"There's been instances where I've pulled donors from our storing room out of the racks, and rats have chewed through the bottom of the bag, through the feet," said Wheatley.
Over his five years at the association, Wheatley says workplace conditions have greatly deteriorated.
"We think it's important that when donors are being recommended to a particular place, their body is going to be treated with respect and dignity, and not be eaten by rats and other bug infestations," said David Fish, attorney and founding partner, Fish Potter Bolaños, P.C.
Late last month, Fish said that a local university's anatomy lab manager complained to Wheatley about the condition of cadavers. Wheatley says he disclosed to the lab manager that bodies were not being properly embalmed. 
He encouraged the lab manager to report her concerns to AGA Executive Vice President William O'Connor.
In an email to O'Connor and Wheatley, the lab manager reported that "flies were crawling on the bodies, that the limbs contained mold and rot, and that its students had become sick after being exposed to the bodies during the course of their studies," Fish summarized.
Wheatley says he then approached his supervisors with concerns over the AGA's procedures and the next day, May 24, he made an appalling discovery.
He said three dismembered heads from donated bodies were left at his desk.
"My boss walked by, I asked him why the heads were at my desk. He said they need to get back with their bodies so we can send them to cremation. I said, I understand that, 'Why are they at my desk?' and he said, 'I don't know Dale, there's a lot of strange things happening,'" Wheatley said.
The incident prompted Wheatley to file a police report.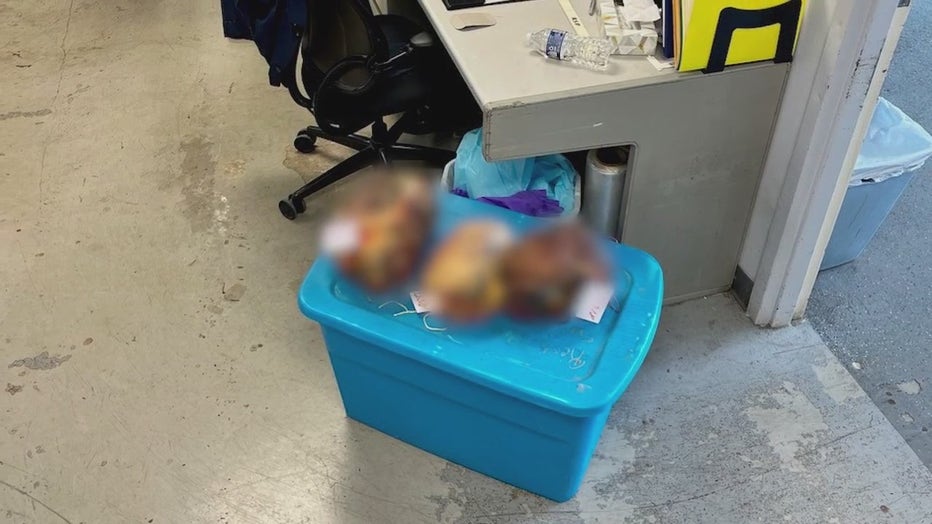 Three severed heads | Provided
According to its website, the AGA works with at least eight medical schools in the state, including Northwestern University's Feinberg School of Medicine.
The AGA's website claims to uphold the "highest standards of responsiveness, respect, privacy, and security."
Amid its 'core values' is showing "respect for our donors by treating them with the utmost care, reverently performed."
But Wheatley alleges that is not the case.
"Sometimes we do brain removals, and they're not sewn up correctly."
Wheatley also claims that bodies are improperly embalmed.
"The embalming method requires that the bodies are weighed and the weight is applicable to the formula, and we don't have a weight scale at AGA, so the bodies are being eyeballed, the weight's not accurate and it's leading to those conditions," said Wheatley.
Wheatley says he wants donor families to be aware of these alleged conditions.
SUBSCRIBE TO FOX 32 CHICAGO ON YOUTUBE
"I take great pride in what it is I'm doing and I treat these donors with the utmost respect, I understand they made a donation to science to further help us," said Wheatley.
"There are people that are in our cooler now that need their body parts back and they have been there for three years or more," Wheatley added. "Right now at AGA, we have a number of cremains that need to go back to the families, over hundreds of cremains, sitting at our AGA right now."
Wheatley's attorney, Fish, says they've requested an investigation into the AGA by the Cook County Medical Examiner's Office, the Illinois Department of Public Health and the Illinois Department of Financial and Professional Regulation.
Fish added that as of right now, they are not taking legal action against the AGA, in hopes the organization "cleans up its act" first.
FOX 32 Chicago made multiple attempts Tuesday to reach the Anatomical Gift Association and AGA Executive VP William O'Connor for comment, but have not yet received a response.