Andersonville home dripping with Pride to raise money for LGBTQ suicide prevention
CHICAGO - A Pride display on Chicago's North Side is drawing lots of attention and some donations to help LGBTQ youth.
The painted rainbow spilling down an Andersonville home was created with a very simple purpose.
"I just wanted to make people happy," said Jesse Campbell.
DOWNLOAD THE FOX 32 NEWS APP FOR BREAKING ALERTS
Campbell and Nicholas Vazquez created a giant paintbrush declaring "love is love" – which drips the pride colors off the side of the house and into a rainbow road down their sidewalk.
"It started off as a craft project and it just turned into something bigger," Vazquez said.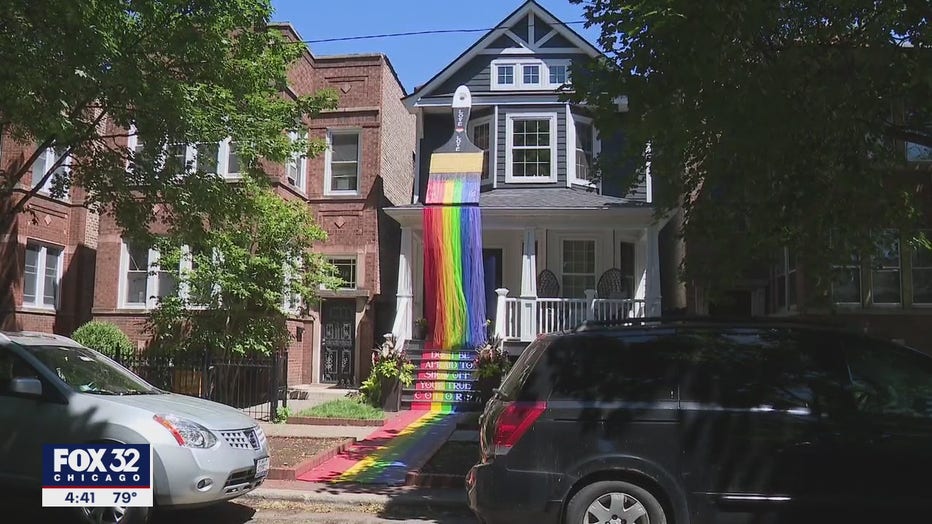 The home on Balmoral near Paulina is now a bit of a tourist attraction, with people stopping by for pictures as word spreads on social media.
Many children are also being drawn in by the rainbow, which thrills the new dads who created the display.
"I hear the parents taking the time and really explaining to them what it means and they go read the message," Vazquez said.
That message is perfect for Pride Month. Words on the front steps read, "don't be afraid to show your true colors."
The Pride display has gone beyond a neighborhood destination and turned into a fundraiser to help prevent suicide among LGBTQ youth.
"100% goes to The Trevor Project. So that's awesome," Vasquez and Campbell said.
The couple posted their fundraiser on Facebook Sunday night and quickly raised hundreds. Many people have told them they needed this display of love.
"We always need that. There's always, always room for love," Campbell said.