Apology issued to riders for crowds, delays during Monday rush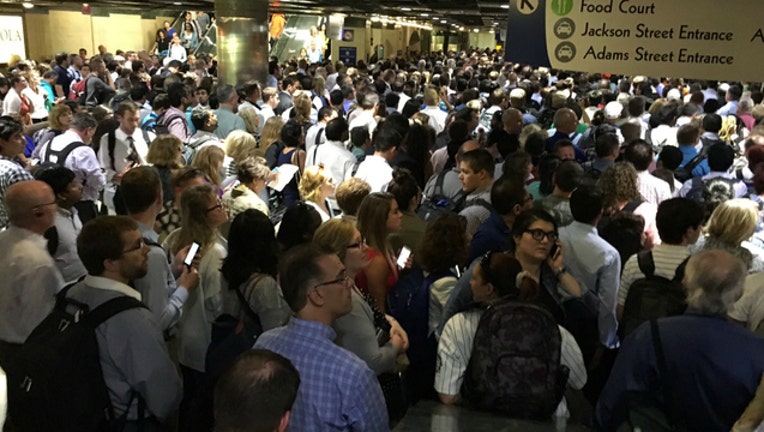 article
CHICAGO (Sun-Times Media Wire) - Switching problems at Union Station during Monday evening's rush hour prompted Metra, Amtrak and BNSF to issue an apology for "unacceptable conditions."
The problems affected riders on the BNSF, SouthWest Service and Heritage Corridor lines, leading to significant delays for riders, many of whom were forced to wait on a crowded concourse until trains could depart.
Delays averaged anywhere from 15 to 50 minutes, and at least two trains were consolidated.
"Please accept our apologies for the delays and crowded conditions on the south concourse at Chicago Union Station last night," Metra, BNSF and Amtrak jointly said in a statement to riders on Metra's website Tuesday."
"… we certainly understand your anger and frustration and owe you an explanation of what happened." The message concluded: "We apologize for the unacceptable conditions at Chicago Union Station last night."
The problems "stemmed from two unrelated but consecutive problems with the switches that are owned and maintained by Amtrak," Metra said. "Just as the rush hour was getting underway, a switch that controls movement to Track 2 experienced problems, making that track–which serves the longest and most popular BNSF trains–unavailable.
"If that had been the only issue, our customers would have experienced minor delays. However, as we moved those trains to alternate tracks further east, Amtrak experienced additional switch problems that severely restricted the flow of trains into and out of the station," Metra said.
Metra has a plan to limit overcrowding in such situations, but it requires "advance warning" to work effectively, the agency said.
In this instance, Metra was "not given sufficient notification from Amtrak" and "did not implement the plan until the south concourse was already congested," the agency said.
About 15,000 commuters normally board trains on that concourse from 4:30-5:30 p.m., so "every second counts," Metra said. Had more notice been given, passengers would have been notified to wait in the Great Hall.
Amtrak is "taking steps to ensure Metra is better notified" in the future, according to Metra.
Some "near-term improvements" to Union Station are also planned to "address pedestrian flow, safety and overcrowding," the statement said.