Billboard for 'appetite suppressant' lollipops slammed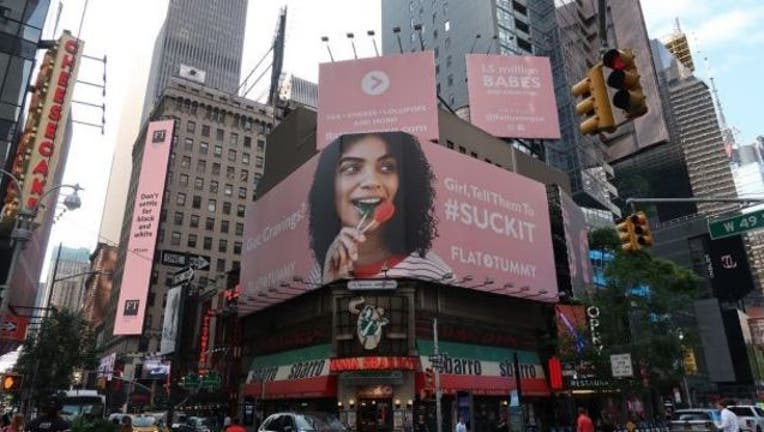 article
(FoxNews.com) - A splashy sign in New York City's Times Square advertising "appetite suppressant" lollipops — the same recently promoted by Kim Kardashian — has struck a nerve with Twitter users, who are now calling for its removal.
Earlier this week, Twitter user Sophie Vershbow took to social media to slam the Flat Tummy Co advertisement, featuring a young girl smiling and sucking a lollipop against a pale pink backdrop.
"Got Cravings? Girl, tell them to #suckit" the triangular sign pushing the company's "tea, shakes, lollipops and more" reads. Notably, the billboard rises above pizza shop Mama Sbarro's, perhaps implying that the dieting candy is a more favorable meal choice.
"Hey Twitter, Let's use our power for good by guilting @FlatTummyCo into taking down their Times Square billboard advertising appetite suppressants," social media manager Vershbow wrote in a fiery post that has since been liked over 700 times. "Love, a former-anorexic teenage girl."
"That girl looks very young. It's an ad for teens. Pink and cool. We have to talk to our girls so they understand what's in this s--- and why it's NOT okay," one user agreed.
Commenters concurred in dubbing the ad as "shameful," and some wondered how they could best petition the billboard company for its removal.
The next day, the Flat Tummy Co ad caught even more heat thanks to British actress Jameela Jamil.
"EVEN TIMES SQUARE IS TELLING WOMEN TO EAT LESS NOW? Have we actually gone mad? Why aren't there any boys in the ad? Why is it f------ PINK?" asked Jamil, who stars on NBC's "The Good Place," in a post that has since been liked over 11,000 times and retweeted nearly 3,000 times. "Because you feel men can look however they want? Their goals are to be successful. But ours are to just be smaller?"
"This is maddening and heartbreaking, and daylight robbery and abuse of women's self-worth," one critic clapped.
"Health is the most important thing — we should be encouraging girls to care for themselves, not shaming them to starve," another chimed in, discussing her own battle with endometriosis.
This isn't the first time that Flat Tummy Co has been called out for the controversial item. In mid-May, Kardashian was slammed for promoting the same "appetite suppressant" lollipops on Instagram, a move that Jamil quickly chastised as having a "toxic influence on young girls."
According to the company's website, the lollipops come in grape, watermelon, yellow apple and berry flavors, and customers are advised to snack on a maximum of two lollipops a day.
Meanwhile, Women's Health points out that Flat Tummy Co's lollipops and other products are technically supplements, and thus not reviewed by the FDA.
More on FoxNews.com.