Billionaire JB Pritzker announces Illinois governor bid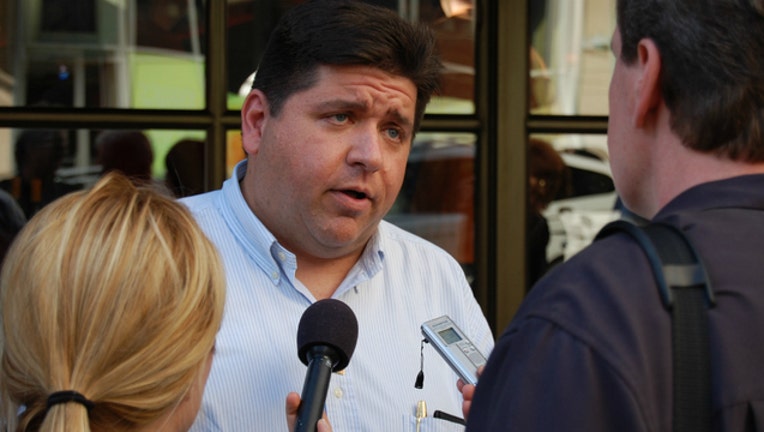 article
CHICAGO (AP) - Billionaire J.B. Pritzker touted his business record and progressive values Thursday as he kicked off his campaign for Illinois governor, raising the financial stakes in what was already expected to be a costly and competitive fight to unseat Republican Gov. Bruce Rauner.
Pritzker wasted little time in blasting the venture capitalist-turned-governor, even comparing him to President Donald Trump. Rauner has been at odds with the Democrat-controlled Legislature since he took office.
"Gov. Rauner talks about what he might have done or what he tried to get done. It's past time for all his talk. It's time for action," Pritzker told the crowd of union officials and community leaders gathered at a park facility in a predominantly African American neighborhood on the city's South Side. "Everything we care about is under siege by Donald Trump and Bruce Rauner."
Pritzker joins a growing field of Democrats who've said they'll seek their party's nomination in the March gubernatorial primary, including state Sen. Daniel Biss, Chicago Alderman Ameya Pawar and businessman Chris Kennedy, who is the nephew of former President John F. Kennedy.
Last month, Kennedy donated $250,100 to his own campaign, a move that under Illinois campaign finance law lifted the caps on campaign contributions for all candidates. His campaign says he raised another $1 million from some 3,000 donors in the first six weeks of his candidacy.
Biss and Pawar already have made wealth an issue in the campaign, telling voters that "millionaires and billionaires" shouldn't have a lock on political power.
"I welcome the debate about whether the future of the Democratic party will be a vehicle for the very rich and machine politicians or one for the rest of us," Biss said Thursday in a statement.
An heir to the Hyatt hotels fortune, Pritzker was recently ranked by Forbes magazine as the third-wealthiest person in Illinois, with an estimated net worth of about $3.4 billion. That easily makes him the wealthiest person running, though Rauner - a multimillionaire who put $50 million into his campaign fund late last year - also has received millions in campaign contributions from Illinois' richest person, businessman Ken Griffin.
Pritzker, 52, acknowledged his own wealth and opportunity. He said his first job was washing sheets in his parents' hotels and that his mother raised him with an "abiding sense of social justice."
"I wake up every morning knowing that I need to work hard to earn what I've been given," he said. He added that Illinois is losing jobs and opportunities because of inaction by Rauner and the state need to first tax its "millionaires and billionaires" before the middle class.
Rauner's 2014 race against Democratic Gov. Pat Quinn set a record for spending in Illinois, topping $100 million.
Outside groups already have been active in the 2018 contest as well. Last month, a group affiliated with the Republican Governors Association began airing campaign-style ads featuring Rauner. In them he talks up his efforts to improve Illinois' business climate and enact changes such as term limits for lawmakers.
The ads come as Rauner and the Democrat-controlled Legislature have been unable to agree on a state budget for nearly two years, leading to major cuts to social services, colleges and other programs.
Illinois Republican Party spokesman Steven Yaffe, who has served as a campaign spokesman for Rauner, said Thursday that "Pritzker's loyalty belongs to Mike Madigan," referring to the longtime Illinois House speaker whom Rauner blames for most of the state's problems.
Pritzker - whose full name is Jay Robert - is the founder of Pritzker Group, a venture capital firm that focuses heavily on the technology sector. He also founded 1871, a Chicago hub for tech startups. He previously served as chairman of the Illinois Human Rights Commission, and he is a vocal advocate for early childhood education, a cause to which he and his wife have donated significant amounts of money.
His sister, Penny Pritzker, served as Commerce Secretary under former President Barack Obama.
___
Follow Sara Burnett on Twitter at https://twitter.com/sara_burnett
Follow Sophia Tareen on Twitter at https://twitter.com/sophiatareen