Charges filed after brutal beating of 'The Walking Man'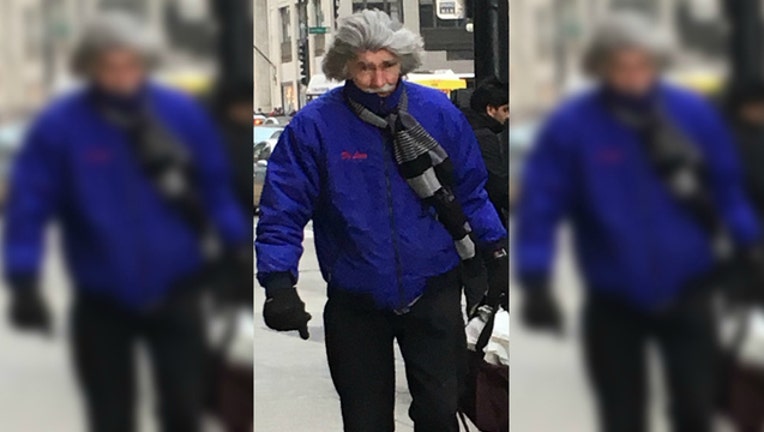 article
CHICAGO (Sun-Times Media Wire) - A man thought to be homeless has been charged in connection with the Lower Wacker Drive beating of another homeless person known as "The Walking Man" Tuesday morning.
Perry McCarlton, 41, faces one misdemeanor count of reckless conduct causing bodily harm for the brutal beating of "The Walking Man," according to Chicago Police.
His real name is Joseph Kromelis, and he is 69 years old, his sister-in-law, Linda Kromelis, told the Chicago Sun-Times.
Sometimes called "The Walking Dude," he turned heads for years as he walked through the Loop. Known for his tall frame, striking facial features, suit jacket, long flowing hair and bushy mustache, he simply walked around downtown and intrigue followed.
He was brutally beaten by a man—identified as McCarlton—with fists and a baseball bat about 11 a.m. Tuesday in the 400 block of East Lower Wacker Drive. Police said "a short conversation" preceded the attack. The two were struggling over the bat when officers arrived.
Kromelis was taken to Northwestern Memorial Hospital for treatment of cuts and other injuries to his head and legs, police said.
McCarlton is due in court June 15, police said. Kromelis refused to pursue felony charges.
"I called the hospital and they said there was no Joseph Kromelis there. But they said it's possible he used an alias. And that sounds like Joe," Linda Kromelis told the Chicago Sun-Times.
"He's always been very private and kept to himself," she said.
Social media lit up with shock after the attack. People wanted to offer support but didn't know how. A GoFundMe page—created by a woman who didn't know his identity or how to get him the money—raised more than $2,100 in several hours Wednesday.
"The Walking Man is one of those fixtures in downtown life that makes our city special," said Janice Riggs, the woman who created the account. "The idea that someone as harmless as he is could be attacked spoils a little bit of what I love about this city."
Joseph Kromelis moved to Chicago with his family from Lithuania or Germany as a kid, and grew up above the bar his parents ran on Halsted. "It was near a ballpark," Linda Kromelis said. "I don't know which one."
His parents sold the tavern and moved to southwest Michigan when he was about 19. But Kromelis stuck around in Chicago. He tried a factory job but didn't like it; got a peddlers license and sold jewelry on the street. That's when he began wandering the Loop. Always walking.
He lived in an "efficiency apartment or rooming house" in Lincoln Park for about 30 years, until he had to leave because it was turned into condos about three years ago, said Linda Kromelis, who wasn't sure where he has been living since then.
"We always worried about something like this happening because he was on the street all the time," she said. "If his injuries keep him from walking, that's going to be real rough on him."
For years, when he visited Linda and his brother in rural Michigan, he would walk the trails in the woods behind their home. And he would argue about politics with his brother.
"There's nothing wrong with him. He's not mentally ill. He just likes walking. It's that simple. My husband couldn't figure it out, but he accepted it. That's Joe. He loves the city," she said.
The constant motion kept him healthy and skinny, she said. "That, and he ate a ton of baked beans. He just loved baked beans."
She said a nephew of Joe's was at the hospital late Wednesday trying locate him.
As for the outpouring of support, Linda was surprised.
"I guess in a big city when you see someone all the time you feel like you get to know him."