Chase ends with man holding knife to child's throat before surrender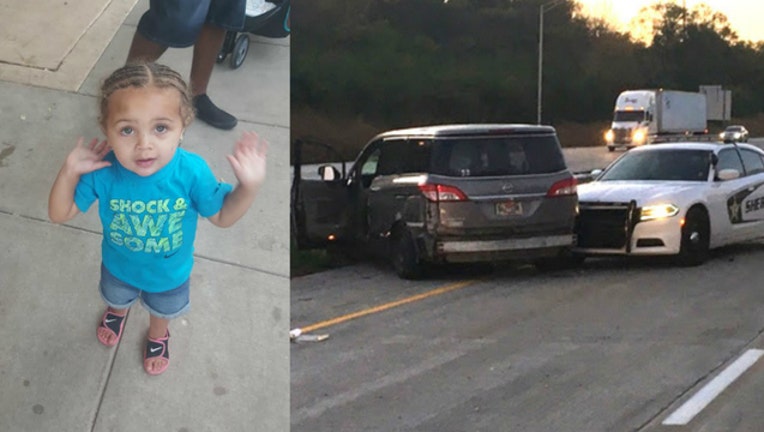 article
SUN-TIMES MEDIA WIRE - A man who kidnapped his 2-year-old daughter in Wisconsin on Tuesday led police on a chase from Illinois to northwest Indiana before crashing on I-65, then held a knife to the toddler's throat before surrendering to police.
Indiana State Police say 30-year-old Kenneth Brown of Milwaukee then did "bodily harm to himself" and was taken to a hospital with "what appeared to be life-threatening injuries," while the child suffered cuts and bruises but was in good condition.
It all started about 7 p.m. Tuesday when Brown kidnapped the girl and stole a gray 2011 Nissan Quest in South Milwaukee, according to a statement from ISP.
South Milwaukee Police Chief Ann Wellens identified the girl as Kendra Faith Brown, and said Kevin Brown was her non-custodial parent.
About 11 p.m. Tuesday, Brown was stopped for a traffic violation in downstate Decatur, but drove away, ISP said. Police pursued, then lost the vehicle. About 3 a.m. Wednesday, he stopped outside a Walmart in downstate Watseka, and told someone that he had kidnapped the girl and stolen the car, police said.
He then drove east on U.S. 24, where police in Kentland, Indiana, spotted the SUV going at a high rate of speed and attempted to stop it, but Brown "failed to obey the lights and continued with police still behind the vehicle," ISP said.
He drove east to I-65 in Remington, Indiana; then south on the interstate with police in pursuit. The chase continued into Tippecanoe County at speeds "in excess of 90 mph," police said. The Nissan left the interstate at State Route 26, turned around and got back on northbound I-65, where a police roadblock had been set up.
Brown "was able to get through the roadblock" and continued north to a construction area, where he crossed over and headed north in the southbound lanes, ending up in a construction lane on the inside shoulder, ISP said.
About 5 a.m., near Lafayette, the car sustained a flat tire. Brown "slammed on the brakes and a Newton County deputy rear-ended the Nissan, causing it to spin into the inside barrier wall," police said.
Other police vehicles surrounded the Nissan, but as officers approached, Brown held a knife to the child's throat, police said.
As they negotiated for the child's release, Brown broke out the rear window, then "handed the child to an officer through the driver's window and attempted to do bodily harm to himself," according to ISP.
He was subdued and taken to a Lafayette hospital, before being transferred to St. Vincent's Hospital in Indianapolis with apparent life-threatening injuries, police said.
The girl suffered "a few cuts and bruises, but was otherwise in good condition," police said. She is in the care of the Indiana Department of Children and Family Services until her family can take custody.
The South Milwaukee Police Department has charged Brown with interference with parental custody, operating a vehicle without permission, and theft; and numerous charges are pending in Indiana, according to state police.
Police vehicles from Tippecanoe County and Newton County were damaged during the incident.