Chicago beats bike lane goal, plans to build more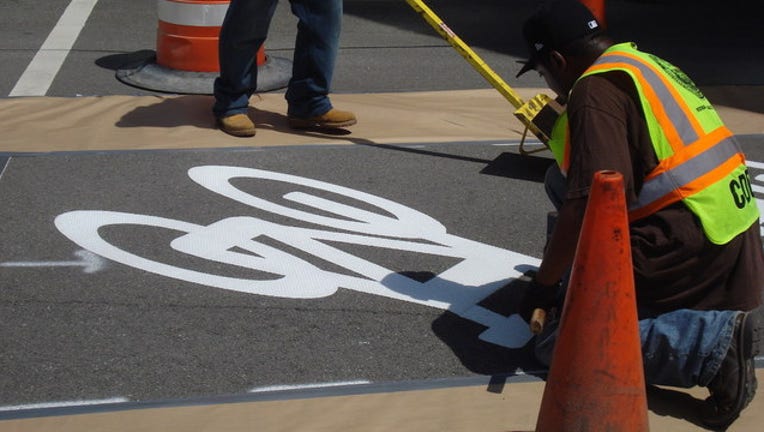 article
CHICAGO (STMW) - The city beat its goal of installing 100 miles of protected bike lanes, and plans to build over 50 more miles of lanes over the next four years.
Since 2011, Chicago has installed 103 miles of protected bicycle lanes, which is more than any other city in America, and now has 292 miles of designated bike lanes, according to a statement from the Mayor's Press Office.
Over the next four years, the Chicago Department of Transportation will build a network of over 50 miles of "better bike lanes," which will include new off-street connections, upgrading existing protected bike lanes, building new neighborhood protected bike lanes and greenways and making safety improvements at "key" intersections, according to the statement.
These projects are a part of the department's "Zero in Ten" goal of eliminating all traffic fatalities in Chicago by 2022, according to the statement.
"Protected bike lane projects are making streets safer and more comfortable to ride on, walk on, and drive on," said Rebekah Scheinfeld, Chicago Department of Transportation Commissioner in the statement.  "Where protected lanes have been installed, we have seen a reduction in traffic crashes for all modes of transportation."
Since the 55th Street barrier protected bike lane was installed in 2012, "overall crashes" have reduced by 32 percent, and the Department of Transportation is finding similar safety improvements on other streets with protected bike lanes, according to the statement.
Chicago now has a 292-mile bikeway network in all 50 wards, which consists of: 94 miles of bike lanes, 83.5 miles of buffer protected bike lanes, 46 miles of off-street trails, 48.75 miles of marked shared lanes, 19.5 miles of barrier protected bike lanes and 1.5 miles of neighborhood greenways.