Chicago to host 2024 Democratic National Convention
CHICAGO - The 2024 Democratic National Convention will be held in Chicago.
The political convention will run from Aug. 19-22, 2024, and hold its main evening events at the United Center, according to the Chicago Sun-Times.
Chicago beat out other finalist cities such as Atlanta and New York to land the convention.
The convention is projected to draw roughly 6,000 delegates and attract tens of thousands more to the Windy City.
President Joe Biden called Illinois Gov. J.B. Pritzker on Tuesday morning to inform him of Chicago's selection.
SUBSCRIBE TO FOX 32 ON YOUTUBE
"Chicago is a great choice to host the 2024 Democratic National Convention," Biden said in a statement. "Democrats will gather to showcase our historic progress including building an economy from the middle out and bottom up, not from the top down. From repairing our roads and bridges, to unleashing a manufacturing boom, and creating over 12.5 million new good-paying jobs, we've already delivered so much for hard working Americans – now it's time to finish the job."
Chicago is solidly Democratic, as is Illinois. But holding the party's presidential nominating gathering in such a pro-union city again demonstrates Biden's commitment to organized labor - which will be critical to his bid to win a second term in the White House.
The move also could counter Republicans, who last summer decided to hold their 2024 convention in Milwaukee in another critical Midwestern battleground state, Wisconsin.
Mayor Lori Lightfoot praised the committee's decision to choose Chicago.
"I am deeply honored that President Biden and the DNC have chosen Chicago," Lightfoot said in a statement. "I want to commend all the City government leaders who demonstrated with a proven track record of excellence that by choosing Chicago, the DNC, convention delegates, volunteers and others would be treated to a first class experience in our world class city. The DNC will create once-in-a-generation opportunities for job creation and business growth here in our city, and I'm proud that we got it done for the people of Chicago."
Mayor-elect Brandon Johnson said the convention will give Chicago a chance to show true hospitality to the party.
"We are unmatched when it comes to hosting events of this scale. I look forward to working closely with the DNC to facilitate a spectacular convention that showcases Chicago's diverse culture, our beautiful lakefront, our renowned hospitality sector, and our best asset: our amazing people," Johnson said.
That hospitality sector was the city's largest private employer, pre-pandemic at least. It will get a much-needed boost in August next year.
"The DNC has said that they're gonna request 15,000 beds, hotel rooms. And that is significant," Illinois Sen. Tammy Duckworth said.
Chicago hosting the convention should help local hotels and restaurants still struggling to recover from the pandemic.
The 1996 Democratic National Convention at the United Center left restaurant owner Joe Carlucci with fond memories of the big spenders.
"People were in a good mood and when they're in a good mood, they spend more money," said Carlucci, owner of Carlucci Restaurant Chicago.
Veteran political consultant Rick Jasculca, who's worked every Democratic convention for decades, thinks next year's event could lure new tourists to town, as well as locals frightened about coming downtown.
"And I think everybody in the city then will get energized and go, 'Damn! Maybe we need to get back in the mix here,'" Jasculca said.
"The suburbanites aren't coming in. People aren't going to work, because they fear for their safety," Carlucci said.
Media coverage of political conventions has changed, and so have news consumers, meaning a smaller audience may be watching next year than did back in the 1990s.
Chicago holds record for most conventions
Chicago holds the record for hosting the most political conventions.
Between 1832 and 2020, Chicago hosted 25 conventions — 11 Democratic and 14 Republican, according to the American Presidency Project at the University of California, Santa Barbara.
Chicago last hosted a convention in 1996, when the Democrats met at the United Center to nominate President Bill Clinton and Vice President Al Gore for a second term.
Though four cities submitted bids for the 1996 event — Chicago, New York, San Antonio and New Orleans — Chicago put up the biggest package valued at $32 million.
Chicago was the 1996 front-runner from the start. The Democratic National Committee chairman, David Wilhelm, was a Chicagoan. Then first lady Hillary Clinton was born in Chicago and raised in Park Ridge. Clinton was friendly with Bill Daley, the brother of then-Mayor Richard M. Daley, and was grateful for Illinois political support in the 1992 Democratic primary.
In 1996, a bipartisan city-state Chicago host committee raised millions for the Democratic convention, with Republican business leaders part of the committee.
The well-received 1996 convention was a contrast to the one before it, the infamous 1968 Democratic convention at the old International Amphitheatre. The arena at 4220 S. Halsted St. was torn down in 1999.
Pritzker, Biden Phone Call
When President Joe Biden called Gov. J.B. Pritzker on Tuesday morning to tell him Chicago landed the 2024 convention, the governor vowed the city would "throw a huge party" to celebrate his successes.
The call came more than a year after Pritzker first pitched DNC Chairman Jaime Harrison on hosting the convention. And it came 39 years after Pritzker attended his first Democratic convention, in a role he described as a behind-the-scenes "gopher."
Biden called Pritzker with the DNC news just before boarding Air Force One for Ireland. Biden thanked Pritzker for "all of his support," and told him, "I just want you to know we're planning on having the Democratic convention in Chicago," according to a source with direct knowledge of the call.
Pritzker said, "You know that Chicago is your kind of town. We're going to throw a huge party, and it's going to be a real big celebration of all of your successes."
Biden in return  said, "I know you're going to throw a huge party. I'm very excited and send my thanks to [First Lady] M.K. as well."
Since that call — and his arrival home to Chicago after attending a Harvard event — Pritzker has been glued to his phone. Traveling with Pritzker was Anne Caprara, his chief of staff, who used her own extensive contacts in the Biden orbit to lobby for Chicago to be the host city in 2024.
Staffers, who described his desire to get the DNC as "relentless" said the governor was "ebullient" on Tuesday.
Pritzker told the Sun-Times he spoke with Michigan Gov. Gretchen Whitmer, Wisconsin Gov. Tony Evers and Minnesota Gov. Tim Walz to thank them for their "representation" of the "Blue Wall" of the Midwest. Pritzker also spoke with Atlanta Mayor Andre Dickens — and left a message for Kentucky Gov. Andy Beshear. The governor acknowledged, "there are lots more calls to make."
"It's an economic boon," Pritzker said. "And it's a recognition of all the great things that we have done here in Illinois that represent the values of the Democratic Party and the values of Joe Biden and Kamala Harris."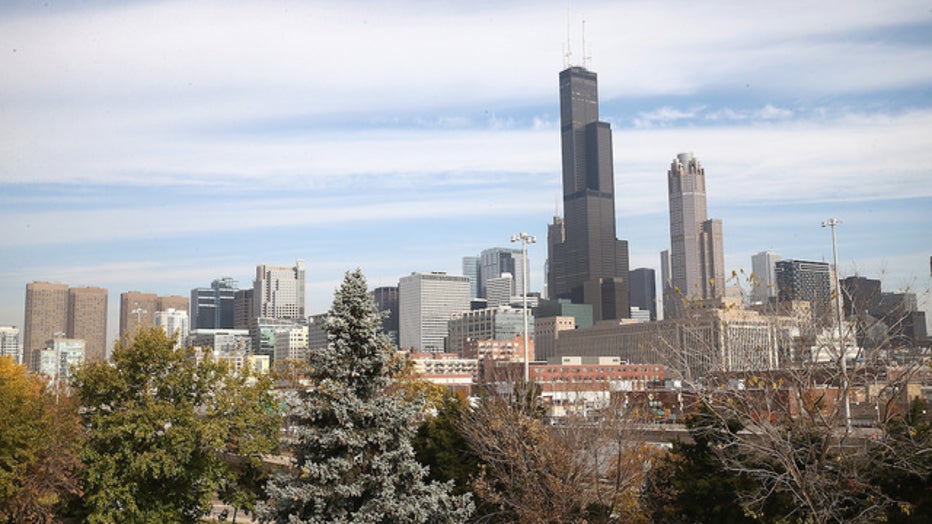 The Willis Tower rises above the citys skyline in Chicago, Illinois. (Scott Olson/Getty Images)
The governor said he has attended every DNC since 1984: "I was a volunteer working inside the convention with the ability to get anywhere, which was the coolest thing about it as a young person," Pritzker said. "But I was a gopher, working in whatever way that the DNC asked me to."
Mayor-elect Brandon Johnson learned Chicago would host the convention when he got a call from someone at the White House on Tuesday morning.
Johnson, who will be sworn-in as mayor on May 15th said he was so excited to get a call from the White House that he saved the voicemail "to make sure that my grandchildren hear it one day."
Johnson, still absorbing the enormity of becoming mayor, reacted to Chicago landing the convention in personal terms.
"This is an exciting time. I mean, I was teaching middle school, you know, just a handful of years ago. I'm Mayor-elect and I'm getting a phone call from the White House — and that one of the most dynamic conventions known to to humankind is coming to the city in which just elected me," he said.
"So I'm very, very excited, thrilled, humbled. It's been a great … team effort," Johnson added, expressing his gratitute to Pritzker, Sen. Tammy Duckworth and Mayor Lori Lightfoot, business leaders and others who "played an incredible role in bringing this into fruition. But absolutely, this is an exciting time for the city of Chicago," Johnson said.
GOP slams Chicago choice
While Chicago convention boosters were highlighting the logistical and political advantages of Chicago, national and state Republicans seized on the city's crime woes.
Tommy Pigott, Rapid Response Director for the Republican National Committee, said in a statement that "Democrats just chose one of the worst-run cities in America for their convention: Chicago. Illinois." Republican Party Chair Don Tracy said it's no surprise the DNC chose Chicago, "where they can put the city's failed far-left policies on display for the world to see."
Asked whether the DNC questioned Chicago's crime rate when considering the city as a convention site, Pritzker said, "they never challenged Chicago on that basis." He said every major city saw a rise in crime during the pandemic — and cited improvements.
The Associated Press and The Sun-Times Media Wire contributed to this report.